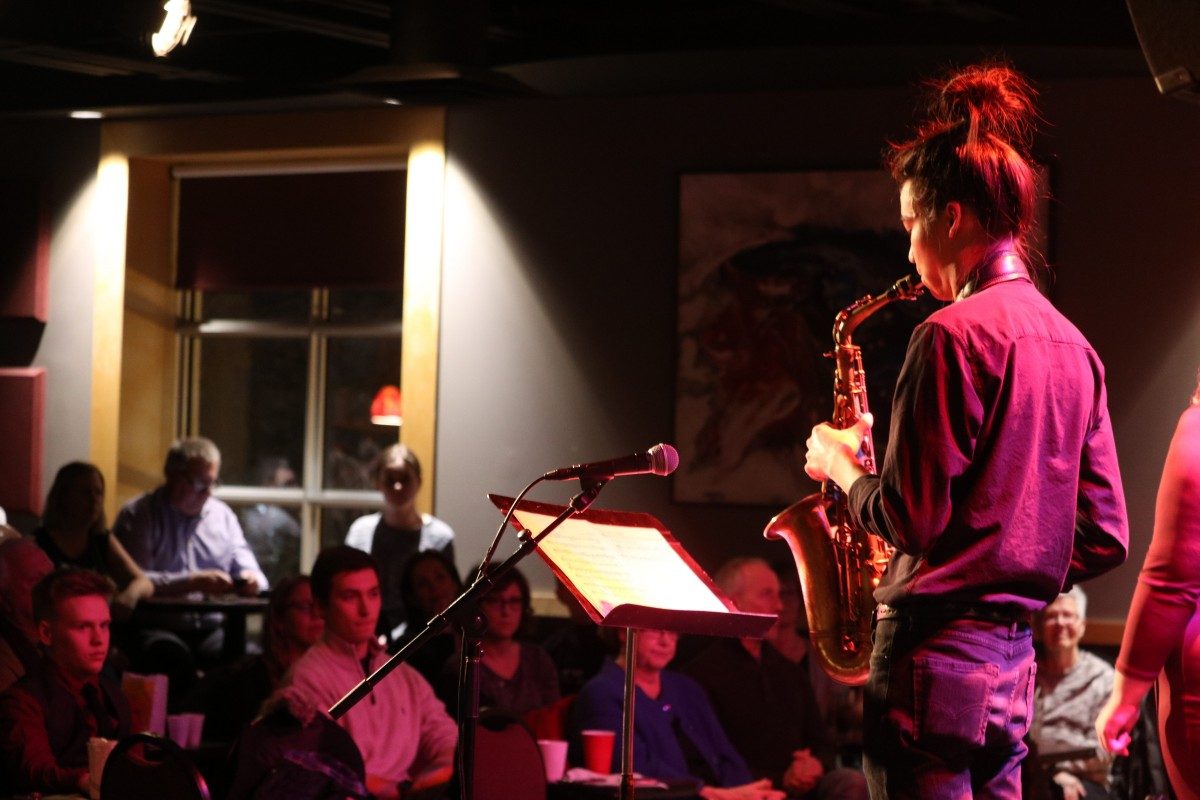 From Bourbon Street to St. Boniface
The Desautels Faculty of Music Jazz Ensembles bring soul to St. Boniface.
March 25, 2019 —
The jazz lovers weave their way through the nondescript corridor, up the steps, and into the cozy, warm, dark room, which is packed to capacity with chairs and café tables. Out in the crowd, people chat away in French and apologize for bumping each other as they squeeze into the rapidly disappearing seating.
For the moment, the brightly lit stage is empty and silent. However, in just a few minutes, it will burst with horns, piano keys, thumping bass and drums, and voices belting out soulful lyrics for over two hours straight.
It could be the French Quarter of New Orleans, but the massive piles of snow outside and the parkas cluttering the chairs reveal the real location. This is not Mardi Gras on Bourbon Street, but Mardi Jazz, at the Centre culturel franco-manitobain (CCFM) in Winnipeg.
Mardi Jazz takes places every Tuesday at the CCFM, and draws a number of elite jazz performers to the city. This includes future jazz legends, as Mardi Jazz reserves four nights a year to feature student ensembles from the Desautels Faculty of Music Jazz Studies Program. These four performances showcase the evolution of the students' growth as jazz musicians throughout the year, and, ultimately, throughout their university careers. The last student performance of the year will take place on March 26, 2019, beginning at 8:00pm.
"Each group has one bassist, singer, drummer, one to three horns, and then a guitar and/or a piano," says assistant professor of jazz studies Karl Kohut. "We often mix up the students from different years in the program so that they have a chance to connect and play with people they might not otherwise play with."
Jazz musicians make their craft look effortless, but these performances are the result of hours of chart-arranging, stylistic balancing, rehearsing, and the carefully practiced art of improvisation. Just as track stars practice the seamless hand-off of a baton in a relay race, so must these musicians learn how to pass the music to their ensemble peers without dropping the melody and beat. They must anticipate what their colleagues are going to do, and coordinate their improvisation accordingly.
"I hope audiences realize the high level of creativity and sophistication that goes into creating [these pieces]," Kohut says. "Each student demonstrates, in real-time, his or her knowledge of the jazz tradition through improvised solos."
Putting together a show like this takes a lot of careful curation. Each ensemble has to evaluate style, group dynamic, contrast, instrumentation, vocal range, individual skill level, and group and individual strengths. The final product is the culmination of a year of assiduous work, and the creation of a living, breathing ensemble with a heartbeat that reflects the soul and personalities of its members.
Experience is the best teacher, and the nature of new musicians coming into the ensembles and mature musicians graduating out of the ensembles provides constant mentorship and possibilities for learning. Being put in the spotlight doesn't hurt, either!
"The quality of the charts coming into my ensembles has risen significantly because the students see the standard that has been put forward by their peers and professors," says Kohut. ""I have first-year students who have been some of the most prolific in terms of arranging music for their ensembles, which is amazing to see."
"A set of music needs to be diverse and take students through different tempos, time feels and styles," says assistant professor of jazz studies Jon Gordon. "It can and should stretch the students out of their musical comfort zones as part of the learning process."
Gordon's ensemble includes a number of students on the cusp of graduating.
"I like to encourage an older group… to bring in some original music along with arrangements of standards so that they can learn to workshop their compositions and arrange elements in rehearsal," he says.
And music doesn't thrive in a vacuum, so performance is a major part of a student's development.
"Their ability to play in front of people, as opposed to the safety of a practice room or rehearsal room, is a huge part of their growth," says Gordon.
""I love to see the joy they get from performing for their friends, families, and peers," adds Kohut.
As for what to look out for at the year's final performance, Kohut notes that first-year student Mariana Padeanu is a student to watch in the coming years.
"She is a first-year vocalist who has contributed an original arrangement for each of our concerts," he says. "She has gone well beyond the call of what's required… and really loves to write for her group."
Meanwhile, fourth-year baritone saxophonist Anna Blackmore has contributed several great charts for her group this year, and is a talent to watch on the jazz scene.
"We will be performing one of her original compositions for this performance, which is a first for this ensemble," says Kohut.
Gordon notes that he is incredibly impressed with his ensemble, who he describes as "very strong players who I am very proud of."
Additionally, Gordon will be presenting his Youth Jazz Collective, an ensemble of high school jazz musicians who he has led for the past five years.
"[Many of our university's past and current jazz students] have come through this group on their way to our program," he says. A number of the current members of the Youth Jazz Collective auditioned for placement in the Desautels Faculty of Music this year, so be sure to come out to Mardi Jazz to see the faculty's next rising stars! They also will be playing on March 30, 2019, at 12:00pm in Tache Hall 2, room 272.
The Youth Jazz Collective plays at 7:30pm on March 26, 2019, with Mardi Jazz following at 8:00pm, at the Centre culturel franco-manitobain (CCFM), 340 Provencher Blvd. Free off-street parking is available.