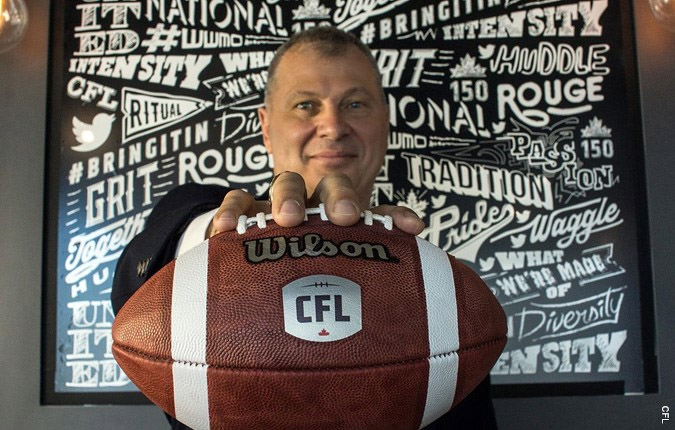 From Bison to commissioner
Randy Ambrosie selected as 14th CFL commissioner
July 6, 2017 —
Manitoba Bison football alumnus, Randy Ambrosie, has been named as the Canadian Football League's 14th commissioner.
"Randy has been a great alumnus and a true friend to the Bison Football program," said Bison Football head coach Brian Dobie. "I appreciate this opportunity to speak on behalf of many players and staff who have been part of Bison Football that we are all so proud and happy for him as he begins his new role as commissioner of the CFL."
Ambrosie, 54, was the Bisons highest ever CFL Draft pick, being selected in the second round overall by the Calgary Stampeders in 1985. This, after he was an award winner at the national and conference level for Manitoba in the offensive lineman position.
In his four-year playing career at Manitoba, Ambrosie was the CIS (now U SPORTS) First Team All-Canadian in 1984. He is also a two-time Canada West Football All-Star at offensive tackle in 1983 and 1984.
After playing football, Ambrosie has been very successful in business as a University of Manitoba grad with a Bachelor of Commerce (1980-85).
"Randy is a true Manitoban who has always embraced his roots here and at the University of Manitoba," said Dobie. "We are excited to see his personal brand and leadership into the CFL and football in this country."