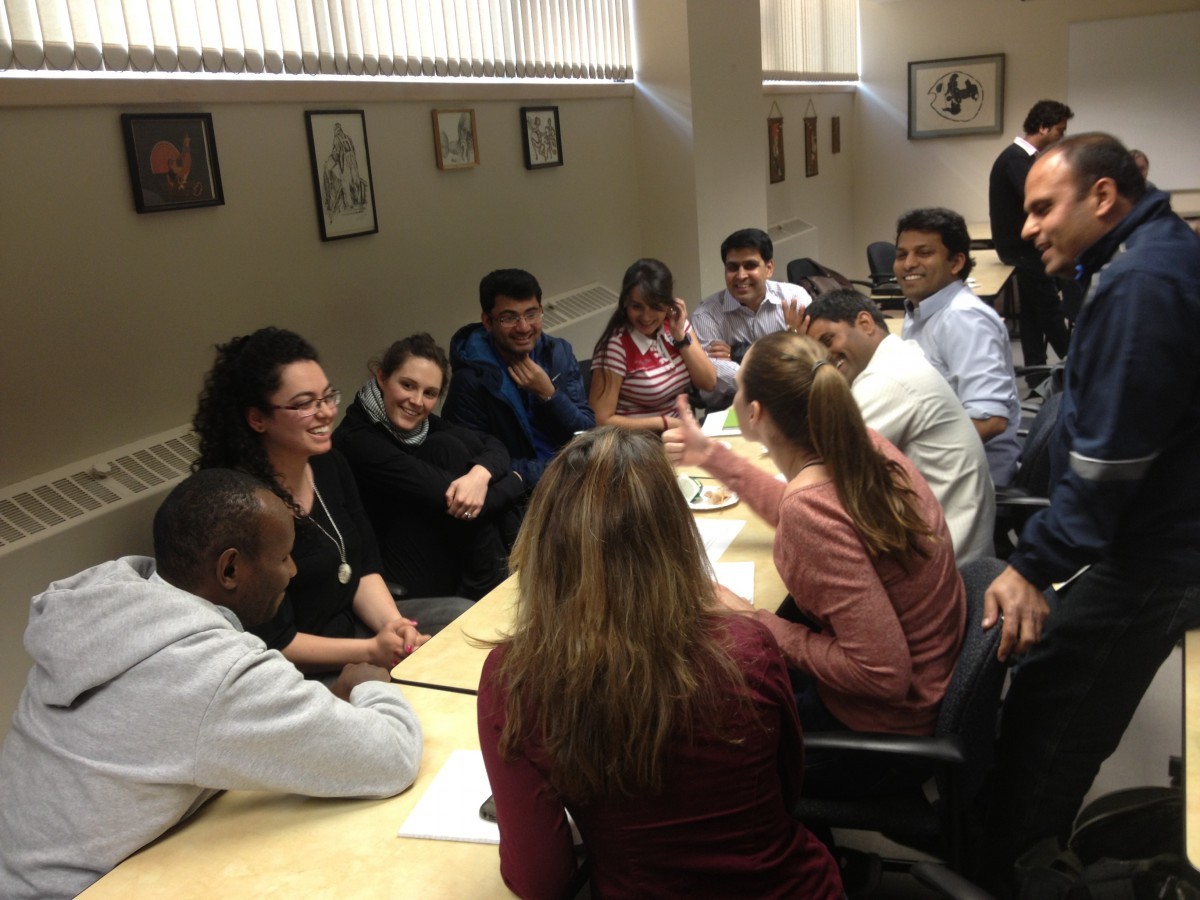 Four countries, two weeks, one goal: Knowledge transfer
June 6, 2013 —
Elnaz Shadabi and Lindsay Aboud
A scientist can dedicate an entire career to study one cell, one gene or one protein. However, where infectious diseases are concerned, a broad appreciation of the problem is needed to understand the many factors that contribute to the rise and spread of disease in a community or across the globe.
In the Ecology of Infectious Disease course, offered by the U of M's departments of medical microbiology and community health sciences, students from four different countries came together from May 6 to 17 to better understand infectious diseases and their threat to global health with a more holistic view.
And the course seems to have left a positive impression on the students. "I thought that the course was unique," said Shamshad Khan from British Colombia, "not only because it covered whole range of issues, but also because it created a space for dialogue between disciplines and cultures." Students also enjoyed the diverse backgrounds and cultures represented by the students who attended the course.
"I loved how one day Keith wore a shirt from Kenya and another day a T-shirt from the Indian cricket team! And Ifeoma, while sporting her lovely Nigerian dress and headgear, came out with a rap song, raising awareness on an infectious disease. It was an amazing experience overall," said Khan.
Participants in the course were PhD students and post-doctoral fellows from Kenya, India, Columbia, Newfoundland and Manitoba. A large majority of these individuals were part of the International Infectious Disease and Global Health Training program of Canadian Institute of Health Research (CIHR); however, some of them were students from the U of M who chose to take the course for credit and out of intrigue for a course that was so encompassing of all scientific disciplines.
Not only did students come from different research disciplines, such as basic science or social science, but they each brought something unique to the table, a slice of knowledge that added one more piece towards the completion of the complex puzzle that is global health.
"The Eco ID course is a one-of-a-kind course whose strength and aspiration lies in its diversified disciplines. It recreates and instils socio-scientific thinking and engages the mind to absorb and contribute knowledge," said Sumit Dutta, a student from India.
Each morning and afternoon session consisted of a lecture presented by a U of M professor or expert, followed by a supplementary lecture given by a group of students, which often consisted of three people from three different countries. Sessions ended with a student-led, group activity.
Group activities included debates on hot current topics and creating skits to illustrate how different cultures would approach various health related scenarios. Every student was pushed outside of his or her comfort zone in an effort to participate in a discussion crucial to solve a global health-related problem.
"The group activities that we engaged in were a unique way to discuss and debate specific points about the infectious diseases," said Robbin Lindsay, one of the course's guest lecturers. "[They] provided an opportunity to hear what the students were thinking. This aspect was quite refreshing for lecturers like myself. It's a nice change to get immediate feedback from an engaged audience."
In fact, active and participatory role of students in learning and sharing their knowledge with others was another unique feature of the program. Sajid Mahmood, a PhD student from the department of immunology at the U of M described this as a "conducive learning environment," where there are "opportunities for everyone to actively participate."
The design of the course allowed for students to explore important issues and topics together. Some of these topics included dynamics of transmission of disease, vaccine and prevention strategies, the role that animal health plays in the health of humans, role of World Health Organization in dealing with new outbreaks, knowledge translation, culture and infectious disease and health research ethics.
In addition to these, students were also exposed to several pressing issues related to the health of Indigenous peoples of Canada, such as overcrowding, poor housing and its impact on the spread of infectious diseases such as tuberculosis. Students who will serve as future health experts are the ones who will shoulder part of the responsibility to deal with these situations.
Linda Larcombe, one of the primary speakers on the health of Canadian Indigeonous populations said that "as an anthropologist in the Faculty of Medicine here at the University of Manitoba it is gratifying to see that the students appreciate the impact of the social determinants of health on infectious diseases, not as a side bar but as important factors affecting infectious diseases in marginalized populations."
"The Eco ID course provided a great opportunity to explore areas of infectious diseases that I had little or no experience in," said Larcombe.
"There is a huge value to bringing international researchers together for courses and shared programming. Not only does it open doors for networking and collaborations in a shared learning environment but it's an opportunity for us to realize some of the goals that infectious disease researchers in Columbia, Kenya and India all share. Sometimes I think the researchers that are part of the eco id program are surprised to see how their own research fits into a more global research environment."
The experience of participating in this course has been a positive one for many students. "I will never forget the invaluable sacrifices, team spirit leadership and unwavering support that was demonstrated by both facilitators and trainees…I have not experienced this anywhere," said Frank Ndakala from Kenya.
Alliance Coordinating Office provided financial support to send six international trainees to Winnipeg to attend the Eco ID course at the U of M.
 This article first appeared in the June 6, 2013 edition of The Bulletin.