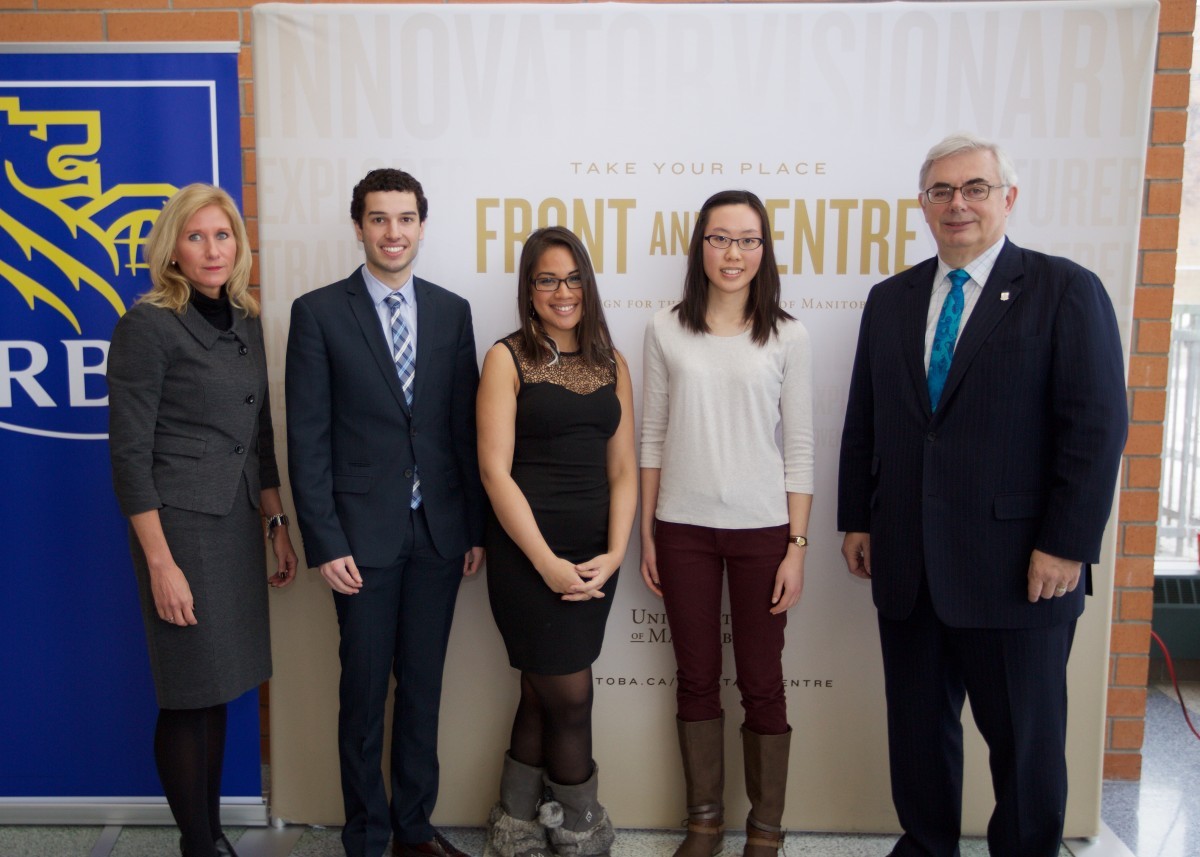 'Forward-thinking' gift from RBC Foundation to enhance students' learning and university experience
$1.025 million to fund Indigenous business program, access to mental health services and aid students' professional development
January 25, 2016 —
Medical and dental training in remote areas, mental health programming and the Aboriginal Business Education Partners program were highlighted as the RBC Foundation announced funding for programs and services at the University of Manitoba.
The announcement regarding the gift of $1.025 million took place at Buhler Atrium on the Bannatyne campus in front of approximately 50 faculty, staff and students on January 25th.
RBC Foundation's gift is directed to three programs: the Manitoba Online Overcoming Depression (MOOD) Program, investing $500,000 in technology to improve students' access to mental health services; the Health Sciences Student Travel Initiative, providing $500,000 to create opportunities for medical and dental students traveling to northern communities to train in local health issues; and $25,000 for Aboriginal Business Education Partners (ABEP) Scholarships, supporting Indigenous youth pursuing studies in business.
For many years, RBC Foundation has played an important role in supporting University of Manitoba students and researchers, including Aboriginal Business Education Partners, co-op and MBA students, the Swampy Cree Suicide Prevention Team and the Children's Dental Outreach Program.
Dr. David Barnard, University of Manitoba president and vice-chancellor, said: "Thoughtful, forward-thinking, and diligent, RBC Foundation has an impressive history of investing in some of our most innovative and socially responsible programs — investments that have consistently yielded wonderful results. Through this gift announced today, students experiencing mood disorders will find the help they need, be able to attend conferences for learning enrichment and to share knowledge with their peers."
Three students were on hand to speak directly to the impact of these programs.
Nursing student Deborah Chan is thankful for RBC's ongoing support of mental health awareness and programming, strengthening on-campus supports. "What an exciting time for mental health on campus. As a founding member of Active Minds student group we are helping change the conversation around mental health on campus," she said.
Barnard noted that the ABEP program has already helped 84 students finish their business studies, providing them with the training, experience, and connections needed to take their place as community leaders. RBC's own vice-president of commercial financial banking, Aaron Martyniw, graduated from the program in 2005.
Said Barnard, "By expanding the scale and scope of scholarships available through the Aboriginal Business Education Partners program, RBC Foundation has sent a clear message that Manitoba is a leader in Indigenous education, and that all Canadians have the right to pursue higher education."
"Thank you RBC for investing in Aboriginal students. Awards like this allow me to live up to my potential," says Ashley Richard, an ABEP award recipient.
Faculty of health sciences student Mathieu Bourrier has already spent some time learning in Rankin Inlet as a medical student. "The most valuable knowledge I attained was from seeing first hand the health care inequities faced by northern communities and the important role we can play by going up north and serving people and communities to help and preserve health of all Canadians. The experience changed my life," said Bourrier.
Gregg Hanson of the President's Campaign Team said: "This gift today from RBC Foundation will help students in significant ways through support for their professional development and training at the University of Manitoba. Ultimately, all Manitobans will feel this impact, and this was our goal when we launched Front and Centre: To equip our students with the opportunities they need to succeed; to fuel innovation; and to enhance the well-being within the communities we serve."
Kim Ulmer, RBC Regional President, noted: "We're honoured to work with the University of Manitoba to help provide a foundation to grow a thriving business and consumer landscape and vibrant and prosperous communities across Manitoba. RBC applauds and wholly supports the bold ambition of the Front and Centre campaign to help Manitobans turn their aspirations into reality."