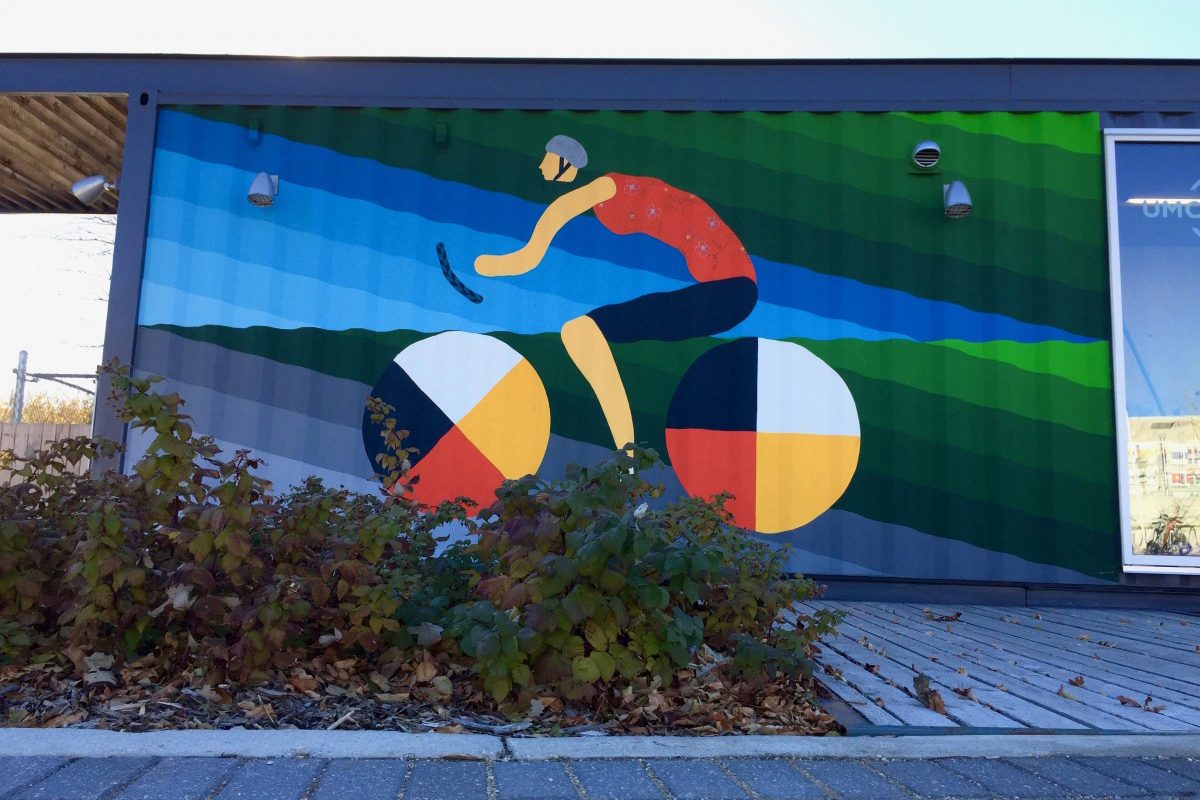 'For those willing to travel by a different route'
Indigenous Art and Placemaking signs come to Fort Garry campus
November 9, 2018 —
Walking around campus, you might come across some curious disc-signs with die-cut text or images of plants, water and a star-like shape. Artists Ian August, Jaimie Isaac and Niki Little created the beautiful metallic signage pieces now affixed to large rocks across the Fort Garry campus and to the concrete retaining wall around the circle lawn on Curry Place.
The signs are part of a project entitled "Cyclical Motion: Indigenous Art and Wayfinding." An accompanying website provides context for the artworks, and a map of their locations.
Themes of transportation, movement, connections to land and water
The project engaged a team of Winnipeg-based Indigenous artists from 2017 through 2018 to develop a series of semi-permanent artworks around campus in two phases.
The artworks explore overall themes related to transportation, movement, connections to land and water, Indigenous student experiences, language reclamation and reconciliation, and Indigenous advocacy and activism.
The first phase of the project was a mural on the wall of the UMCycle Bike Kiosk that opened in 2017. The bike kiosk mural, created by Indigenous artists Dee Barsy and Kenneth Lavallee and unveiled in spring 2018, initiated the themes of transportation, movement and connections to land and water. The signage pieces carry the themes further and their locations radiate out from the kiosk.
The project aims to "weave Indigenous knowledge cultures and traditions into the fabric of our University," by making "First Nations, Metis and Inuit arts, cultures and languages more visible throughout our campuses," as outlined in the U of M's strategic plan, Taking Our Place.
Way-finding signs
The individual signs are evocative. Sweetgrass, Tobacco, Sage and Cedar discs represent the four cardinal directions and are installed at Curry Place.
Shoal Lake acknowledges the source of Winnipeg's water supply and is located where a water line accesses the main campus. Kookum's Scarf recognizes the role of matriarchs. Ghost Signs reflects on the storytelling aspects of cultural items and the land as memory. Native Views honours the history of the department of Native studies' beginnings going back to an eponymous course offered in 1971.
Bagigewinan — an Anishinaabemowin word that means "that which we leave behind" — displays a loop design symbolizing intergenerational connection and reconciliation. The sign is gifted by the artists to the National Centre for Truth and Reconciliation and will be installed on site at at later date, following a ceremony.
Both phases were rooted in dialogue and discussion with Indigenous staff, students and Elders, and collaborating with the Campus Planning Office, Physical Plant and the U of M's Art Collections Coordinator. The Campus Planning Office initiated the project with support from the University's Indigenous Initiatives Fund.
Plan to attend the Artists and Curator Talk for Cyclical Motion: 11 a.m. to noon, Friday, Nov. 16, at Migizii Agamik. Refreshments served. All welcome.
A different navigation
It's no mistake that "Cyclical Motion" started with the mural at the bike kiosk. The Project uses the bicycle "as a starting point from which to present and uncover Indigenous ways of understanding and navigating the Fort Garry campus," suggests Jenny Western, who curated the overall project.
In fact, she says the bicycle could be seen as a continuation of modes of transportation that predated the very existence of the University of Manitoba's Fort Garry campus.
The Red River is the primary artery that "brought life — plants, animals, people — through the area, well before it was ever a bastion of formal academics and higher learning. Birch bark canoes, York boats and steam-powered paddlewheels all traversed this river, connecting people north and south," she notes in her curatorial essay.

Below: Installation shots, Curry Place.
Drawing attention to overlooked stories, knowledges
By creating a flow through areas of campus only accessed by bike or on foot, both the signs and the mural create a flow through areas of campus only accessed by bike or on foot, she says. They "draw attention to stories and knowledges that are at times overlooked or ignored."
Curator Jenny Western: 'It's a different navigation of the landscape, for those willing to travel by a different route.'
It's a different navigation of the landscape, for those willing to travel by a different route, adds Western.
And, as she says, "once on campus, the bicycle is a beautiful way to get around.
"It is quicker than walking, can be locked up almost anywhere, and gliding along upon the saddle of a bicycle offers a different lens through which to view the shifting landscape."
Project background
Making Indigenous arts, cultures and languages more prominent and visible on campus

Cyclical Motion builds on the Visionary (re)Generation Fort Garry Campus Master Plan. The plan proposes a framework for a new network of open space nodes and places, highlighting Indigenous perspectives and cultures and giving new significance to the campus's public spaces. It also aims to make Indigenous arts, cultures and languages more prominent and visible on campus.
Project goals follow the University's Indigenous Planning and Design Principles. They include enhancing a sense of place rooted in the Indigenous cultures of this land; fostering belonging and community by a public realm that reflects Indigenous perspectives and experiences; and prioritizing relationship-building, listening and collaboration.
See the Cyclical Motion website for more context for the artworks, or explore the pieces in person at the various sites around campus. Find them on the map.
Attend the Artist Talk on Nov. 16 to hear more about project from the artists and curator.
Cyclical Motion: Artist Talk
Followed by Talk and Walk tour of installations
11 a.m. to 12 noon
Friday, Nov. 16
Migizii Agamik
Artists and curator will speak. Refreshments will be served.
All welcome.