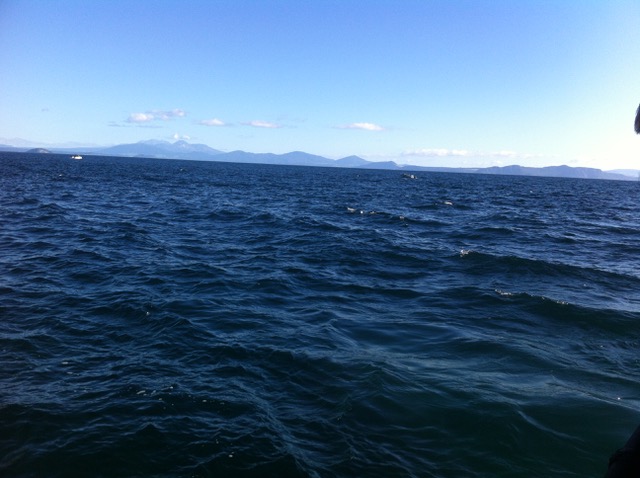 Fishing for bacteria in New Zealand
A microbial there and back again
February 22, 2017 —
If you asked Richard Sparling, what he did during his sabbatical early last year, he'd probably say "fishing in New Zealand."
But this ambiguous answer by the department of microbiology associate professor does not tell the whole story.
"This is Lake Taupo, in the middle of this large caldera," said Sparling, pointing to a picture of New Zealand's largest lake, which he called home for a number of months amidst active volcanoes and kiwi birds.
Apparently Lake Taupo is well-known for its abundance of trout, but Sparling wasn't fishing for fish, but rather thermophilic (heat-loving) bacteria.
He travelled to New Zealand to collaborate with Matt Stott of the Crown Research Group GNS Science, New Zealand's equivalent of the Geological Survey of Canada.
Stott and his team are behind the ambitious One Thousand Springs project, an initiative to characterize and catalogue the chemical and microbial diversity of 1000 geothermal hot springs on the North Island of New Zealand.
"99% of these microbes are non-characterized," said Sparling. "So Matt and his team are working to learn more about these springs."
The North Island of New Zealand is one of the few places on the planet with extensive hot spring diversity, the others being Yellowstone, the Kamchatka Peninsula in Siberia, Iceland, and Japan.
He showed me an image of two seemingly identical side-by-side hot springs that he collected samples at.
"This one is at 64 degrees and has a pH of 3," said Sparling with anticipation. "And this is the one I was sampling, the Cooking Pool, is at pH 6.8."
For those of you who aren't well-acquainted with the logarithmic pH system, that is more than a 6000 times difference in acidity, a jarring between hot springs only steps away from each other.
The Cooking Pool is a carbonate spring that takes its name from its traditional use by the Māori to cook meats and other foods.
Hot springs don't only exist in protected regions like geothermal parks, they can also pop up in residential backyards near Lake Taupo, furthering the relationship between people and the volcanic land.
Sparling travelled to New Zealand on the hunt for new methanogens—microbes that produce methane as part of their biochemical processes. His lab's speciality are anaerobic methanogens—bugs that produce methane-rich burps in the absence of oxygen.
He pointed to pictures that looked like fantastic canvasses of green, orange, yellow, and grey.
"Wouldn't you like to just mount that on your wall?" he asked me. "I'd like to print and frame this."
Different microbes grow at different temperatures and with different chemical properties like pH. At 60° C, chlorophyll-containing cyanobacteria can grow, leading to brilliant displays of green. At higher temperatures, the cyanobacteria give way to other thermophiles and their drab colours.
"It's biology—all of these colours are biology."
The bacterial mats look more like watercolour paintings than they do diverse ecological communities, but Sparling assured me that they are full of diverse bacteria and other microbes.
Unfortunately, Sparling did not find the low pH methanogens he was looking for, but he hasn't given up hope either, he already has plans to travel back to New Zealand to play around the GNS Laboratory some more, hopefully poking through a few new hot springs.
"I was going to 'play care' everyday from 9-to-five," he joked. "In seriousness, it was very stimulating from a scientific point of view."
For Sparling, the sabbatical allowed him to get back in the lab and reconnect with the hands-on science skills that he developed as a graduate student.
"The most successful sabbatical is a tit-for-tat," said Sparling. "I come with certain expertise that they have less of and I go to them because they have certain aspects that I don't have."
In New Zealand, he was able to bring an familiarity in anaerobes that Stott's team lacked. In return, they were able to supply Sparling with different molecular biology skills and, of course, one thousand unique hot springs.
"It's not just about the science, but it's the science within the context of the scientific community and the cultural experience as well—how researchers work in the context of their everyday life."
In New Zealand, a fellow commonwealth country, many things were the same scientifically. One major difference, however, was the precautions one took to protect against earthquakes and other geological events. Most equipment, even centrifuges, had to be bolted down.
And his favourite memory from the sabbatical?
"Let me put it this way, I remember everything that did every single day. The memories are so vivid, even today, because it was breaking the routine."
"I can't wait to go back."