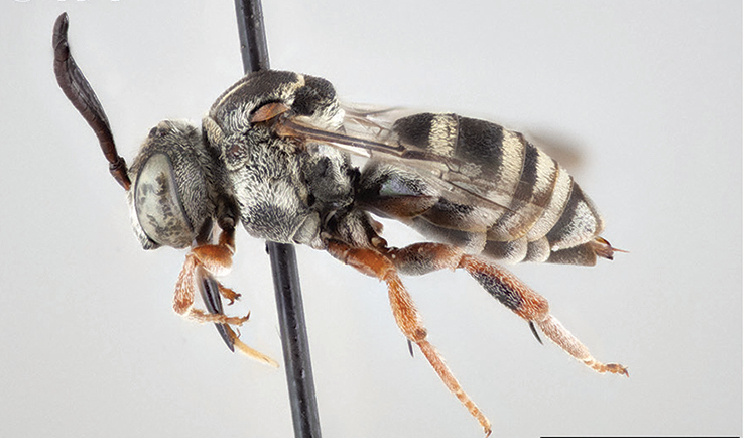 Finally, a bee for Friendly Manitoba
May 18, 2018 —
Manitoba, you have a new, smiley face bee.
Jason Gibbs, an assistant professor of entomology at the University of Manitoba, collected Epeolus gibbsi in Spruce Woods Provincial Park. The bee is named after him in a recent paper by York University's Thomas Onuferko in the journal ZooKeys.
Gibbs's bee is mostly black and about the size of a housefly, but with a slender waist (a hallmark of wasps, bees and ants). It has two white dots and a band of white, densely pressed hairs, marking its back.
"It looks like a smiley face so I like to call them smiley face bees because of that," Gibbs says.
Gibbs's belongs to a group of bees—the cleptoparasitic genus Epeolus—commonly referred to as cuckoo bees. They're named after the infamous birds that do what these bees do: lay their eggs in the nests of other species. Their preferred hosts are group of solitary bees in the genus Colletes, commonly called cellophane bees for the transparent material they use to line their underground nests.
It flies low to the ground over the Spirit Sands (sometimes called the Carberry Desert) in the unique ecosystem of the provincial park, searching for nests of cellophane bees to sneak into to lay eggs. Gibbs does not know exactly what species it parasitizes (Manitoba has several species of cellophane bee) but plans to return this summer to further investigate his bee's ecological role.
Gibbs, a taxonomist, doesn't specialize in this particle group of bees, yet when he examined it under the microscope he knew something wasn't right: it neither matched any of the local bees stored in the J.B. Wallis-RE Roughley Museum of Entomology in the Faculty of Agricultural and Food Sciences, of which he is the curator, nor did it fit descriptions in scientific literature. The closest bee its taxonomy matched lives in Atlantic Canada.
"So it seemed a little odd. So I sent it to an expert, thinking he'd know better than I would. And I didn't hear anything about it until [last week] when I was scrolling through his paper and saw that it was a new species, and it was named after me."
Gibbs has done the honour of naming species after others, but this is the first time such an honour has been returned based on a specimen he collected. And having a parasite named after him doesn't diminish his jubilation.
"I think about all the times I bummed car rides as a graduate student, and it seems pretty suiting," he laughs. "It's nice to discover something new that is interesting to someone else. And then also to be recognized for that."
Gibbs's research is funded by an NSERC Discovery Grant, United States Department of Agriculture, Agriculture and Agri-Food Canada and the University of Manitoba.
Research at the University of Manitoba is partially supported by funding from the Government of Canada Research Support Fund.