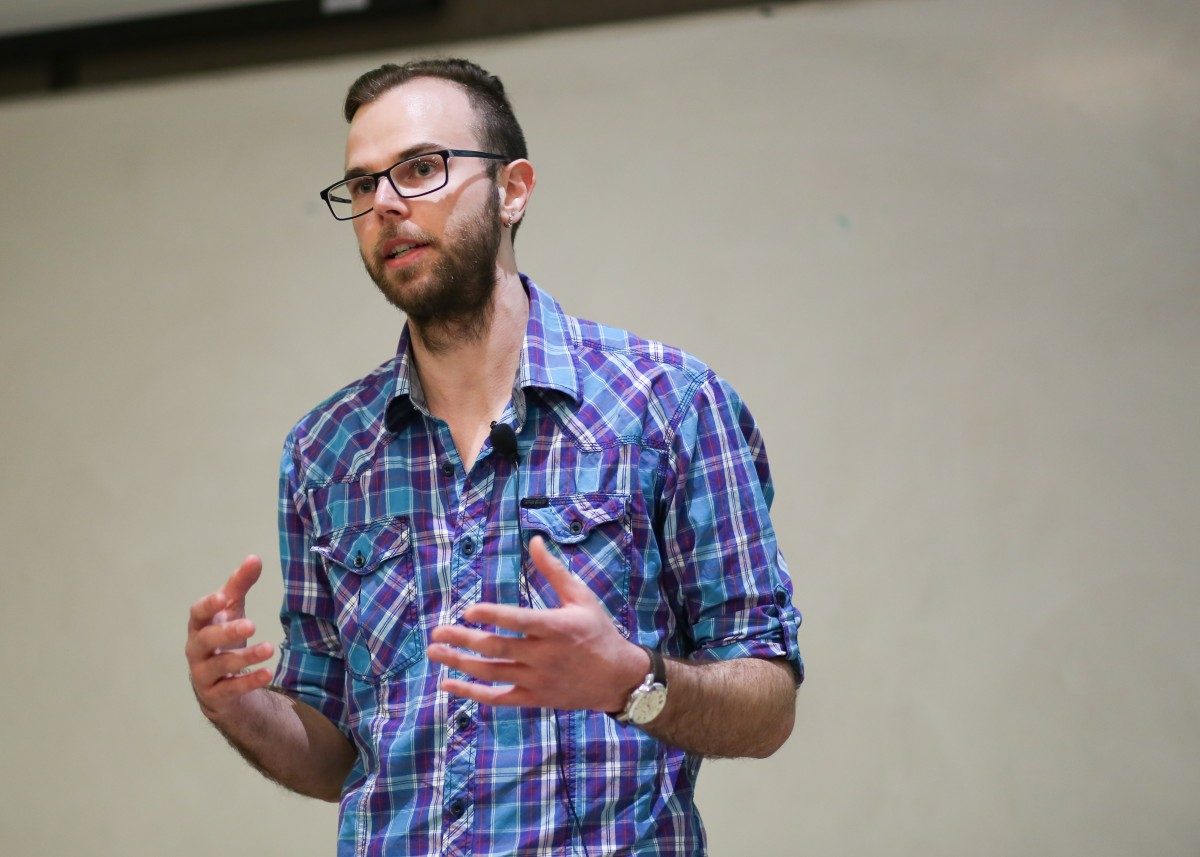 Finalists ready to put spotlight on innovative research at 3MT finale
March 14, 2018 —
Three Minute Thesis 3MT® finalists have been chosen through stiff competition during three competitive heats this past week. With presentations covering disciplines in the sciences, humanities and medicine, 13 masters and doctoral students were chosen from a field of 36 and are now ready for the finals on March 21, 2018.
Three Minute Thesis 3MT® is an annual competition where challengers have three minutes to explain their research and its importance or relevance, using only a single static image or slide to illustrate their topic.
At the University of Manitoba, 3MT® is part of an overall strategy to highlight our graduate students, promote research at the University of Manitoba, and connect with the community.
During the heats, panels of judges from within the faculties assessed the presenters on comprehension, engagement and communication style. Now, three different judges from the broader community will determine who will advance to regionals and compete for the opportunity to represent the U of M at a national competition.
Students will compete for the Dr. Archie McNicol Prize for First Place ($2,000), the UM Retirees Prize for Second Place ($1,000), Third Place ($500), and the People's Choice awards.
The 13 finalists are:
Kevin Boreskie, Kinesiology
When your doctor prescribes exercise
"Anti-Hypertensive Effects of HIIT and MICE in Hypertensive Women"
Advisor: Todd Duhamel
Kevin really enjoys exercise and sport, and wants others to enjoy the same benefits he gets from participating in activities. He's a volunteer for ultimate Frisbee, and even manages a fitness centre in a school. He hopes to bring more transdisciplinary relationships into the field of medicine, allowing for exercise to use as a tool to prevent illness.
Megan Bourns, Soil Science
Getting a lot more out of the land
"Soybean Response to Potassium Fertility and Fertilizer in Manitoba"
Advisor: Don Flaten
Although Megan grew up in the city, she comes from a farm background, where she had opportunities to experience agricultural production. She hopes to have a career in agricultural research, focusing on sustainability and finding innovative ways to maximize agronomic productivity and optimize economic gain within the framework of responsible environmental stewardship.
Jill Bueddefeld, Geography
The 'bear' truth: our world is changing
"Polar Bear Tourism: How to Learn to Care About Climate Change"
Advisor: Mary Benbow, Christine Van Winkle
Jill grew up on a farm and always understood that we are connected and a part of nature. When she traveled the Amazon, she began researching how tourism can play a pivotal role in inspiring transformation and sustainability – a way to reimagine ourselves in the world around us. She enjoys teaching, so she can give students "everything you need to know to be an informed citizen of the earth."
Matthew Cook, Psychology
Why do we do what we do?
"Computational Psychiatry: A Cognitively-Inspired Method for Clinical Diagnosis"
Advisor: Randall Jamieson
Matt recently travelled to New York City to study big data collection and analysis methods. His field is cognitive psychology because he wants to understand the processes that allow us to do the things that come so naturally: perceiving, remembering, using language and more. He wants to understand these processes and adapt them for machines, developing artificial intelligences that will use human cognition as their inspiration.
Brad Cownden, Physics & Astronomy
Understanding the Universe 101
"Examining Strongly Coupled Quantum Systems With Holographic Duals"
Advisor: Andrew Frey, UW
Brad says he has always been amazed with how – and why – the universe works the way it does. In addition examining string theory (a theory that tries to unite quantum mechanics and general relativity within a single framework).), Brad has found time to help run coding camps with the Wii Chiiwaakanak Learning Centre for inner-city youth. He aspires to be a physics professor.
Shervin Khalili Ghomi, Civil Engineering
Designing buildings to withstand earthquakes
"Seismic Performance Improvement of GFRP-Reinforced Concrete Frames: A Path to Earthquake-Resistant Buildings"
Advisor: Ehab El-Salakawy
Shervin was born in Iran, a country that has experienced many severe earthquakes. During Shervin's lifetime, earthquakes in Iran have left thousands of people dead and thousands of homes destroyed. That inspired Shervin, as a structural engineer, to pursue graduate education at the U of M to design safer buildings in regions with high risk of earthquakes.
Mohammad Reza Kazemian, Biomedical Engineering
Better kitchen cutting boards to keep food safe
"Engineering Rechargeable Antimicrobial Surfaces for Efficient Inactivation of Pathogenic Microorganisms in the Presence of Organic Matter"
Advisor: Song Liu
Mohammad studied biochemical engineering at Tehran Polytechnic, where he was drawn to focus his research on foodborne illnesses and food contamination. He says: "Over 600,000 people get affected by foodborne illnesses each year. So, I decided to do something about it!"
Sandhini Lockman, Biochemistry & Medical Genetics
Unlocking the minds of those with mental disorders
"Investigating the mechanism of a DNA methylation protein's regulation in the brain"
Advisor: Mojgan Rastegar
Sandhini always had a passion for genetics and molecular biology and through a NSERC studentship she undertook a project working with human brain cell lines. She's involved with the Biomedical Youth Program, inspiring Inner City youth to pursue careers in science. She hopes to make a difference in the lives of individuals affected by mental disorders, and to give them hope.
Nivedita Seshadri, Physiology and Pathophysiology
It's time to think about chronobiology
"Circadian clock is the master regulator regulating glucose homeostasis over 24 hours"
Advisor: Christine Doucette
Nivedita wants to work and find more answers in the field of chronobiology, an area of science she says is very underappreciated. She says most people associate chronobiology with only sleep disorders, but metabolic disorders such as obesity and Type 2 Diabetes are also consequences of disrupted sleep/wake and disrupted feeding cycle disorders. Nivedita is part of the DREAM (Diabetes Research Envisioned and Accomplished in Manitoba) trainee group at the U of M.
Carmine Slipski, Medical Microbiology and Infectious Diseases
Resistance is not futile in the fight against bacteria
"Pumping Up the Fight Against Antimicrobial Resistance"
Advisor: Denice Bay, George Zhanel
As a child, Carmine received a microscope for Christmas one year and found the microscopic world fascinating. About the same time, he saw the movie Outbreak, about a fictional Ebola virus outbreak. Equally terrified and interested by microorganisms, especially pathogenic ones, his desire is to develop new antimicrobial strategies and help prevent antimicrobial resistance in bacteria from becoming any worse than it already is.
Kyla Smith, Physics & Astronomy
Reducing Patient Stress: A Silent MRI Machine
"A Homogeneous RF-Shielded Magnet for Low-Field Magnetic Resonance Studies"
Advisors: Christopher Bidinosti, Scott King
Kyla completed a B.Sc. with double majors of physics and English, and then a B.Ed. in secondary education with a specialization in classroom diversity, both at the University of Victoria in British Columbia. A former high school physics teacher, she is on the board of the Canadian Association of Physicists Foundation and coordinates the Science Rendezvous School Day at the U of M.
Christine Stochl, Interior Design
Looking closely at the shopping experience
"Redefining Retail: Designing an Alternative Experience-Based Retail Model"
Advisor: Susan Close
Christine says she has always been passionate about improving the experience of the environments in which we live, work, and play, through design. She is the president of the Interior Design Association of Students, and acts as the student representative on the Professional Interior Designers Institute of Manitoba Council. After graduation, she wants to combine her love for business and interior design to work with commercial interiors as a licensed Professional Interior Designer.
Yang Xin Zi (Cindy) Xu, Physiology and Pathophysiology
Understanding the biological differences between men and women
"Prohibitin: a player in the sex differences of adipose and immune functions"
Advisor: Suresh Mishra
With two years of co-op experience at the Vancouver Prostate Centre and Commonwealth Scientific and Industrial Research Organisation (CSIRO), Cindy reaffirmed her commitment to basic sciences research and developed an interest in endocrine and metabolic disorders. She tutors extensively and aspires to teach in her field. She also volunteers with Diabetes Canada in Winnipeg, assisting in local health fairs to educate the public, especially reaching out to our Indigenous population that has limited access to information.
The final competition will be held on Wednesday, March 21, 2018, from 7:00 to 9:00 p.m. in the Robert B. Schultz Lecture Theatre at St. John's College.
The emcee for the Final Competition will be Paul Samyn, editor of the Winnipeg Free Press.
Judges for the Final are Ab Freig, CEO, Triple 3 Biotechnolgy Inc.; Mary Jane Loustel, Co-Founder & Strategist, SHEACCELERATOR, Inc. and Joanne Sigurdson, Executive Coach-Chair with TEC Canada/Triple J. Consulting.
Doors open at 6:30 p.m. Everyone is invited to cheer on the finalists, who will test their mettle in front of a live audience.
Research at the University of Manitoba is partially supported by funding from the Government of Canada Research Support Fund.