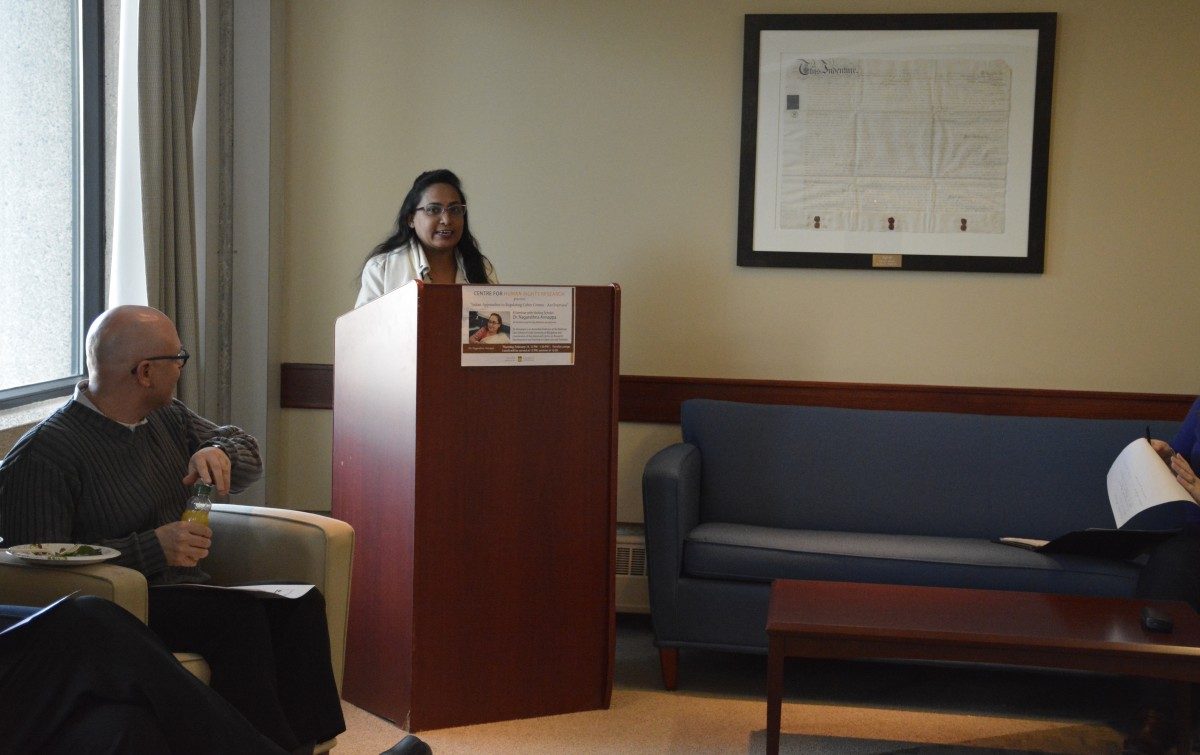 Fighting Cyber Crime with Research
Visiting Scholar shares overview of India's cyber laws
February 23, 2018 —
Hosted by the Centre for Human Rights Research, Dr. Nagarathna Annappa presented a seminar on "Indian Approaches to Regulating Cyber Crimes – An Overview" on February 15, 2018, in the Robson Hall Faculty Lounge.
Dr. Annappa is an Associate Professor at the National Law School of India University at Bangalore and Chief Coordinator of the Advanced Centre on Research, Development and Training in Cyber Law and Forensics. She was a Visiting Scholar with the CHRR for the month of February, 2018, while conducting research in Canada for her work regarding cyber laws for the online protection of children.
Speaking to an audience of law professors and students, Annappa began her overview with a description of the growing and expanding digital world in India. With the expansion of e-commerce and e-governance, India is experiencing an increase in crime in this area, she said. The numbers of victims of these digital crimes now go beyond geography, and as is consistent with the features of cyber crime, anyone can be targeted. Debates have arisen among law makers as to whether or not they should keep old laws currently in place and simply apply them to the new digital circumstances, or to update the laws entirely to suit the digital world.
Distinguishing between conventional crime and cyber crime, Annappa explained that harassment, fraud and theft still happen, only with technology being used as a tool. For example, money laundering still happens in the form of online financial fraud, and hackers are a new form of thieves, now more interested in stealing confidential data to use for extortion and other nefarious reasons. For example, scholars are at risk of losing their data, and there are no strong or effective laws so far protecting against Phishing or Spam. Rampant copyright violation in India is another problem. Annappa described how four hours after being released in movie theatres, a newly released Bollywood film can be expected to be downloaded illegally from the internet. One form of extortion being committed in India is "cyber-squatting" where someone registers another person's website domain name and extorts money from them in order to get it back.
Currently, cyber security standards in India are not very good for protecting against these such cyber crimes, because language has been too vague or out-of-date. Pornography in India is a major concern and like previously conventional crimes, is now without geographical boundaries. In a cyber context, it has become difficult to collect evidence of it from other countries. Another issue is a clash with laws around freedom of expression: where pornography is a crime in India, other countries have different definitions of what is considered pornography.
In cases like this, collecting evidence from countries like the United States is a big challenge. India has some very unique social and cultural factors that are not widely understood in other countries. Having its own infrastructure to deal with cybercrime would therefore be ideal, however it is a great challenge for developing countries like India to achieve. That said, India has had a good working relationship with Canada and Computer Emergency Response Teams (CERTs).
Procedural issues faced by Indian authorities including the Bureau of Investigation which has stations across the country, involve lack of clarity as to which level of police should handle cyber crimes. For example, often a complaint of cyber crime reported to a regular local police station gets referred to a cyber police station, but then back to a regular station again.
Previously, the Indian Information Technology Act of 2000 was intended for E-commerce, but does not deal with broader offences. After the Mumbai terror attacks of 2008 wherein a small number of terrorists used technology to carry out a widespread number of attacks killing and wounding hundreds of people, India set about amending its cyber laws.
The Centre of which Annappa is the Coordinator, trains law enforcement agencies in how to identify and stop cyber crimes. The Centre has just finished a consultation process to develop a new law to protect the right to privacy in India. Since the National Law School in Bangalore is considered to be "the Harvard of the East," Annappa said, the scholars there are often consulted by the government when it is drafting legislation, or when cases are filed against the government. Annappa has been asked to share the work she has been doing here in Canada once she returns.