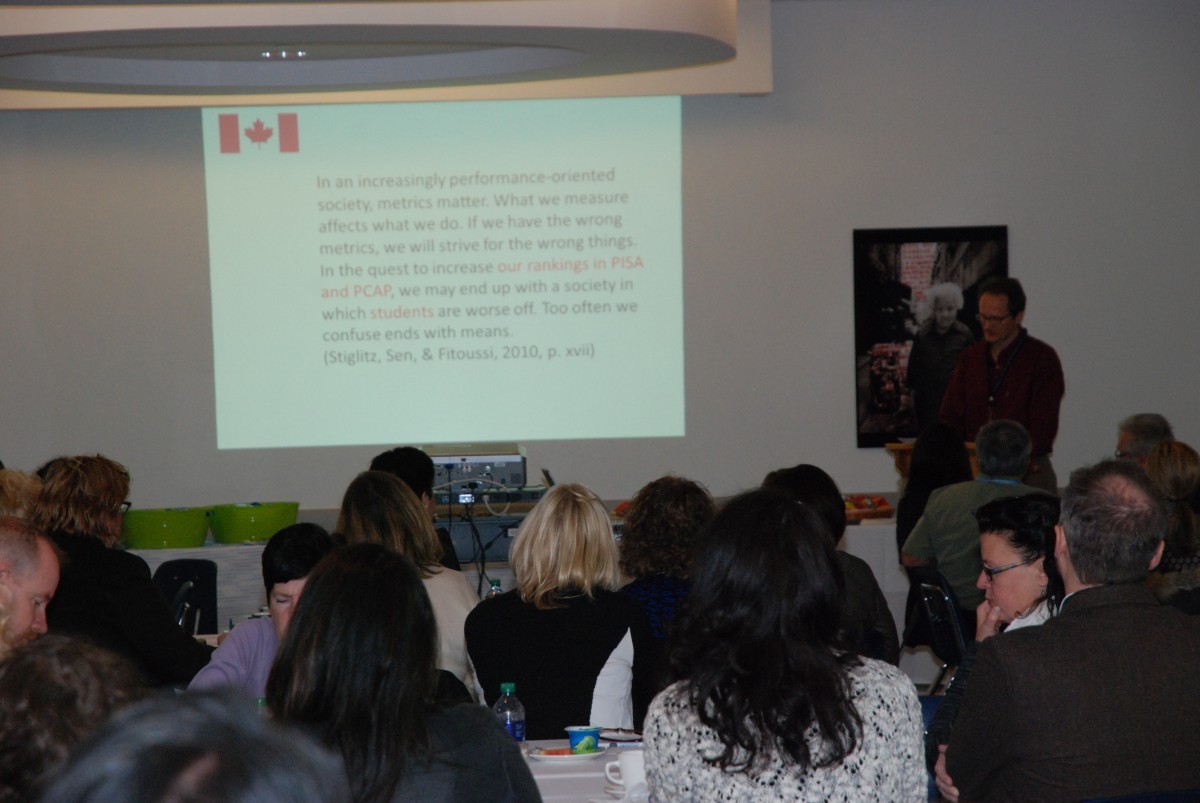 Student well-being should be a focus in schools, conference told
Too much emphasis on standardized test scores, session on well-being of Manitoba pupils told
December 1, 2015 —
Schools need to pay more attention to students' whole health and well-being—everything from outdoor education to mental health to democracy and citizenship skills, and not just test scores, a working conference on education for well-being heard.
While the results of standardized tests such as the Pan-Canadian Assessment Program (PCAP) are important, said conference organizer Thomas Falkenberg, who is also a professor in the Faculty of Education, they report only on children's cognitive development—not on their well-being as a whole.
"All those methods assess educational outcomes. But they are not concerned with the actual educational experiences of students. For their quality of life as students," Falkenberg said.
"I will stress they [tests such as PCAP] are too narrow as measures of school success, and they receive too much attention and concern," Falkenberg told the attendees.
About 120 people braved stormy weather to attend the conference, held Nov. 19. The fourth annual, day-long conference was held by the Education for Sustainable Well-Being Research Group, a group based in the UM Faculty of Education, was a working conference this year. The 2015 topic was "Understanding and Assessing Well-Being and Well-Becoming in Manitoba Schools."
Falkenberg spoke about the need for schools to begin putting emphasis on other types of skill development, including conflict resolution, cooperation and emotional capabilities such as empathy and compassion.
While some school testing has remained fairly narrow, with many standardized tests continuing to focus on subject areas including math and literacy, there have been some strides in the area of looking at students' experiences holistically, he said.
For example, he spoke about research by the Ontario group People For Education called Measuring What Matters which examined at measures of school success that "reflect the broad skills students will need in the workforce and to take their place as engaged citizens," Falkenberg said. That report looked at broader topics, including social-emotional skills, mental and physical health and democracy and citizenship.
Educators must begin focusing on students' quality of life while attending school, as well as the role of schools in students' quality of life, he said.
"We do need to develop capabilities in order to live well and be well. Would that not be an important incentive for school education, to focus on these capabilities?"
The conference featured several two-hour working sessions in which participants, who included teachers, administrators and others working in the Manitoba education system, discussed well-being and well-becoming in more detail, including mental health and well-being in schools, Indigenous education and well-being and teacher well-being.
Group discussions
The group exploring mental health discussed the fact that "we overwhelmed by the complexity of modern life and our children are the reflections," said Gary Babiuk, a co-organizer of the conference and a professor in the UM's Faculty of Education. That includes students being bombarded by many mixed messages, including on social media.
Babiuk said the group spoke about the need to ensure more systemic thinking in schools—that is, involving children, their families and their communities in order to improve mental health in schools.
The group examining teacher well-being spoke about the sheer need for educators to have the time and space to talk to one another.
"That's something that isn't often afforded that much time…to come together and to have conversation," said Jennifer Watt, who is a sessional instructor in the UM's Faculty of Education and who was facilitating the session. She noted that teacher well-being and well-becoming is a layered concept which must include the well-being of the community and the students; along with teachers.
Another group discussed the outdoor education movement. Despite the blustery conditions, they decided to go outside to get a full sense of "how it makes ourselves and our students feel better," Watt, who also facilitated the session, said.
"We were sharing the energy and excitement that outdoor education brings our students," she said. Some of the challenges of outdoor education are to make sure that it is integrated into the curriculum rather than make it separate. Students can head outside to notice various aspects of nature, sounds, etc., she said.
And, although cold winters do make it a challenge, Watt said the group discussed ways to continue to make outdoor education possible, such as installing warming huts in school playgrounds or committing to five minutes outside on the chilliest of days.
Yet another group looked at using divisional data for well-being and well-becoming. Paul Cuthbert, a retired superintendent of the Evergreen School Division and facilitator of the group, said that while schools are collecting a "significant amount of data," it is not being used well.
"We are collecting too much data, and we are not seeing enough action out of that data."
As well, the group discussed the fact that if students are not doing well, they cannot learn.
"Schooling is much more than simply academics. It is about developing contributing citizens who are well."
Research at the University of Manitoba is partially supported by funding from the Government of Canada Research Support Fund.