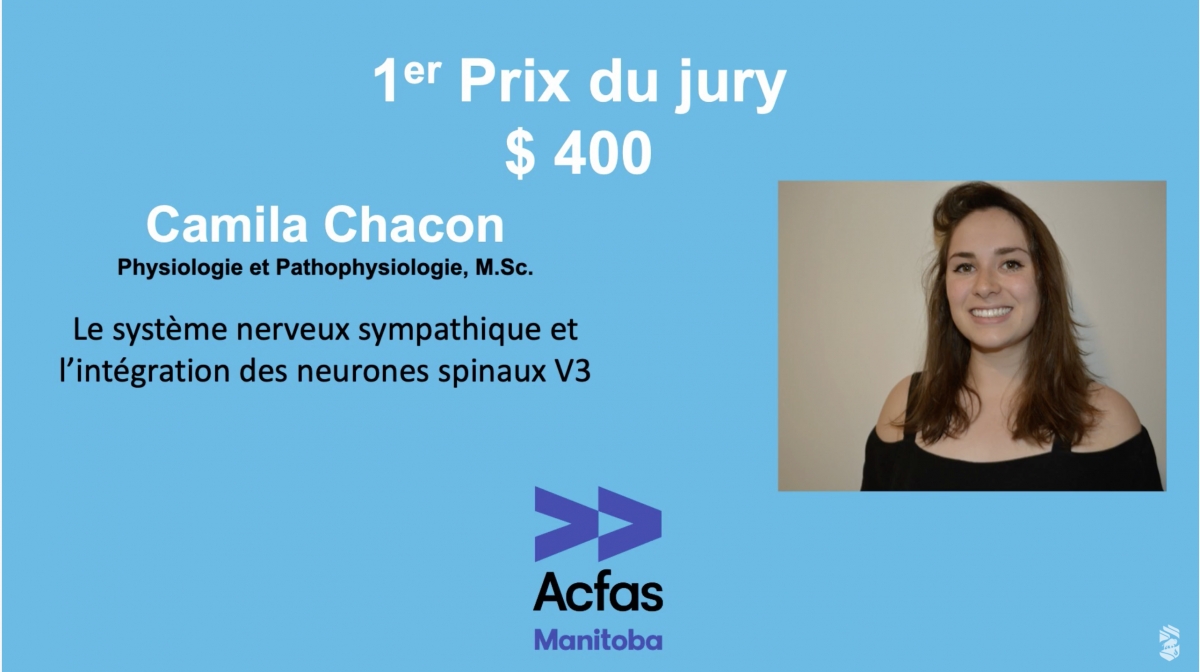 Félicitations! Announcing the MT180 winners
Three grad students take home top prizes after presenting their theses in French.
April 25, 2022 —
For the third year in a row, the 2022 Ma Thèse en 180 Secondes (MT180) competition at the University of Manitoba was held virtually, with each of the contenders holding their own while presenting their thesis research.
The competition challenges graduate students to present their research, in French, before a non-specialized audience and panel of judges in only 180 seconds (or less), using a single, static slide.
On April 19, four graduate students – Camila Chacon, Diane Tshikudi, Patti Germann, and Courtney Marshall – each showcased their research to judges and the online audience. The competition was hosted by Dr. Jean-Eric Ghia, professor at the University of Manitoba and Honorary Consul of France in Winnipeg
"This competition highlights the presence of francophone students in our university, a pool of students who contribute to the advancement of knowledge and participate in developing a scientific culture in Canada," says Ghia. "Through that competition and the spread of their research, they are a major vector for enrichment.  I would like to thank all the participants for their engagement through their community and their contribution en Français."
First place, sponsored by the association francophone pour le savoir (Acfas) Manitoba, was awarded to Camila Chacon, a master's student in the department of physiology and pathophysiology.
Chacon, a recipient of the Faculty of Graduate Studies Research Completion Scholarship in 2021, hopes that her research will help lead to advancements in optimizing therapeutics for individuals living with spinal cord injuries.
Second place, sponsored by the Ambassade de France au Canada, was awarded to Diane Tshikudi, a doctoral student from the department of immunology.
A recipient of the 2021 Mindel and Tom Olenick Research Award in Immunology, Tshikudi intends to establish herself as an independent researcher, working on better understanding inflammatory diseases and developing therapeutic approaches to help improve patients' care.
All members of the UM community are encouraged to tune in and support her as she advances to the Acfas national final*, held in-person on May 11, 2022, at 6:30 PM EST at le Théâtre de la Cité universitaire in Laval University.
Third place, sponsored by the Ambassade de France au Canada, was awarded to Patti Germann, a doctoral student in French, Spanish and Italian.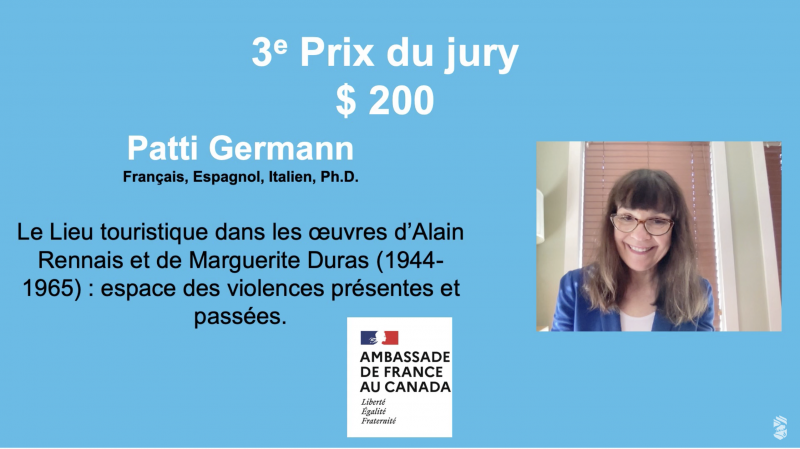 "It is a great testament to these students that they can discuss their research for a lay audience in French. They have found a way to successfully communicate their ideas and inspire others with their passion and drive", says Kelley Main, acting dean of the Faculty of Graduate Studies. "I would like to congratulate all the competitors and wish Diane the best as she competes at the finals."
The link to watch the UM final can be found here.
*The rules stipulate that only PhD students can advance to the Canadian Finals, and as Camila is a Master's student, Diane will be advancing to the ACFAS final. The national final will be held on May 11, 2022.