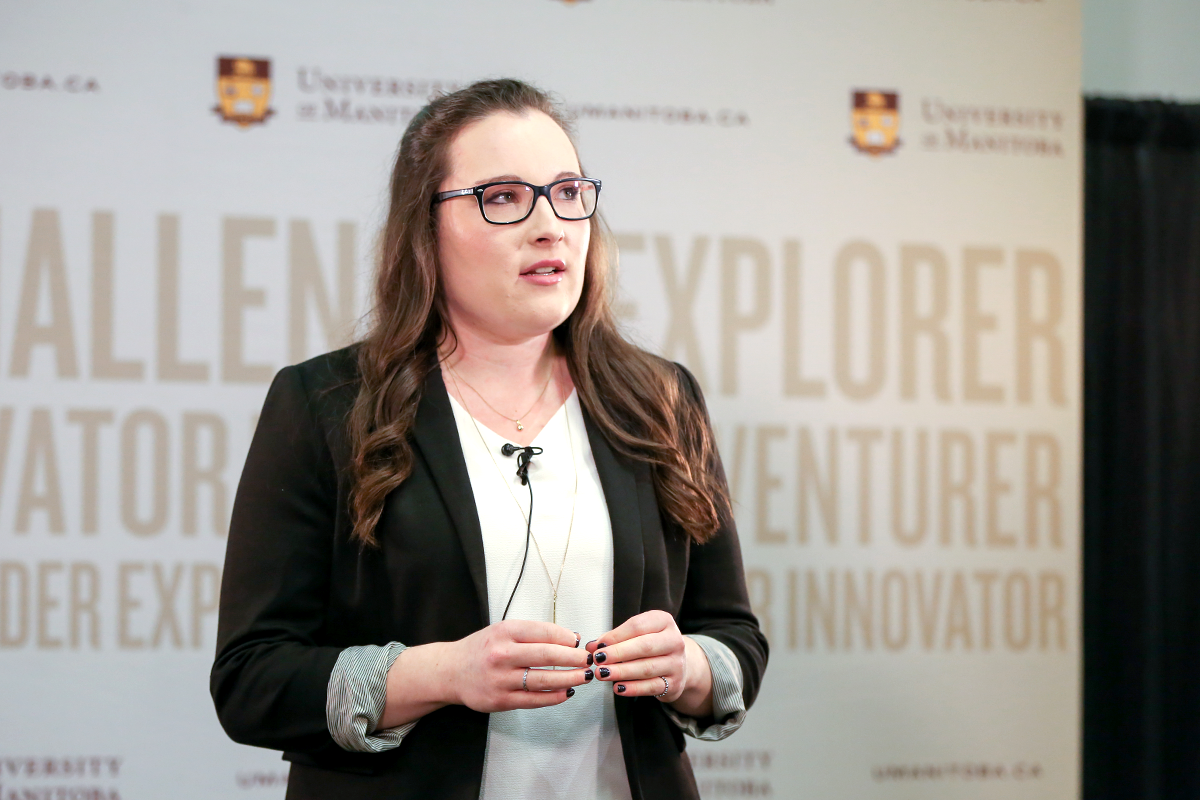 Feeding change: Ensuring our food has something to eat
May 24, 2018 —
Megan Bourns, to her surprise, thinks about soil a lot. A graduate student and 3MT finalist at the University of Manitoba, she works with her advisor Don Flaten to ensure our food system doesn't collapse.
Manitoba farmers continue to plant more soybeans, a versatile, inexpensive legume and a great source of protein. After canola and wheat, it's the third most important crop to Manitoba's economy, and one of the most valuable globally. But soybeans, it turns out, exhaust soils of potassium, greedily sucking up this nutrient critical to soil health.
Her field experiments have helped her devise innovative ways to sustainably return potassium into the earth. Working alongside the farmers, she's discovering the ideal fertilizer rate and its optimal placement in relation to the soybean seed, allowing farmers to maximize output and maintain soil fertility.
This career path still surprises her because she always said the two things she would never do would be to work outside, and to work in research. "Yet, here I am just getting back from spending a day out in farmers' fields prepping for the second year of my research trials," she says. "Crazy the paths we find, or perhaps, those that find us."
She grew up wanting to be a teacher then decided medicine intrigued her and went to McGill University to pursue that path. She liked it, but didn't love it. So her dad suggested she try agriculture. A city girl herself, her parents hailed from farms and she did enjoy visiting those. She decided to try it and applied to the U of M's Faculty of Agricultural and Food Sciences because, she says, it is one of the best. Months later, she sat in the introductory class all new "Aggies" must take.
"I just absolutely fell in love with soil and plants right then and there," she says. "I would never have guessed I would have gone into research—or work outside. It's weird but I fell in love with everything about it."
Few think about soil often, if at all. But its importance to our health, peace and prosperity cannot be exaggerated. If we expect to support the United Nations' global population projection of 8 billion people by 2025, we need to care more about the health of our soils. We need to think more about what feeds the food that feeds us.
Thankfully, Bourns is doing her part, for all of us.
Meet the other new faces of innovation and discovery.
Research at the University of Manitoba is partially supported by funding from the Government of Canada Research Support Fund.