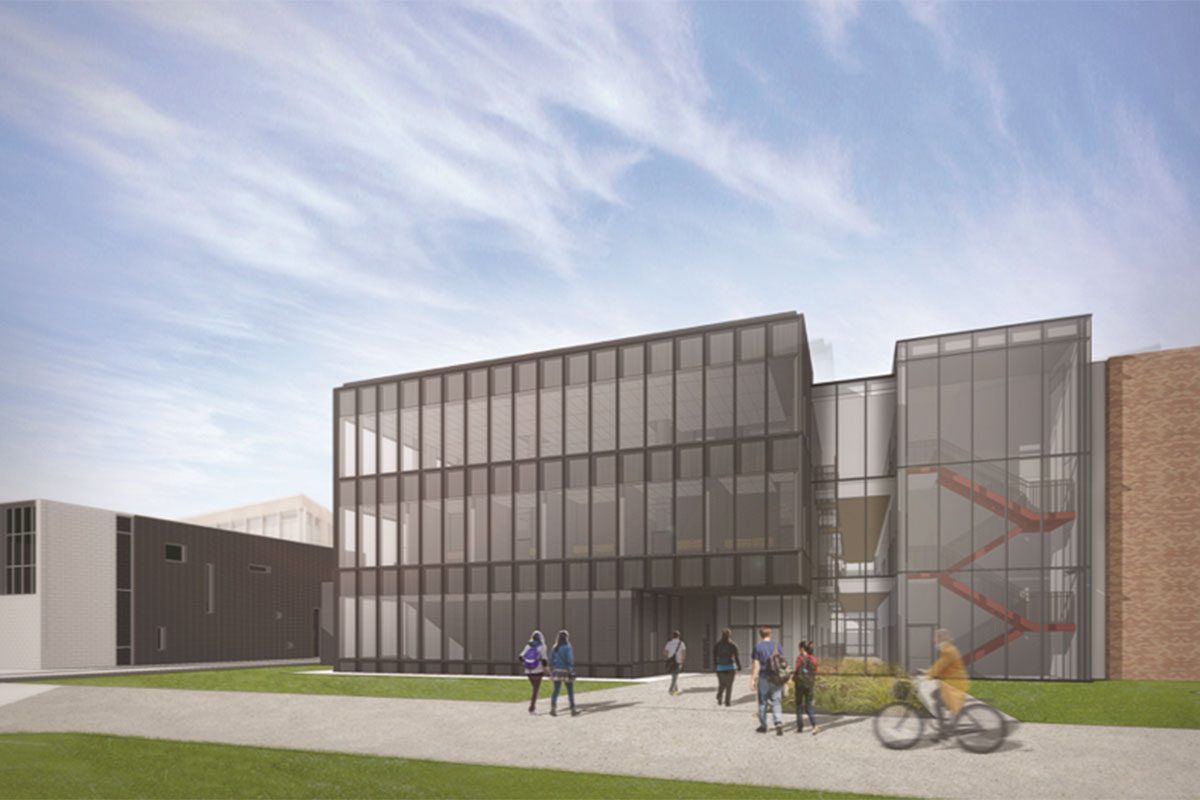 Federal and provincial governments pledge $36M to renew infrastructure at U of M
Investment will create jobs, expand research and innovation
January 24, 2017 —
A joint federal-provincial investment in the University of Manitoba will help to better equip Canadians for the jobs of today and tomorrow.
The $36 million in funding, announced on Jan. 24, will support the development of the U of M Smartpark Innovation Hub, as well as the new Stanley Pauley Engineering Building.
Manitoba Education and Training Minister Ian Wishart and Member of Parliament for Winnipeg South Terry Duguid (on behalf of Minister of Innovation, Science and Economic Development Navdeep Bains) joined U of M President David Barnard to make the joint announcement.
"The University of Manitoba thanks our federal and provincial governments for the ongoing support for innovation infrastructure," said President Barnard. "These advanced facilities will help us attract industry partners, retain highly skilled students and researchers, and will support their collaborative work as Canada's innovative problem solvers."
The Smartpark Innovation Hub will be an information exchange centre that will encourage further partnerships between industry, government and university; include new space for the laboratories, provide rentable space for companies; and be home for the Park's North Forge incubator.
Funding will also support the construction of the Stanley Pauley Engineering Building which will promote greater industry collaboration.
Of the $36-million investment, $32 million will come from the federal government and $4 million from the Government of Manitoba.
As a result of these investments, students, professors and researchers will work in state-of-the-art facilities that advance the country's best research allowing for collaboration between partners that will support lifelong learning and skills training. By working in close proximity with partners, discoveries will turn into products or services while creating high-value jobs of the future.
"Investing in facilities that enable research and development in conjunction with the private sector is a priority for our government as we work to strengthen linkages between academic institutions and industry to address the workforce needs of our province, while better preparing students for the jobs of future," said Wishart.
Federal funding is being allocated through the Post-Secondary Institutions Strategic Investment Fund, which will enhance and modernize research facilities on Canadian campuses and improve the environmental sustainability of these facilities while jump-starting a cycle of innovation.
"These infrastructure investments will create good, well-paying jobs that can help the middle class grow and prosper today, while also delivering sustained economic growth for years to come," said Duguid.