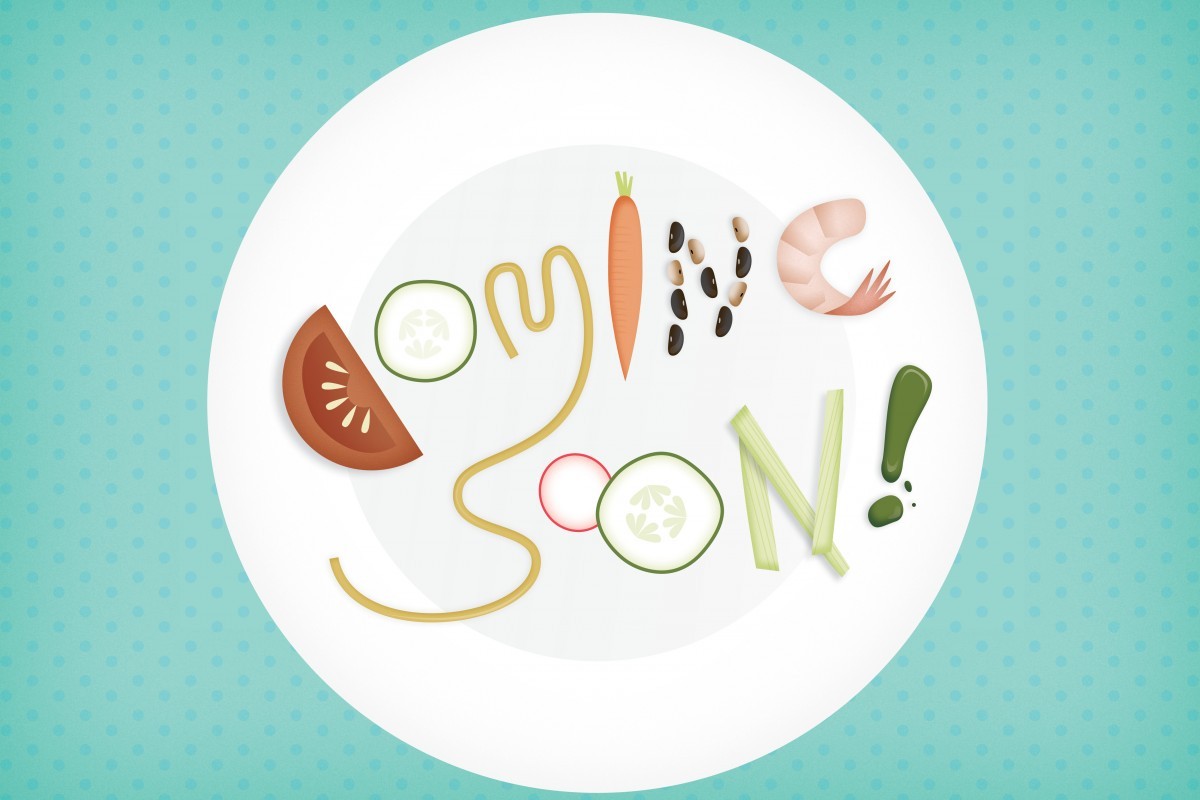 Fast, fresh, healthy — Campus menus get an overhaul
July 21, 2014 —
The summer of 2014 is an exciting time for Food Services. Extensive construction is taking place at many Food Services locations, the most significant of these projects being the food court in University Centre. But physical upgrades to the spaces on campus are just the start.
Through Aramark, U of M Food Services will be making many changes over the next while, including updates to menu options, sustainability and health & wellness programs, and more.
Here's an overview.
Creating healthier menus
With a focus on fresh, seasonal and local foods wherever possible and menus that spotlight vegetables and fruit, whole grains, lean proteins, lower fat milk and milk alternatives, Aramark and U of M Food Services employ experienced chefs to create culturally diverse menus from these wholesome foods — featuring traditional favourites, international flavours and seasonal cuisine. All are now committed to reducing calorie content, less healthy fats, added sugars, and sodium from all recipes, menu items and meals – while still making them taste great!
The approach
Recipe development: Aramark chefs are working in the central Culinary Innovation Centre to take out less healthy fats, added sugars, and salt added in the cooking process during recipe development. Replacing less healthy ingredients with more flavourful alternatives, they are continuously working to improve the taste and quality of our dishes.
Improved nutrient profiles: It starts at the supply. Actively advocating for improved nutrient profiles for all ingredients used in recipes and menus, Aramark and U of M Food Services are working with superior ingredients to deliver only the best food.
Making strides to healthy — and healthier — menus:  Aramark has already made great strides in offering healthier menus in its dining facilities – and continuous improvement means great taste with fewer calories, less sodium, and decreasing less-healthy fats.
Joyce Slater, a registered dietician and an assistant professor in the departments of human nutritional sciences and community health sciences, gives us some tips on fuelling the mind and nutrition for peak academic performance.
Get the Good Stuff TM
How many calories is that sandwich? And what about hidden fat grams in sauces? How do you know if you're making the right choice? One of the biggest challenges of making healthy lifestyle choices is eating outside of your home. It's confusing, intimidating and often frustrating. Aramark wants to make it easier for people on campus to find healthier, more environmentally friendly and sustainably sourced food — "the good stuff."
At the U of M, the Get The Good Stuff flagship location is located in University Centre. Although all of non-franchise locations sell Get The Good Stuff items, this kiosk across from Answers sells only GTGS items, including soups, wraps, sandwiches and salads. Look for the get the good stuff logo in all of participating locations for options that fit the following criteria:
Lower calories: 500 or less for an entrée; 300 or less for a side, soup, snack, or dessert
Less total fat: No more than 15 per cent calories from saturated fats; no artificial trans fats
Sodium: 960mg or less for a sandwich; 720mg or less for an entrée; 480mg or less for a side, soup, snack or dessert
Made with whole grains
Include at least one full serving of colourful vegetables
Fit your dietary needs, including vegetarian and vegan options and no gluten ingredients
Inspiring and supporting healthier lifestyles
Aramark has heard the requests and suggestions. People are looking to improve their lives through the foods they eat every day. That's why it, along with Food Services, are making improvements in the following areas.
More information, better communication
Better access to up-to-date nutrition, ingredient and producer information for many recipes and menus
Relevant stories and articles about the latest in health and wellness research either on The Campus Dish website, through digital messaging or in traditional print formats
Friendly and knowledgeable customer service in all locations
More local connection
Local community events, including culinary demonstrations, health fairs, wellness workshops and "lunch and learns." In the fall of 2013, two brand ambassadors for GTGS arrived on campus and spoke to students and staff, explaining the new program and offering customers and opportunity to win prizes, including a Nike Fuelband. More events of this type will be held, so stay tuned!
A commitment to meeting special dietary requirements 
Nothing is worse than being hungry and not being able to eat anything on the menu. Aramark and U of M Food Services are working hard to provide menus that offer a wide variety of food options, including tasty options that meet different dietary needs.
Vegetarian: Whether you're a lacto-vegetarian (yes to dairy, no to eggs), lacto-ovo vegetarian (yes to dairy and eggs), pescatarian (yes to fish), or a flexitarian (a sometimes vegetarian), you're covered. A variety of vegetarian options are offered every day in all locations.
Vegan: Aramark also serves filling plant-based proteins such as legumes, grains and nuts. If you have any questions about whether or not a dish contains animal-based foods, ask and they will do their best to answer.
No gluten ingredients: For those suffering from Celiac disease or with a gluten sensitivity, Aramark is also working to develop menu items that don't contain any of the priority gluten sources as identified by Health Canada: wheat, barley, rye, triticale, oats, and their cross-bred hybrids.*
Food sensitivities and allergies: Aramark takes your food allergies seriously. If you have an allergy or food sensitivity, let them know. They will work with you individually to create a customized solution.
*Aramark does serve products containing gluten within their facilities, and cautions those with sensitivities that there is always a small possibility of cross contamination.