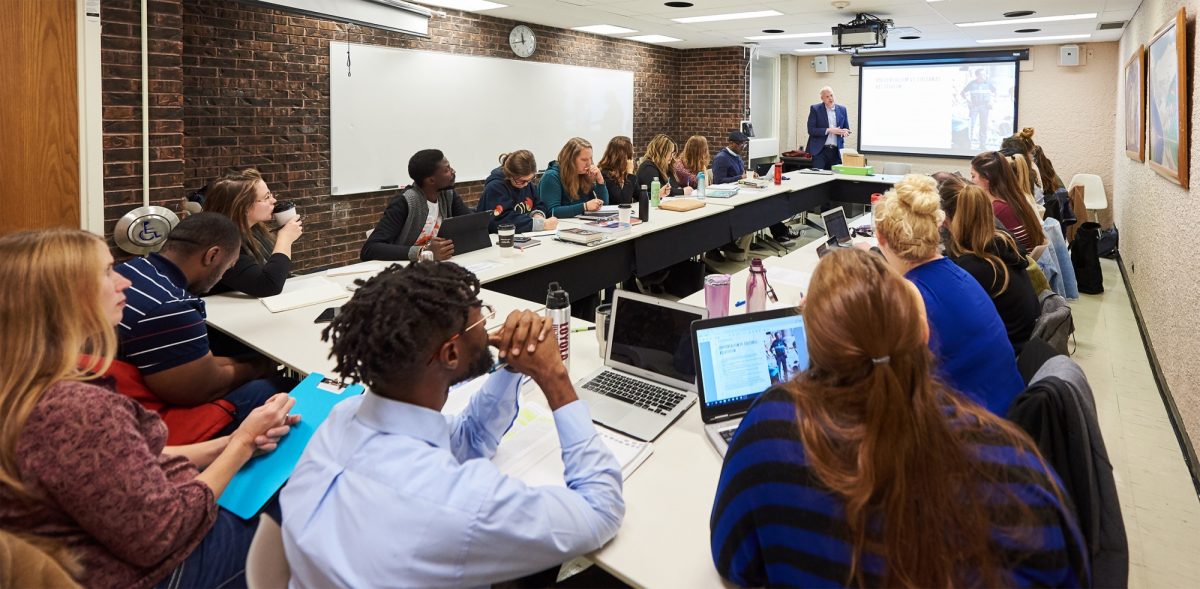 Farming as a political act
MHR student advocates for the rights of peasants who work the land
March 9, 2020 —
Later this year, the Mauro Chair in Human Rights and Social Justice will be appointed to join other educators within the UM Master of Human Rights program at the Faculty of Law. The Mauro Chair will fulfil the vision of Winnipeg philanthropist, former Chancellor, and UM alumnus Dr. Arthur Mauro, OC, OM, QC, who believed that Winnipeg should aspire to become a "New Geneva" and global centre for studies and research on human rights. In 2017, Dr. Mauro supported his vision with a $5 million gift to endow the crossfaculty chair as part of the UM Front and Centre campaign.
Since the University of Manitoba's Master of Human Rights program welcomed its first students in September 2019, those scholars have been busy navigating uncharted waters, seeking to make a difference in the lives of underprivileged people. Jessie MacInnis is one of these remarkable students in the inaugural class of 19 scholars from around the globe.
For the past five years, Halifax native MacInnis has worked as a small-scale organic farmer, annually growing mixed vegetables for direct market sales. After undergraduate and certificate studies in international relations and food security, she traveled in Latin America and worked on small, family-run farms where she saw firsthand the plight of peasant farmers. She then became associated with the National Farmers Union (NFU), a farmer-run, member-based organization advocating for progressive agriculture policy. And recently, MacInnis became involved with La Via Campesina (LVC), a transnational agrarian movement representing millions of peasant farmers around the world, of which the NFU is a founding member.
Through her relationships at the NFU, MacInnis learned about food sovereignty and the practice and principles of agroecology. Her experience with farming led MacInnis to attend a NFU convention in 2018, where she met Dr. Annette Desmarais, Canada Research Chair in Human Rights, Social Justice and Food Sovereignty, professor of sociology at UM, and one of the creators of the MHR program. Together with Desmarais, MacInnis gave a presentation on the UN Declaration on the Rights of Peasants.
"My interest in supporting the Peasant Rights declaration and learning from Prof. Desmarais's extensive study of food sovereignty inspired me to apply for the MHR program at UM," MacInnis says. "We both thought it would be a good fit for me to compliment my political work."
The United Nations Declaration on the rights of peasants and other people working in rural areas was ratified by the UM General Assembly in November, 2018.
Just after starting the new MHR program in Winnipeg, MacInnis headed to Rome in October 2019 to attend a meeting of the Food and Agriculture Organization of the United Nations (FAO) on behalf of LVC and took part in events at the UN Committee on World Food Security (CFS) Plenary.
"My work with LVC in a way pushes the boundaries of what can be achieved through a human rights framework," she explains. "In the MHR program, I'm developing a well-rounded perspective of human rights, and I think this is incredibly important. As an activist, it's dangerous to only understand one-side of a story, or even one story in general. Being critical and unbiased while also acknowledging your unique perspective, and being able to balance different approaches, is something the program is helping me develop."
MacInnis is especially pleased to be able to take elective courses at the University of Manitoba that are directly related to her field of interest. "Making connections between food sovereignty, the power and potential of social movements, and traditional human rights institutions will help me continue the advocacy work I am passionate about," she said. When she finishes, MacInnis intends to continue with her chosen path as a small-scale organic farmer while supporting the rights of peasant farmers.
"In Winnipeg we are part of a growing human rights community, unlike anywhere else in Canada," says Dr. Kjell Anderson, MHR program director, who teaches a mandatory course in human rights law. "The constellation of human rights institutions in Winnipeg gives our students unique opportunities, and we expect that this community will only grow stronger as we further develop collaborative programs."
Anderson explains: "We are off to an exciting start; our current students are nearing the completion of their coursework and will soon leave the confines of Robson Hall to do human rights work and research in our community and beyond."
He adds: "Our applicants for the next cohort of the program are impressively international, coming from a5 countries on four continents. Our ability to attract top tier applicants speaks to the program's vitality and the unique contribution our program will make to the human rights landscape in Canada, perfectly in line with Dr. Mauro's vision."