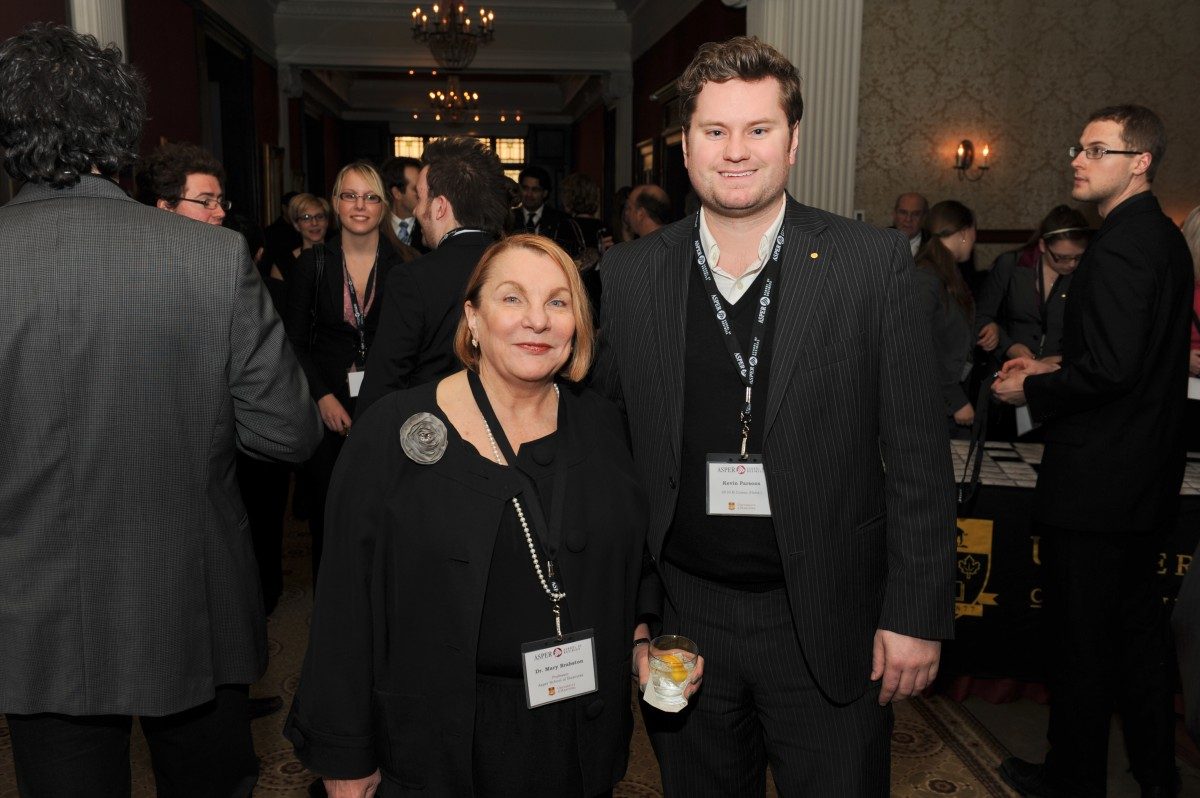 Farewell to the newly retired Mary Brabston
September 10, 2018 —
In January of this year, Mary Brabston, associate professor of management and information systems in the department of accounting and finance, officially retired from her position after more than 20 years with the university.
Her long career as an academic might lead people to believe Brabston was a good student herself, but that wasn't always the case. "I wish I had made good grades in undergrad. I did not. I almost flunked out," she explains. "I looked back on that and the way I addressed it was getting a graduate degree."
Things turned around for Brabston when she began her MBA and realized her dream job was right in front of her. "The very first night of my first MBA class, I looked at the professor and I said to myself, 'I want that guy's job'." For Brabston, a career in academics combined all her passions: drama (she received her undergraduate degree in drama), information systems and mentorship.
Throughout her career, Brabston has impacted the lives of many Asper students, both inside and outside the classroom. When asked why mentorship is so important to her, she states, "My parents taught me the value of community." Brabston's parents gave back to their community "down home" in Alabama through their involvement in the local Chamber of Commerce and the Salvation Army, in turn influencing the "model of service that has been at the forefront of [her] life."
Brabston's teaching career took her from Tennessee to Winnipeg in the late '90s. Here, she found a home at the Asper School of Business and immediately began to make a difference in the lives of students, volunteering her time to the Inter-Collegiate Business Competition (ICBC) within her first year of teaching at the university.
Her coaching experience was an asset when Asper's Jeux de Commerce (JDC) West team needed a faculty advisor. Brabston agreed to coach the students and provide any support necessary when it came to maintaining relationships within the Winnipeg corporate community in addition to recruiting executives and team members to compete.
"Competitions are about student growth," Brabston says, "both in the discipline they're competing in and in their personal growth." She believes involvement in student activities improves students' skillsets, allowing students to evolve as leaders, entrepreneurs and partners laying the groundwork for how they function in the business world. Brabston has seen countless students learn these skills first-hand. Upon retiring, she had been coaching JDC West for nearly fifteen years. In her experience, if a student is hesitant to take on extracurricular activities on top of a busy school schedule, sometimes it just takes a little convincing. "I've encouraged several students to apply for a team by saying 'What if?'" recalls Brabston, "No graduating student ever says I wish I had done less."
When asked what the greatest part of working for the university was, Brabston replies it's the graduates of Asper, as they "have earned degrees, transformed and really grown up" in their years at the university. Graduates "do well and represent Asper well," she says. "We produce the leaders of today, tomorrow and forever."
Since retiring, Brabston has been on-the-move: staying active in her church community, finishing up projects with the university, travelling, learning to be a better cook and just trying to stay sharp in all aspects of her life. She looks forward to maintaining the relationships she has made with Asper alumni, faculty and staff, in addition to fostering new friendships outside of the university.
Are you one of the many Asper alumni influenced by Brabston? Celebrate her at a retirement reception on Thursday, Sept. 27 at the James W. Burns Executive Education Centre in downtown Winnipeg. Alumni are encouraged to send photos, memories or quotes about her to Courtney Thompson prior to the event, as these will be collected and displayed in a presentation during the event.