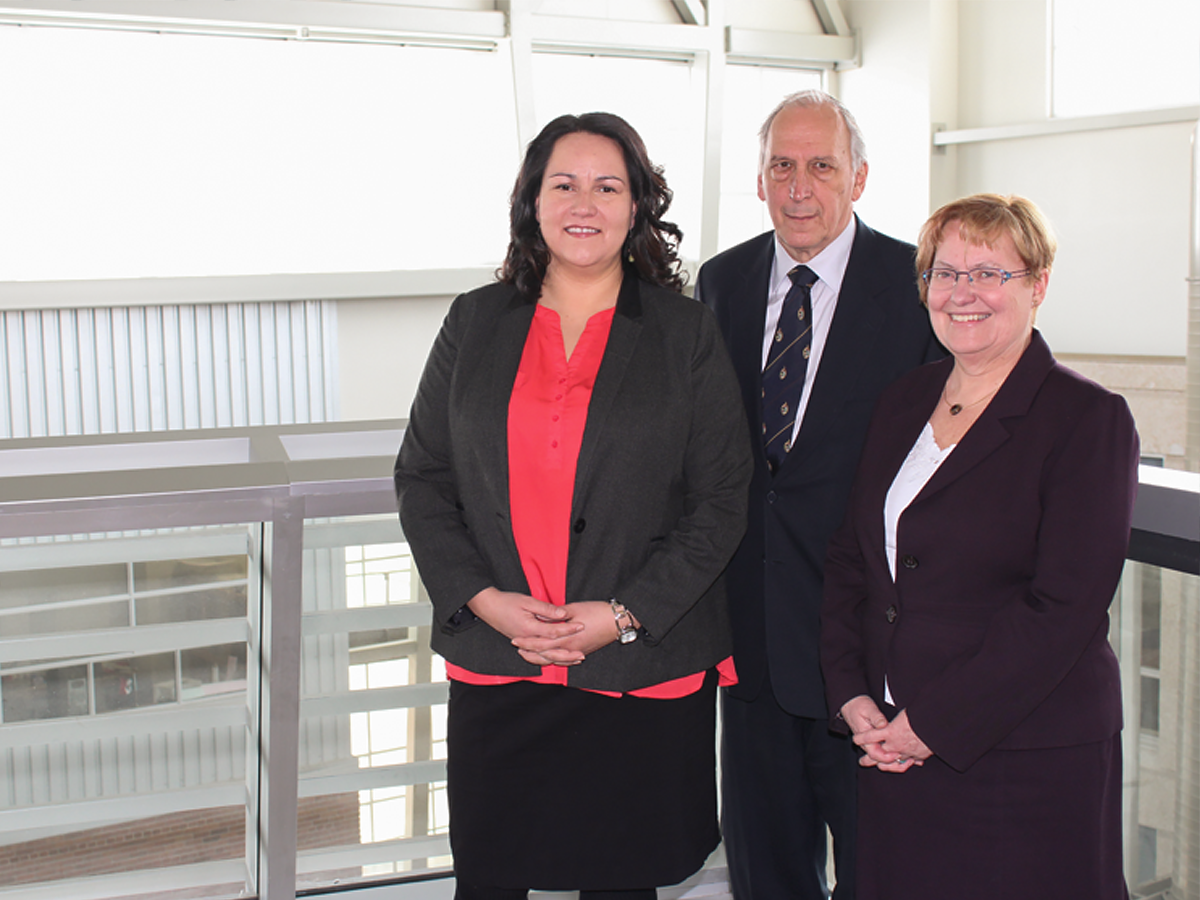 Faculty, Staff and Retirees Campaign
March 16, 2015 —
U of M faculty and staff, along with members of its retiree community, are great supporters of our students, campus and community. Their commitment is front and centre during the annual Faculty, Staff and Retirees Campaign, which launched on March 9 and runs until the end of the month.
The goal this year is to raise $600,000. Hoping to inspire their colleagues to donate are the campaign's co-chairs: Christine Cyr, Emily Etcheverry and Daniel Sitar, who have their own reasons to give.
"It's a privilege to work at the university and I want to give back because I am fortunate enough to be able to do so," says Etcheverry, dean, College of Rehabilitation Sciences. "I believe in the importance of education and the availability of public post-secondary education."
Supporting students is also a key motivator for Daniel Sitar, professor emeritus, Internal Medicine/Pharmacology.
"Giving to the university helps to provide resources that enrich the learning environment for students," he offers. "It is also a way to put back into the institution that provided the educational basis for my career opportunities."
Throughout the campaign, students and staff members will be sharing with colleagues how philanthropy has impacted their lives. One of these speakers is Tabitha Robin, a fourth-year graphic design student within the School of Art. A recipient of numerous student awards, Robin says that financial support has allowed her to work less and focus more on school. But that's only one part of the picture.
"Just knowing that your efforts are acknowledged and that there is someone there to help you – that wants you to succeed – that builds your confidence," she explains.
This year, funds raised through the campaign support our students and researchers through five key areas, including:
Indigenous achievement
Graduate student support
Research excellence
Outstanding student experience
Places and spaces
As an extra incentive to donate during the campaign, all returned pledge forms from faculty, staff and retirees, regardless of giving decision, will be entered to win a fantastic prize, including:
Active Living Centre passes
Joe Doupe Centre passes
Rest and Renew Yoga Class (1 hour)
Book Package by UM Press
Assorted cookies
Swim instructions by a 2x Olympian (1 hour)
Hot stone massage at Live Right Massage (1 hour)
Exclusive behind the scenes tour of Investors Group Field
MORE: To have staff and student impact speakers present at your staff or faculty council meeting, please contact sana [dot] mahboob [at] umanitoba [dot] ca.
MORE: Take your place and make a gift today.
MORE: Read about the impact your gift has on students here.