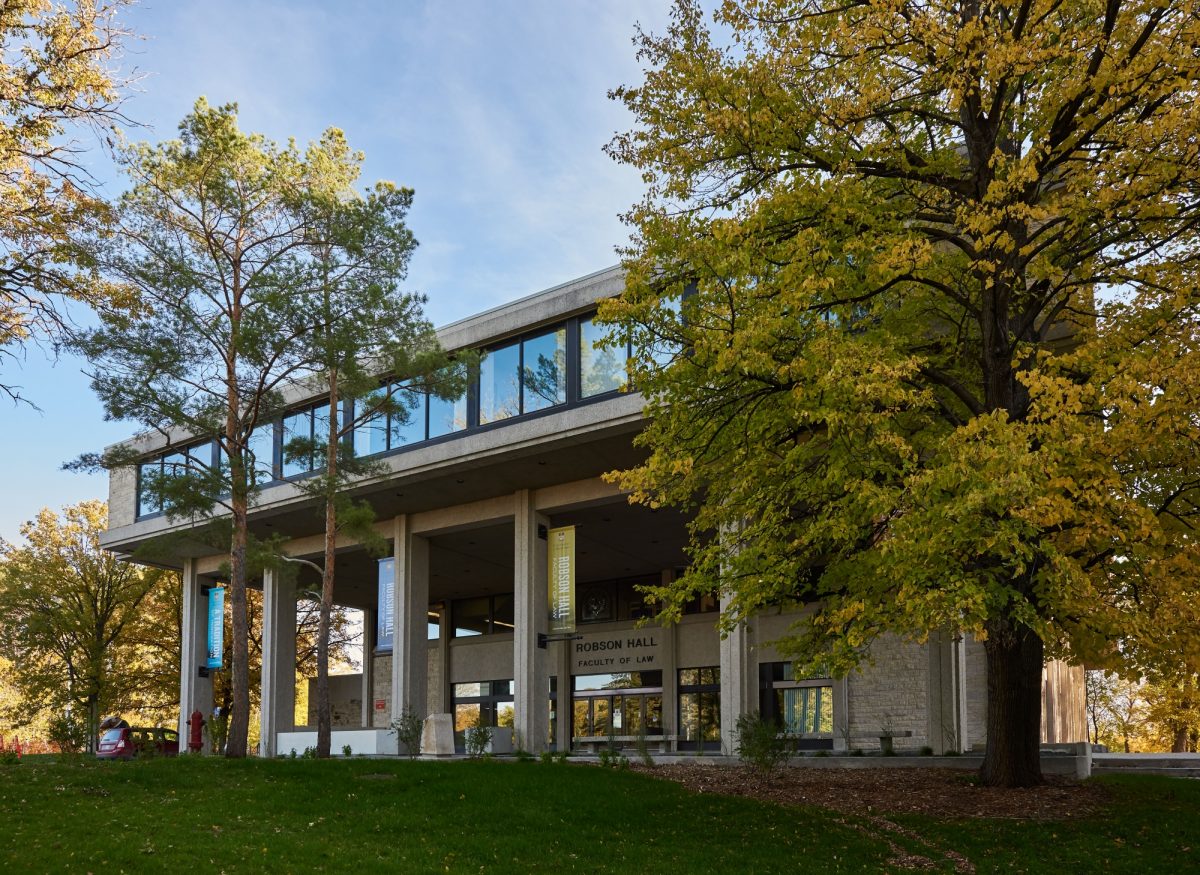 Faculty of Law welcomes Elders-in-Residence, The Honourable Murray Sinclair and Wendy Whitecloud
August 25, 2022 —
The University of Manitoba's Faculty of Law is pleased to welcome The Honourable Murray Sinclair and retired law instructor Wendy Whitecloud to Robson Hall as Elders-in-Residence starting in August 2022.
The Hon. Mr. Sinclair will act as an advisory resource to students and the Manitoba Indigenous Law Students Association (MILSA), acting as a knowledge keeper specializing in Indigenous culture and law. At the same time as serving as Elder-in-Residence to the Faculty of Law, he will also be joining the National Centre for Truth and Reconciliation as an honourary patron. There, he will be providing Indigenous law guidance and expert advice to the NCTR and its Governance Structure.
Whitecloud will act as a resource and mentor, principally to Faculty of Law professors and staff.
"The Faculty of Law has been committed to walking the path of Truth and Reconciliation, for a long time already, but we recognize that this journey requires wisdom, consultation and advice," said Dr. Richard Jochelson, Dean of Law. "The Honourable Mr. Sinclair and Ms. Whitecloud's support and knowledge are invaluable and we welcome them both back to Robson Hall."
"Including Elders in the learning process is part of the foundation of Indigenous pedagogy. Having these two remarkable and respected knowledge-keepers in our midst will fill a much-needed gap in the education of all our law students, and will especially benefit our Indigenous law students, both current and future," said Marc Kruse, the Faculty of Law's Indigenous Legal Studies Coordinator.
A former member of the Canadian Senate who served as chair of the National Truth and Reconciliation Commission from 2009 to 2015, The Hon. Sinclair recently returned to the practice of law at Cochrane Saxberg. He is Anishinaabe and a member of the Peguis First Nation. After graduating from Robson Hall in 1979, The Hon. Sinclair pursued an illustrious 40-year career in the Justice system as a lawyer and judge. Throughout, he often returned to Robson Hall as a guest speaker and continues to mentor law students and junior lawyers.
As his list of credentials is exemplary, one of The Hon. Sinclair's greatest achievements are being a father, husband to his wife Katherine and mooshum to his five grandchildren.
Wendy Whitecloud, completed her law degree at Queen's University, which last year presented her with its Justice Thomas Cromwell Distinguished Public Service Award. She recently retired from a long and distinguished career at the Faculty of Law, where she served as the Director of Academic Support program, teaching property, constitutional, and Aboriginal law. A past board member of the Elizabeth Fry Society, she was a member of the Aboriginal Justice Implementation Commission.