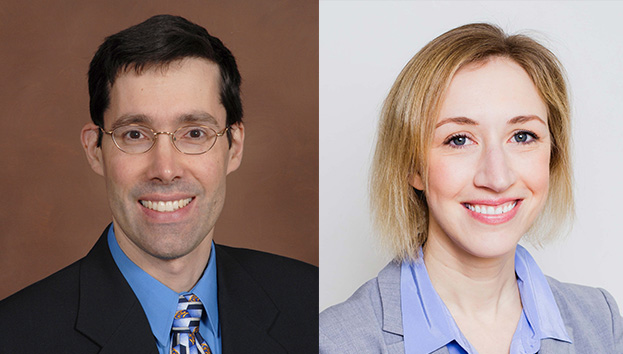 Faculty of Law recognizes teaching excellence
Heckman, McCandless receive 2022 Barney Sneiderman, and Dean's Award for Practicing Professionals
June 10, 2022 —
Associate Professor Gerald Heckman and Practicing Professional Instructor Elizabeth McCandless were recognized on Friday, June 3rd for excellence in teaching the next generation of lawyers at Robson Hall. The University of Manitoba, Faculty of Law's Barney Sneiderman Award for Teaching Excellence pays tribute to a beloved late professor and colleague, by recognizing exceptional teaching practices in a faculty member, while the Dean's Award for Teaching Excellence recognizes the dedicated members of the Manitoba legal community who take time out of their busy professional practicing lives to prepare law students for the profession.
"Teaching is the most important thing we do at Robson Hall," said Dr. Richard Jochelson, Dean of Law. "Being nominated and recognized by students and peers is one indicia of excellence and both Gerald Heckman and Liz McCandless bring passion, expertise, clarity and empathy to their classrooms."
Heckman has taught administrative, constitutional law, advanced public law and language rights at the University of Manitoba since 2006. He is co-director with colleague Dr. Lorna Turnbull, of the Bilingual Certificate Program, and helps coach the Faculty's French Language moot teams including the Laskin and the Bastarache. He also actively conducts research and regularly shares his expertise with the press either in editorials or media interviews, and occasionally appears before the Supreme Court of Canada on matters of administrative or constitutional law.
Upon receiving the award, Heckman said, "It felt wonderful to be recognized by my students, particularly after the challenging times professors and students have lived through in the past two years and the efforts we have all made to adapt our teaching and learning to a distance learning environment."
While he had never met Barney Sneiderman personally, Heckman heard much about him when he arrived at Robson Hall as a new professor in 2006. "He was already the stuff of legend among his colleagues and former students, and I regret not having had the opportunity to come to know him."
Heckman said that when preparing his lessons, he reflects on what he appreciated from his own law professors and tries to incorporate those best practices into his approach to teaching. "I think that it's important to be respectful of students' perspectives, experience and learning styles and remember that we are all members of a community of learners," he explained. "We need to be patient and provide our students with as much feedback as we can.
"For example, it takes time – and many drafts and practices – for students participating in competitive moots to craft a persuasive written or oral legal argument. That process of creation offers so many wonderful learning opportunities and its rewarding to see my students grow into skilled advocates. It's also important to convey our enthusiasm for what we teach to our students."
"My professors inspired me to focus my legal studies, practice and research in the area of public law. I hope to inspire some of my students to do the same!" – Dr. Gerald Heckman, Associate Professor
Lawyer Elizabeth McCandless teaches Advanced Legal Research at the Faculty of Law, which she designs with the aim of giving students the practical knowledge and skills they will use as they enter the practice of law. She was recently hired to the full-time position of clinical Senior Instructor starting July 1, 2022. She holds a BA, LL.B., and LL.M. from the University of Manitoba, and has practiced law since 2008, most recently as director and legal counsel at the Manitoba Law Reform Commission.
"It truly is an honour to be nominated by my students. I am grateful for the opportunity to work with students, and I will continue to learn how to be a better instructor." – Elizabeth McCandless, Practicing Professional Instructor
"This award means a lot to me, particularly as I transition from being a practising professional to a full-time instructor in the Faculty of Law," she said. "Every year I'm impressed by the range of abilities, interests, and passions of law students – it is energizing to be around students at this stage of their legal education and it is exciting see what comes next as they embark on their legal careers."