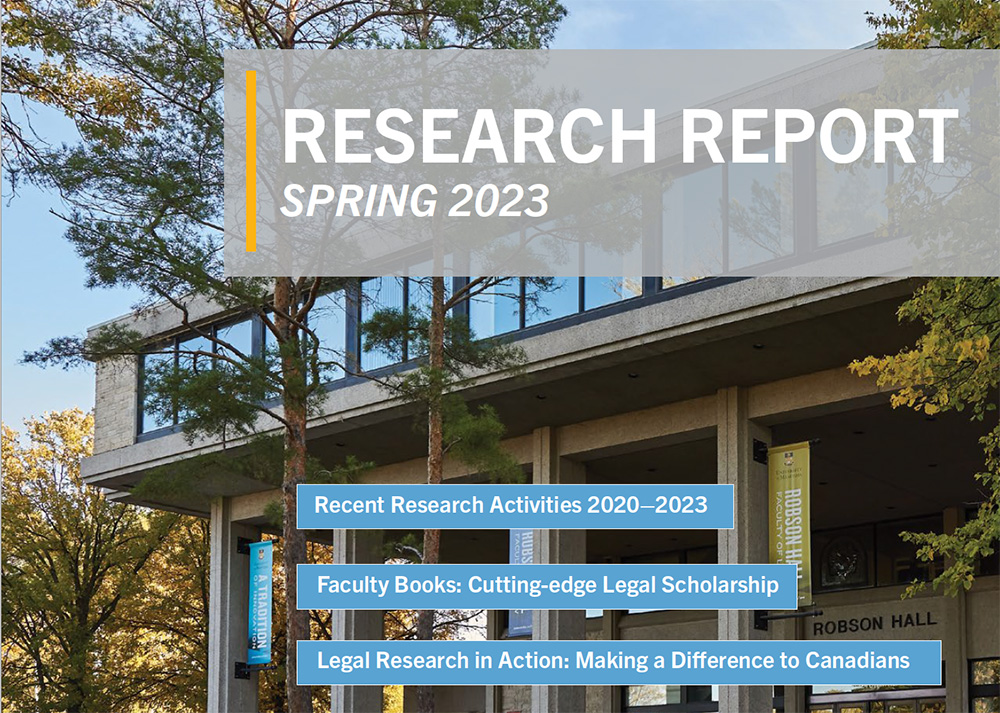 Faculty of Law launches legal research magazine
Research Report demonstrates global impact of legal scholars' work
June 1, 2023 —
The Faculty of Law is pleased to announce the publication of its Spring 2023 Research Report. This magazine is intended to showcase annually, the impact of legal research done by professors, instructors, graduate and undergraduate students working and studying at the University of Manitoba's Faculty of Law.
This inaugural edition includes work done between 2020 and 2023 to demonstrate the impact of the work of Manitoba legal scholars which continued despite the pandemic.
"As Dean of Law, I am thrilled to present this research report on the activities of our esteemed faculty at Robson Hall," said Dr. Richard Jochelson. "In this report, we aim to showcase the exceptional research conducted by our faculty members, fostering reflections among readers. By exploring a wide range of legal topics, this report highlights the intellectual rigor and scholarly excellence that define our academic community. It also invites readers to contemplate the profound impact our faculty's research has on society, shaping the legal landscape and promoting social justice. Moreover, it emphasizes the collaborative nature of our research, fostering interdisciplinary dialogue and partnerships within and beyond the legal community. I believe this report will ignite conversations, and inspire action."
"The research presented in this report is intended to help society develop and thrive, and to create better law over time for legislatures, courts, and the practicing bar. Our research is meant to be found, used and create a more just society apprised of the rule of law," said Professor Darcy MacPherson, Acting Associate Dean of Research and Graduate Studies, in his introductory letter.
The magazine content includes highlights of books recently published by faculty members, several feature stories of exciting work by professors, recent graduate students and award-winning researchers. A section on "Legal Research in Action" demonstrates the material impact that the efforts of scholars working out of Robson Hall have had on individuals and organizations across Canada and around the world.
The Faculty of Law's Research Report is now available online on the Faculty of Law website, or in print upon request by contacting lawinfo [at] umanitoba [dot] ca.