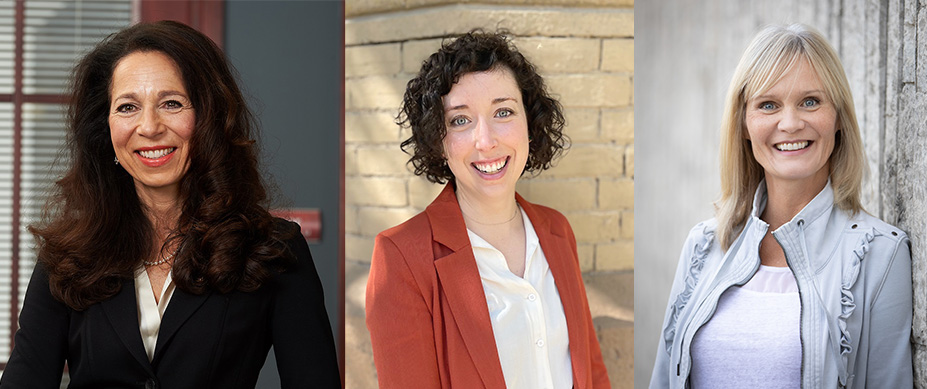 Faculty of Law celebrates exceptional alumni with new award series
January 27, 2023 —
To celebrate the achievements of graduates, the Faculty of Law created the Faculty of Law Alumni Awards to be presented annually. Nominees demonstrate standards of inspiring professionalism in one of three categories including Outstanding Alumni Award, Emerging Leader Award, and the Trailblazer Award.
The Outstanding Alumni Award honours a UM Law alum recognized for outstanding professional achievement in their legal career and who has shown dedication and commitment to the betterment of the legal profession while exhibiting the qualities of integrity and professionalism. The Emerging Leader Award honours a UM Law alum who has graduated within the last 10 years. This alum has shown dedication and commitment to the legal profession, and has the qualities of integrity, professionalism, and leadership in their time practicing law. Finally, the Trailblazer Award honours a UM Law alum who has excelled in a career outside the traditional practice of law. This alum is a person of integrity and has demonstrated leadership and service to the community.
The Faculty of Law is pleased to announce the winners of the 2022 Faculty of Law Alumni Awards as follows:
Outstanding Alumni Award winner: Sherri Walsh [LLB/1985]
Emerging Leader Award winner: Dayna Steinfeld [JD/2012]
Trailblazer Award Winner: Dr. Jennifer Schulz [LLB/1994]
Outstanding Alumni Award – Sherri Walsh [LLB/1985]
A litigator, adjudicator and arbitrator, Sherri Walsh is the Managing Partner of Winnipeg law firm Hill Sokalski Walsh. Much of her legal career has been spent serving the public interest and her work has had significant impact in the promotion of human rights and social justice in Manitoba with repercussions across Canada.
Notably, from 2011 to 2013, she acted as Commission Counsel to the Commission of Inquiry into the Circumstances Surrounding the Death of Phoenix Sinclair, which was the largest public inquiry ever held in Manitoba. The resulting report from that Inquiry made sixty-two recommendations to better protect children in Manitoba.
From 2009 to 2019, she served as an adjudicator under the Human Rights Code, serving as Chief Adjudicator from 2012 to 2019. In that role, she delivered decisions about matters including employers' obligations to maintain workplaces that are free from discrimination and harassment. These decisions are now followed by employers across Canada.
Before serving as an adjudicator, she acted for the Human Rights Commission on complaints that resulted in positive systemic changes to Provincial legislation and policies.
Walsh was an arbitrator on The Manitoba Framework Agreement – Treaty Land Entitlement, signed in 1997, where she delivered decisions which resolved land disputes that had been outstanding for 150 years.
Frequently acting pro bono as an intervenor for public interest groups, she has ensured that perspectives of groups such as the Manitoba League of Persons with Disabilities, the HIV AIDS Legal Network and the Assembly of Manitoba Chiefs, were put before the Court on matters including the unilateral imposition of DNR Orders, criminalization of HIV status, and the over-representation of First Nation children in the child welfare system.
Walsh has also returned to her roots at Robson Hall teaching Civil Procedure for nine years, and sitting on many committees. Outside of legal practice, she volunteers for community-based organizations including Harvest Manitoba and currently sits on the boards of the University of Winnipeg and the Manito Ahbee Festival.
Throughout her career, Walsh has achieved numerous firsts, including being the first woman in Manitoba to act as Commission Counsel to a large public inquiry, first person to perform the role of Chief Adjudicator under the Human Rights Code, first Integrity Commissioner for the City of Winnipeg, and first Municipal Codes of Conduct Appeals Director for the Province of Manitoba. She serves as a mentor to many young lawyers, particularly women in the legal profession and is one of only a few women in the role of Managing Partner of their firm.
Described by her nominator as "honest, honourable and compassionate," she willingly shares a few words of wisdom here with current law students:
I am so honoured to be receiving this award and to be recognized by the professional school that launched my career.
A legal education is a gift – one that will influence you forever and will give you a framework through which to navigate the world, in your personal and professional lives.
You are moving into a future which is in many ways unknowable and uncertain but the education which you are working so hard to receive will give you the capacity to take action and influence outcomes – to pursue and achieve just results.
As you look for the right career path, be true to yourself and follow what interests and inspires you.
Look for mentors. Be a mentor.
Find colleagues with whom you share sensibilities and perspectives.
Think critically.
Maintain a sense of curiosity and don't stop learning.
Trust your instincts.
Stay hopeful and be brave. Don't hesitate when faced with a challenge.
Thing big but know that by taking even the smallest action you can make a difference.
Engage with community and be compassionate in that engagement.
Finally, remember to maintain your sense of humour.
Don't take yourself too seriously and have a good time!
I wish you all the best in your future endeavours.
Emerging Leader Award – Dayna Steinfeld [JD/2012]
Dayna Steinfeld is the Winnipeg Lead Lawyer at RavenLaw LLP. Called to the bar in both Manitoba and Ontario, she is committed to advancing the rights of working people, specializing in union-side labour law, employee-side employment law, long-term disability benefits, human rights and whistleblower protection.
In her daily practice, Steinfeld represents workers in all areas of the law that touch the workplace, including terminations and wrongful dismissals, human rights and the duty to accommodate, contract and severance package reviews, professional discipline, workplace investigations and harassment complaints. She works to advance the rights of workers in human rights proceedings, grievance arbitrations, labour board hearings, civil court actions, and judicial review proceedings. She represents both individuals and unions and has appeared before labour and arbitration boards, administrative tribunals, and all levels of court.
Steinfeld has been recognized as a Lexpert Rising Star and a CBC Manitoba 40 Under 40. In 2019, she was awarded the Manitoba Bar Association Pro Bono Award for her work representing a coalition of poverty and mental health organizations on significant constitutional privacy issues before the Supreme Court of Canada.
Having started her legal career as an articling student at RavenLaw's Ottawa office, she clerked for the Honourable Justice Marshall Rothstein at the Supreme Court of Canada before returning to Winnipeg to work at a large firm in administrative, regulatory, labour and employment law.
Her nominator points out that Steinfeld demonstrates that commitment and hard work can help people achieve great things while promoting principles of access to justice and equality. Her willingness to help others achieve their goals is evident in the work she has done with the Manitoba Bar Association's Women Lawyer's Forum to advance the cause of equality for lawyers identifying as women working in the legal profession in Manitoba.
Steinfeld offers the following advice to current law students:
As a law student, lawyer or legal professional, never assume you are the expert because you are the person in the room with legal training. Be humble and curious. Take every opportunity to learn from, and be guided by, your clients and all those with whom you work and collaborate.
Trailblazer Award – Dr. Jennifer Schulz [LLB/1994]
Dr. Jennifer Schulz is a Professor at the Faculty of Law, University of Manitoba and the current Associate Dean of the Juris Doctor program.
While still a law student, Schulz had her first publication, publishing a chapter in Professors Barney Sneiderman and John Irvine's public health law text book. She graduated from Robson Hall in 1994.
After pursuing graduate studies at Cambridge and the University of Toronto, she started her career as a law professor at the University of Windsor, eventually returning to the University of Manitoba by way of the University of Toronto, Osgoode Hall and Harvard. She has taught at Robson Hall since 2004, teaching and conducting research in the areas of Alternative Dispute Resolution, Mediation and Cultural Legal Studies. Dr. Schulz has served as both Associate Dean JD and Associate Dean of Research and Graduate Studies.
Dr. Schulz's teaching skills have been recognized multiple times: she was named Professor of the Year (2002) at the University of Windsor; Outstanding Teacher – twice (2015 and 2017) at the University of Manitoba's Students' Teacher Recognition Reception; and she received the Barney Sneiderman Teaching Award in 2019 from the University of Manitoba.
For her work in ADR, she was recognized with the Lionel J. McGowan Regional Award of Excellence in Dispute Resolution (2015) by the ADR Institute of Canada. Dr. Schulz frequently presents on the topic of ADR to the Manitoba Bar Association, the Canadian Bar Association, and at academic conferences across North America and Europe.
She authored the Schulz Report, an expert evaluation of Manitoba's Automobile Injury Mediation program, and completed a three-year expert evaluation of the University of Hong Kong's LLM program in ADR.
To her students, she brings the law alive and has been instrumental in inspiring students to excel in their own careers. She serves as an inspiration to female law students, and is approachable and willing to advocate for the retention of women in the legal profession.
Dr. Schulz shares these words upon being acknowledged with the Trailblazer Award:
I am truly honoured to have received this award. It means a lot to me because it is from my alma mater and employer, the U of M, and specifically its wonderful law school, Robson Hall. My fellow professors and our students are what make Robson Hall a wonderful place to be every day. I especially hope our students know that not only can they find fulfilling careers as lawyers as a result of graduating from Robson Hall, but they can also find a myriad of other interesting and fun careers – like being a law prof – because they graduated from U of M.
The inaugural Law Faculty Alumni Awards will be presented at the upcoming Practicing Professionals Reception to be held in March.