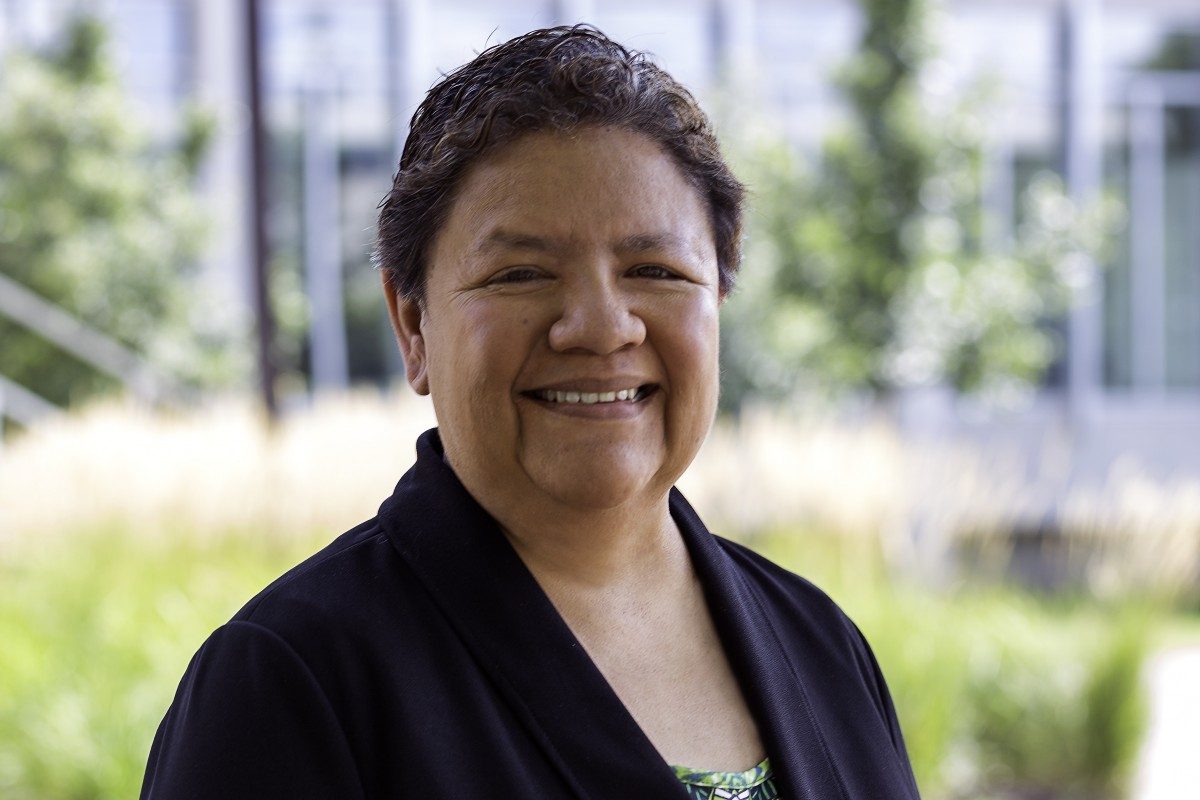 Faculty of Education mourns passing of Dr. Karen Favell, former assistant professor and Indigenous education advocate
January 25, 2022 —
The University of Manitoba community is saddened to hear of the passing of faculty member Dr. Karen Favell on January 17, 2022. A member of the Wabigoon Lake Ojibway Nation in northwestern Ontario, Dr. Favell was a passionate advocate of Indigenous education and was committed to making a difference in the lives of her students.
The flag on the Administration Building at UM will be be lowered on Jan. 28 in honour of Favell's passing.
From 2006 to 2017, Karen worked as an instructor at Red River College, teaching and innovating numerous Indigenous education courses, including the college's first Aboriginal Art and Music course, a course which she advocated for, helped develop, and for which she received an RRC Learning Innovation award.
"I don't think of it as recognition to me," Dr. Favell said of the award at the time. "I see it as recognition of the need for Aboriginal content in the programming."
Dr. Favell also served for a year as the chair of Aboriginal education for RRC's ACCESS program.
Joining the University of Manitoba faculty in 2017, initially as a lecturer, Dr. Favell continued her passionate advocacy for change through the indigenization of post-secondary education, both in research and in practice. In January 2021, upon completing her PhD in Education at the University of Manitoba, Dr. Favell was named an Assistant Professor.
"We extend our sincere condolences to Dr. Favell's family. Her passing is a significant loss for the university, in particular the Indigenous community at the university," says Dr. Catherine Cook, vice-president (Indigenous). "Dr. Favell's accomplishments in teaching and research paved the way for future generations and will continue to inspire upcoming Indigenous educators."
Dr. Favell's spirited commitment to creating a more welcoming environment for Indigenous students by creating a more culturally relevant curriculum was influential to the lives and work of many people, including UM community members.
"Dr. Favell's fierce spirit, gentle presence and robust scholarship will be sorely missed," says Dr. Karen Ragoonaden, dean, Faculty of Education. "Karen's contributions are many and will not be forgotten. Students, colleagues, and staff are saddened by this untimely loss. Karen was truly one of a kind academic and in the eyes of many, irreplaceable. The Faculty of Education extends sincere condolences to her wife, Julie, children, Elizabeth and Connor and to her family and community."
She will be greatly missed, but her legacy of passionate advocacy for Indigenous education will live on through her research and the students and peers she inspired.
"Karen was a gifted scholar who had a strong presence in our Faculty," says Dr. Frank Deer, associate dean, Indigenous Education and associate professor, Faculty of Education. "Her contributions to the climate and culture of our community were significant. As a scholar of Indigenous education, Karen brought honest and learned insight to our conversations. We will truly miss her warm smile, pleasant sense of humour, and humble approach to her work. Nia:wen ko'wa Karen."
In lieu of flowers, donations in Karen's memory may be made to CancerCare Manitoba, 675 McDermot Avenue, Winnipeg, MB R3E 0V9.