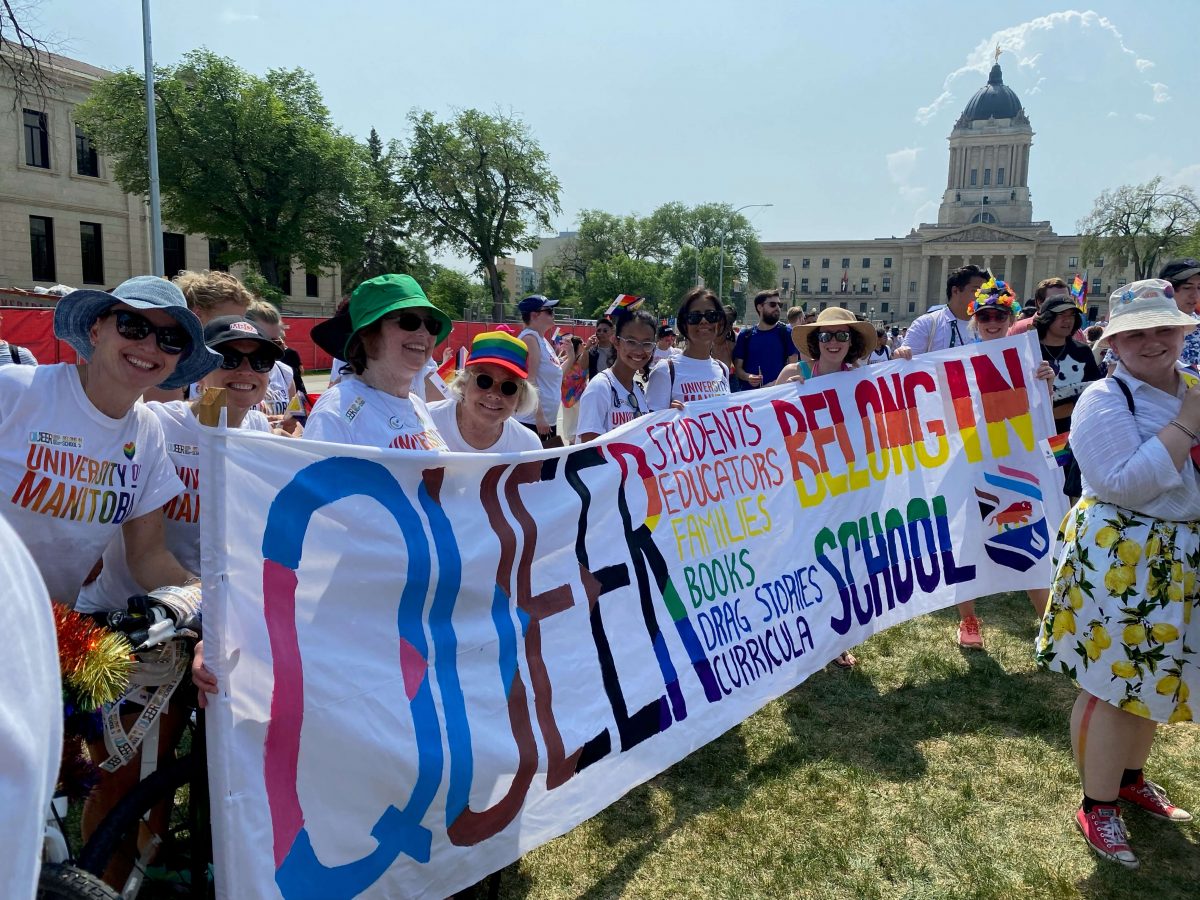 Faculty of Education Commitment to Support the 2SLGBTQIA+ community
July 24, 2023 —
Pride month is a time when we celebrate the 2SLGBTQIA+ community. This year the turnout from the faculty academics, staff, and friends was the best showing in years. The University of Manitoba had over 10,000 people registered to be part of the UM Pride entry float.
Pride events are about human rights, empowering 2SLGBTQIA+ individuals to reclaim the public space where they often feel excluded. This year's celebrations of diverse communities were especially relevant after communities in Brandon were demanding for books with gender, sexuality, and queer content to be banned from schools. "Making topics taboo again, or not being able to talk about certain things so close to home made people feel the need to actually get out there and take a stand and just make sure people recognize that schools are places for everyone, and these are human rights issues," explains Dr. Charlotte Enns, acting dean Faculty of Education.
The Faculty of Education was part of a Province wide letter campaign that was sent to the Brandon School Division Board of Trustees. The letter was signed by organizations including the Manitoba Teachers Society (MTS), People for Public Education, as well as Manitoba teachers and UM community members. "To me one of the key purposes of the faculty is to educate people around making choices about schooling, reinforcing the purpose of education and how it is the place where children, not just learn academic content, but learn how to be good citizens and how to participate in society in meaningful ways. These kinds of actions are important for us to part of", said Enns.
"We want students to finish and graduate school and have high achievement and succeed in life. That's always the purpose of education. So, when we have these books in place, students do feel affirmed and can continue with their studies and can become strong contributors to society in whatever they chose to be", said Dr. Robert Mizzi, Canada Research Chair and associate professor to CBC Radio.
The Faculty of Education members, with support from the Executive Lead-EDI, created stickers for inclusive educational spaces that were available at UM Pride events. In addition, Dr. Joe Curnow designed a banner for Pride Winnipeg 2023 with a particular focus on schools and how they are a place for promoting human rights of all children.
"Pride Parade is a one-day event, and it is important, but it also needs to shape the ongoing actions in carrying out those values into more everyday activities", explains Enns. The Faculty of Education hopes the Pride Parade attendance keeps growing every year to further connections among the community. Other actions throughout the year include cohosting for the second year the symposium Strengthening the Status Queer: A Leadership Symposium for and by Queer People in October 2023. "Having Dr. Robert Mizzi, Canada Research Chair in Queer, Community, and Diversity in Education and the work that he is doing is a really prominent research area in our faculty", said Enns.