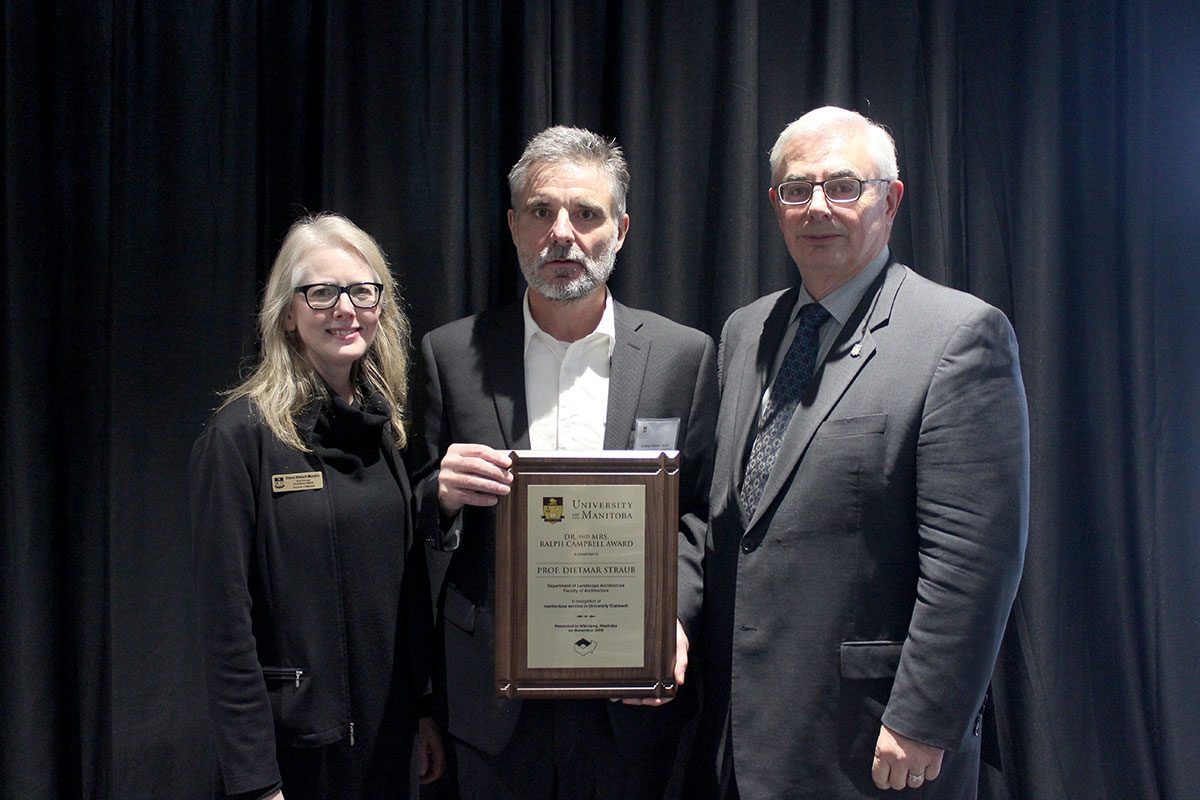 Faculty and staff recognized for exceptional community service
January 24, 2017 —
At a ceremony on January 23, 2017, a total of 10 Outreach Awards were presented to U of M faculty and staff recognized for their outstanding community involvement.
Dr. and Mrs. Ralph Campbell Outreach Award:
Professor Dietmar Straub, department of landscape architecture, Faculty of Architecture
The Dr. and Mrs. D.R. Campbell Outreach Award is given to University staff members who consistently spend countless hours of their own time in community service. This service typically combines professional and scholarly experience with their personal commitment to the people and community around them.
Dietmar Straub's work has received acclaim and respect at national and international level. He invites students to gain hands-on experience on his outreach projects, such as becoming involved in tree-pit construction and asphalt painting, digging in Winnipeg clay, compacting Manitoba limestone, hammering stones, bricks, logs and asphalt and using brushes and paint rollers.
Straub uses this model of instruction to narrow the gap between theory and practice, creating a closer relationship between outreach and teaching. Straub's approach to community interaction is "making rather than talking," and he has volunteered his time to support communities and schools in Southern and Northern Manitoba.
He advocates "humble project thinking," a thoughtful approach characterised by the application of construction techniques and materials which allow volunteers, including university students, colleagues, children and families of any skill and commitment level, to get involved, while learning and laughing together. Straub even stays in contact with the communities after construction work is done, "since both trees and people need time and attention to grow."
Outreach Awards Recipients 2016-2017
Dr. Ayush Kumar
Department of Microbiology and Medical Microbiology, Faculty of Science
Dr. Pamela Dahl
Department of Preventive Dental Science College of Dentistry, Rady Faculty of Health Sciences
Professor Mary Bertone
School of Dental Hygiene College of Dentistry, Rady Faculty of Health Sciences
Dr. Dominique Laporte
Department of French, Spanish and Italian, Faculty of Arts
Dr. Elizabeth Comack
Department of Sociology, Faculty of Arts
Dr. Niigaanwewidam James Sinclair
Department of Native Studies, Faculty of Arts
Dr. Robert Guiden
Department of Plant Science, Faculty of Agricultural and Food Sciences
The Faculty of Science Outreach Committee
Departments of Biology, Chemistry, Computer Science, Mathematics, Microbiology, Physics and Statistics
Faculty of Science
Dr. Joannie Halas
Faculty of Kinesiology and Recreation Management
For more details on this year's recipients of the Outreach Awards, click here.