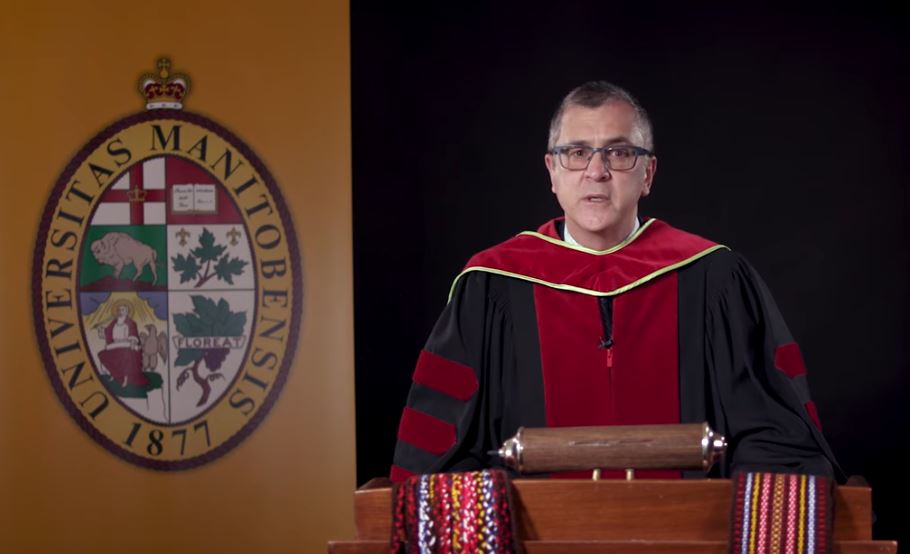 Extended Education's spring graduation was a virtual success
Congratulations to all
July 3, 2020 —
Spring graduation looked a little different this year. Due to COVID-19, unfortunately, we were unable to have our traditional large and festive gathering in the Investors Group Athletic Centre. Instead, Extended Education celebrated our graduates in a Virtual Spring Convocation.
The virtual celebration was streamed on June 29 at 6:30 pm, and is still available for viewing. Access it via our graduation web page
Extended Education's 2020 Virtual Spring Convocation celebrated about 300 of our February and Spring graduates from 18 different programs. These include both our Flexible part-time programs like Applied Counselling, Human Resource Management, and Management and Administration, as well as our Intensive full-time programs including Applied Business Management and Applied Human Resources Management.
Very fulfilling
"It was very fulfilling to graduate," says Paul Quaye, Management and Administration program graduate. "It's going to help me. It got me back into Extended Education… Because it's one of the most important things we can do for our business self and our personal self. I plan to continue, moving forward, putting my courses towards the Bachelor of Arts Integrated Studies."
Quaye says the program helped him to renew some of his current skills and to use new ones. "I think I've got a good base of knowledge across the business spectrum from the course itself." It also provided him with the opportunity to earn a professional credential. "In my line of work, credentials are a big deal. A lot of people that I know have them… To have something with the CIM designation means a lot for the businesses and organizations I deal with."
With the support of his employer, Quaye was even able to do some of the work to complete his program during business hours. "Doing the courses online was a good run-up to what we've encountered with the pandemic and with the path to more online services in everyday life and work. It's actually good practice. I enjoyed the flexibility of it."
Online celebration
The graduation broadcast began with greetings from Anne Mahon, UM Chancellor, followed by O Canada and the Traditional Honour Song. David Mandzuk, Acting Dean, Extended Education spoke next, recognizing the challenges of our current circumstances including the need to work from home and manage family and work responsibilities.
"However the challenges of our current situation will eventually pass and they don't in any way diminish the hard work and commitment you've demonstrated in completing the requirements of your program," said Mandzuk. "I know without question that the content and skills that you've learned by being an Extended Education student at the University of Manitoba will serve you in good stead in the unpredictable and somewhat uncertain days ahead."
Mandzuk congratulated all of our graduates on their significant achievement.
"I know that thanks to the skills you've learned in Extended Education, you will all be able to pivot and adapt to the new normal."
UM President and Vice-Chancellor, David Barnard also recognized the challenges our graduates faced during this unprecedented time. "This is not a normal time so our experience is not traditional. We do not have the pomp and ceremony of a grand entrance… I would have liked to have seen you all face to face. But we do have the essence of the tradition. The essence is celebrating graduates."
Mahon conferred the certificates upon graduates. A virtual procession of students followed. Students were listed by program. As each name was read, a personalized slide was featured with their name, program, and a photo and quote for students who provided them.
Extended Education's graduation was one of five virtual graduations at the U of M this spring. At UM's 2020 Convocation, the University of Manitoba conferred degrees, diplomas and certificates on 4,255 graduates.