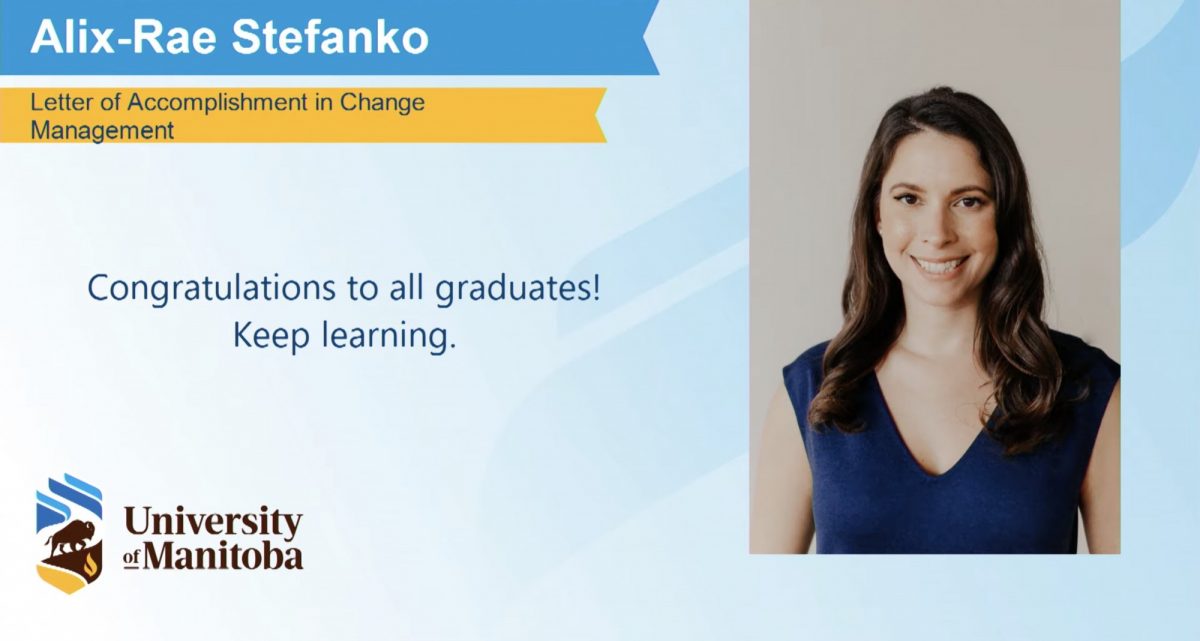 Extended Education Virtual Spring Convocation honours graduates and student scholarship winners
Two students and 360 graduates celebrated
May 31, 2021 —
In addition to Extended Education's 360 graduates from 22 programs, this spring's convocation also honours two future graduates with the Ronald Kristjanson Memorial Scholarship.
The Ronald Kristjanson Memorial Scholarship recognizes academic merit and community service of adult learners enrolled in a certificate program in UM Extended Education. Each year, two students enrolled in the final year of a certificate program, students who have achieved a minimum grade point average of 3.5 and have demonstrated an active, long-term commitment to community service, are recognized.
The scholarship is offered in memory of Ronald Kristjanson, a professor in Extended Education who passed away in 1991, to acknowledge his dedication and commitment to adult learners. That's what Extended Education is all about, as the division of the university providing lifelong learning for working professionals, preparing them to move forward in their lives and in their careers.
Scholarship recipients
On June 17 as Extended Education celebrates its 2021 Virtual Spring Convocation, we also congratulate the 2021 Ronald Kristjanson Memorial Scholarship recipients, students Maya Ackerman-Stratton and Rennais Gayle. Ackerman-Stratton is working on an Applied Counselling certificate and Gayle is working on a Human Resource Management certificate.
In addition to these two programs, Extended Education provides a range of professional development programs and courses including many online options. From Business Analysis to Applied Counselling, Academic Advising, and more, many continue to keep learning with us and earn their UM credentials.
At Extended Education's third virtual convocation, the celebration will be hosted on the Hugo virtual event platform. Graduates and their friends and families will be able to attend an online reception at 6:00 p.m. and take in the ceremony afterwards. Students will take part in unique and interactive activities including a digital photo booth, chat rooms, a digital yearbook and a gallery showcasing this year's award winners.
Acting dean, David Mandzuk congratulates all of Extended Education's February and June grads, celebrated at this convocation.
"The pandemic has reminded us all of the importance of being able to adapt quickly, learn independently, and search for new ways to apply what we learn, and I trust that the courses you have taken through Extended Education have allowed you to "extend" your learning in these ways," says Mandzuk. "Although there continues to be uncertainty about when our current challenges will end, we have faith that all 360 of you graduating from 22 different programs will be well-positioned to thrive in the post-COVID era, thanks to the time you spent in Extended Education."
Visit the Extended Education graduation web page