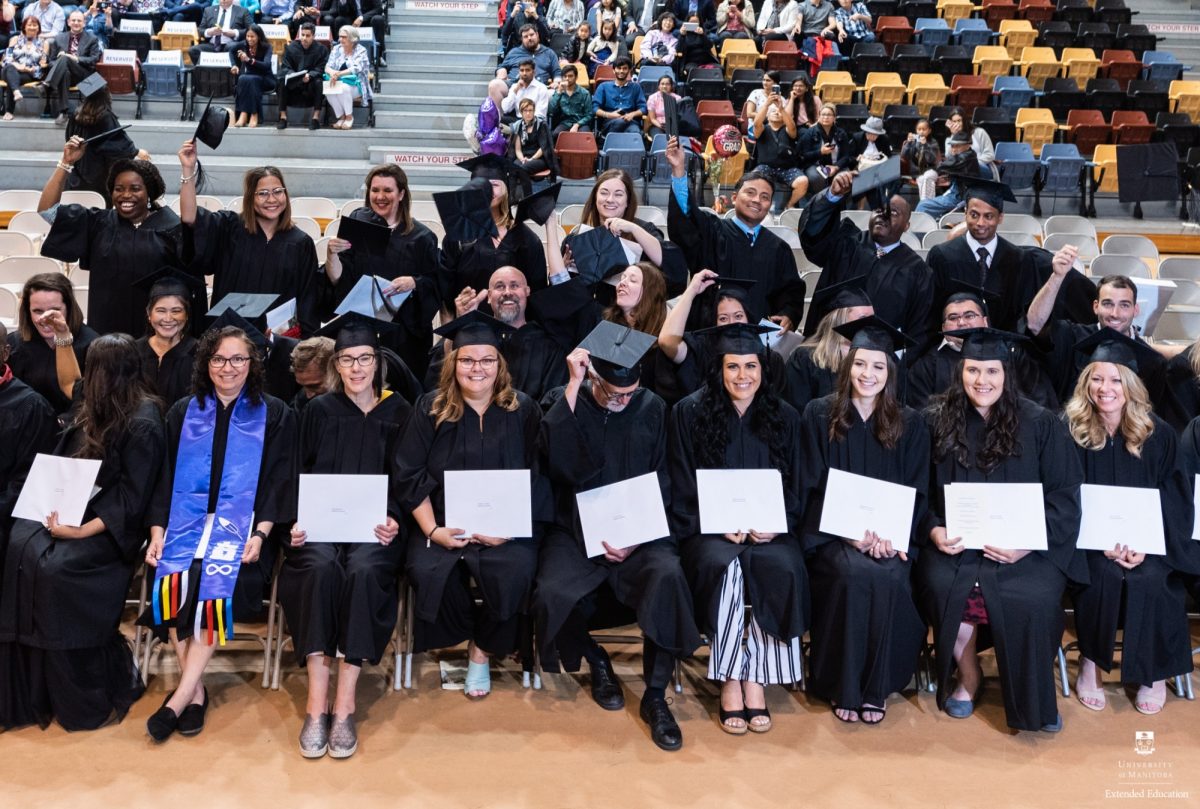 Extended Education celebrates Virtual Fall 2020 Convocation
Congratulations to all of our graduates
October 6, 2020 —
Paul Boily sent his photo and quote in early, to make sure he was included in the graduate slides during the virtual procession in Extended Education's Fall Convocation.
"My wife and children will be with me for the virtual graduation, and I will definitely be sitting in front of the computer here watching the procession in front of me," says the Municipal Administration (CMMA) program graduate, one of 305 Extended Education graduates celebrating the completion of their programs this fall. In the past, Municipal Administration graduates celebrated their own graduation event, but this time, they join their fellow graduates from other Extended Education programs.
The virtual celebration on Oct. 22 at 7 pm, will be available for viewing after the event. Access it via our graduation web page.
The Extended Education 2020 Virtual Fall Convocation celebrates our Fall graduates from 19 different programs. These include both our Flexible part-time programs like Management and Administration, Human Resource Management, and Municipal Administration, as well as our Intensive full-time programs including Applied Business Management and Applied Human Resource Management.
"It's a real sense of accomplishment for myself," says Boily, a La Broquerie resident and administration and finance clerk in the Rural Municipality (RM) of La Broquerie, Manitoba. "Graduating from the CMMA program was very enriching and it's something I will cherish for a long time. I grew as a person in the municipal world both professionally and personally."
Boily's Chief Administration Officer (CAO) encouraged him to take the program. "I'm glad I did. It was quite enlightening and helpful. There's a lot of value to this course. Professionally, I would like to move up in the ranks and the things that were taught definitely contribute to how I view myself in the future here."
Boily was born and raised in La Broquerie and he continues to do the best he can for his community. About his program, and going back to school to keep learning, he says, "I would absolutely recommend it."
David Mandzuk, Acting Dean, Extended Education, congratulates all Extended Education graduates on their achievements and wishes them all the best for the future. "Earning a Post- Baccalaureate Certificate, Certificate or Letter of Accomplishment at any time is worth celebrating but at this particularly challenging time in our lives, it is even more noteworthy," says Mandzuk. "The pandemic has reminded us all of the importance of being able to adapt quickly, learn independently, and search for new ways to apply what we learn, and I trust that the courses you have taken through Extended Education have allowed you to "extend" your learning in these ways. Although there is much uncertainty that lies ahead, we have faith that all 305 of you graduating from 19 different programs will be able to navigate any turbulence that lies ahead thanks to what you have learned in Extended Education. "
Online ceremony
The graduation ceremony video includes messages from Chancellor Anne Mahon, Vice-President (Indigenous) Catherine Cook, President and Vice-Chancellor Michael Bennaroch, and graduate, Karine Martel, followed by the virtual procession. Students are listed by program. As names are read, a personalized slide is featured with their name, program, and a photo and quote, for students who provided them.
Extended Education's graduation is one of two virtual graduations at the U of M this fall. At UM's Fall 2020 Convocation, the University of Manitoba is conferring degrees, diplomas and certificates on about 1,350 graduates.