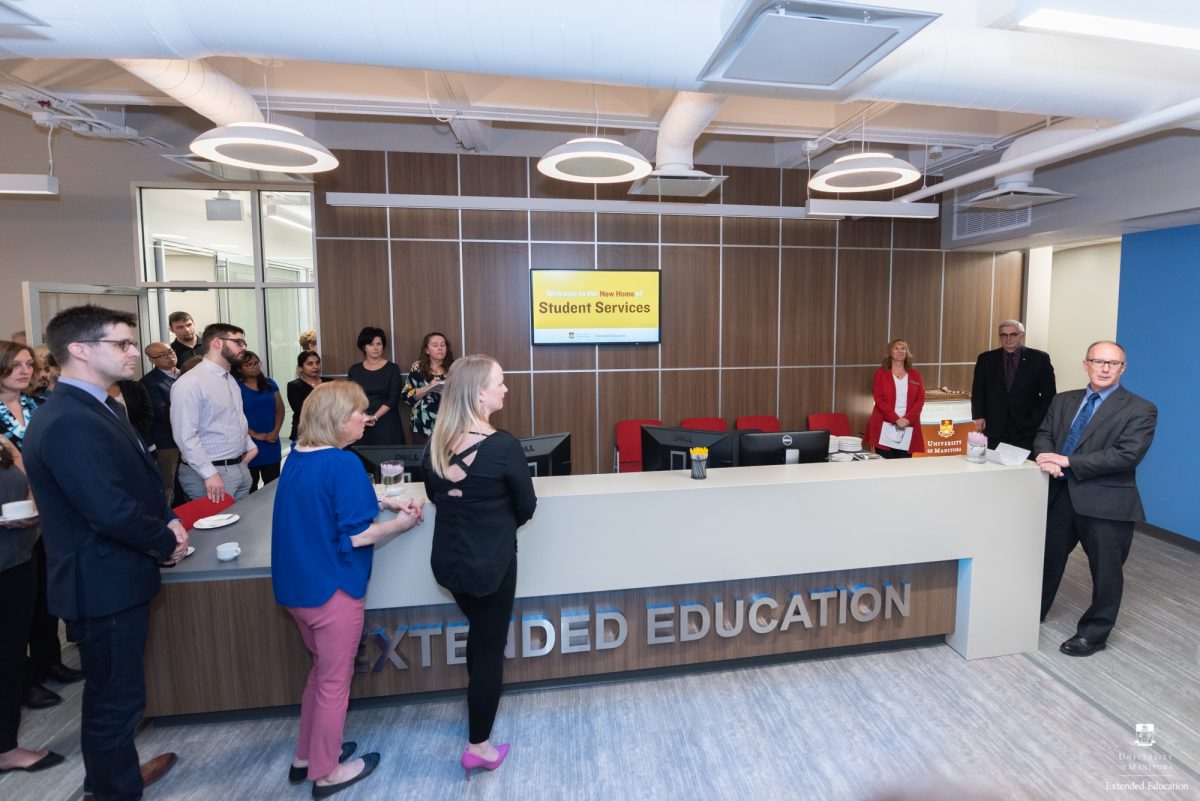 Extended Education celebrates a grand re-opening
A new and improved student and instructor services area
May 9, 2019 —
On Wed. May 8, Extended Education celebrated the grand re-opening of their new and improved student and instructor services area.
"For anyone who gets a new space, it's quite exciting," said David Barnard, President, U of M. "It is a time of new energy. Extended Education is a very important unit at the U of M. We thoroughly appreciate your work. We appreciate your contribution. Thank you."
University dignitaries, staff and guests toured the new and improved 185 Extended Education complex. Guests included Barnard, Registrar Neil Marnoch, and more. Extended Education staff also shared in the celebration.
Gary Hepburn, dean, Extended Education, said it was hard to remember what the old space looked like. "It was visually closed off. The new space facilitates greater service, and easier access to service people. Glass offices have privacy, safety and visibility."
He also noted the art by Ojibway artist, Eddy Cobiness on loan from the university collections, and additional artwork to come.
Vision for the project
Denise Reitsma, Director of Administration, Extended Education, describes the vision for the project.
"It was our vision to create a welcoming space," says Reitsma. "We wanted to have a student-facing first point of contact, with a customer service focus and we think we've done it right."
The renovated space was designed with complete accessibility in mind, to best accommodate all the students who come here, physically and with the support of staff. It has an organic feel about it, with warm neutral colours incorporated throughout. Energy-saving lighting is entirely LED and operating on motion sensors, so lights are off when not required. Heat-recovery smart technology makes the most of air circulation and vents to the corridor. Open ceilings create a sense of open space.
Now, students and visitors to Extended Education, are greeted at a prominent reception area.
To the left, four computer kiosks are available to help students with their registration process, and to access program information via the Extended Education website, with staff support as required.
Students and staff can have their student or staff ID photo taken here, against the blue wall.
To the right, a large table is a great place to sit down for simple meetings that do not require privacy. Area assistants for the language programs have their own offices nearby. Behind them, and the wavy glass wall, the team of registration assistants is ready to step forward as needed and assist students.
Staff meeting with students on a regular basis are now located in a row of glassed offices, easily accessible from reception. These include student advisors for General Studies, program coordinator for Intensive English, and workplace coordinators for intensive programs. In fact, all Extended Education staff welcoming regular guests have now been relocated closer to 185, for visitors' convenience.
The glass creates an open atmosphere, with high ceilings and natural-like lighting. It also provides an effective sound barrier to ensure privacy. Barn door-style doors optimize space.
To the rear, an instructors' suite offers computers and resource materials in a quiet work space where instructors can come to prepare for their classes.
Taking the feel of the newly renovated space even further, Extended Education has also updated signs in their offices throughout the division, and painted and refreshed a number of additional offices.
"This grand re-opening has been realized with the support of the vice president's office, and many others whose assistance and patience during the renovation process has been greatly appreciated," says Reitsma. "The purpose of this space is very clear. This is how we can serve our students even better, with the people to assist them close at hand. This is our service point, for now and into the future."