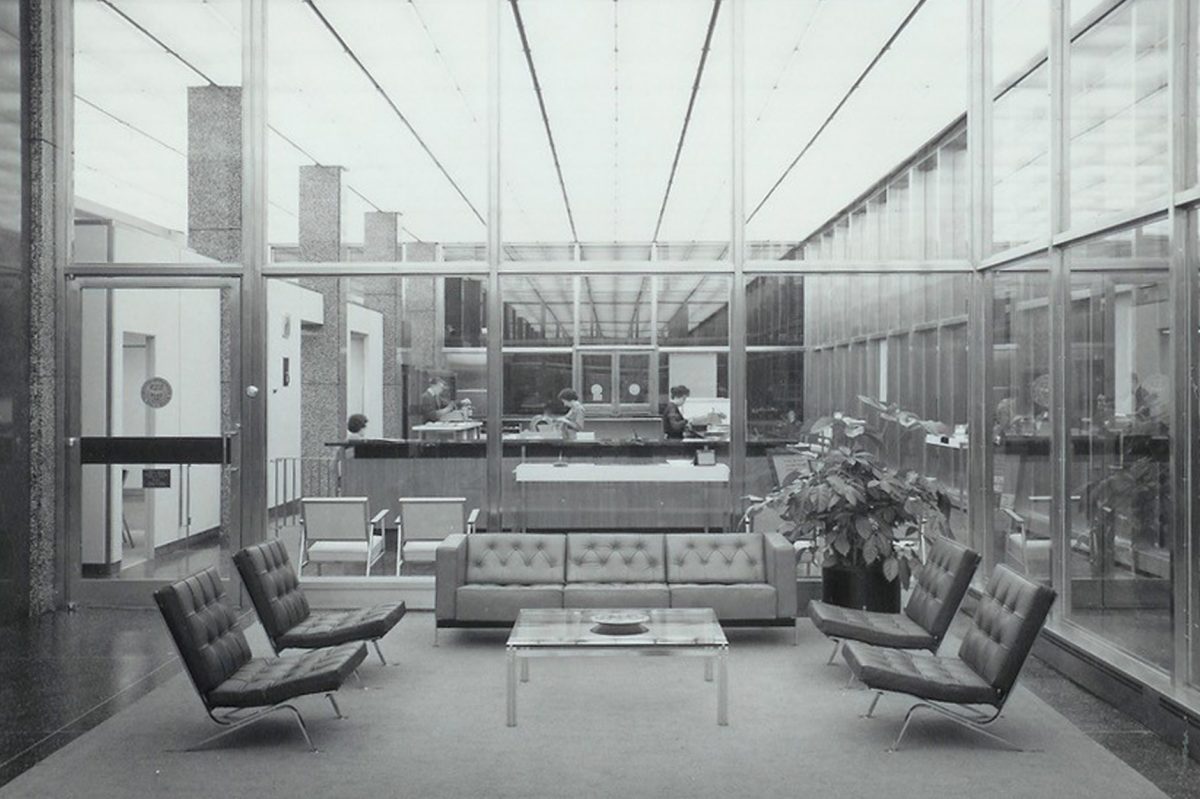 Exhibition curated by Oliver Botar brings Bauhaus to the masses
Bauhaus design is popular in Canada, thanks in part to how UM contributed to it.
February 10, 2020 —
It's been a busy year for Oliver Botar, an art history professor in the School of Art and Canada's leading expert on the Bauhaus School of Design. In 2019, during the Bauhaus School's centenary, Botar gave numerous talks at conferences and exhibitions including in Munich, New York, Calgary, Ottawa and at Yale University. He's written 18 pieces for three different exhibition publications in Germany and an anthology in Austria, and contributed to the curation of one of the Berlin exhibitions. He's also been interviewed by the Globe and Mail, CBC and other news outlets.
In addition to bringing his knowledge to the masses, he's also teaching a fourth-year art history seminar on the Bauhaus, a third-year course on "Prairie Modernism" that deals with Bauhaus influences, and he's curating a show for the School of Art Gallery called "Bauhaus (Canada) 101" that opens on Feb. 13.
UM Today sat down with him to learn more about Bauhaus design, why you are probably interacting with the design right now and don't know it, and how the U of M contributed to the movement in Canada.
How would you sum up the Bauhaus school in a few sentences?
The Bauhaus was a school of design that was established in Germany in 1919, the same year the Weimar Republic was established after the First World War. It was closed down after the Nazi's took power in 1933.
It's widely seen as being the most influential design school of the first half of the 20th century. In addition to teaching and design, it employed artists such as Paul Klee and Wassily Kandinsky, who are among the most important artists of the first half of the 20th century. It has also exercised a huge influence on the practices of architecture, pedagogy and photography.
When you're at a dinner party and people discover that you're an authority on Bauhaus, what would you say is their most common comment or question?
'Why is the Bauhaus so important?' Most people have heard about it, but they don't quite know what it is and they're trying to figure out.
One hundred years on, what do you think the future of Bauhaus is?
It's impossible to make predictions like this, but I think that in 100 years people will still be talking about how the Bauhaus has a huge influence on design culture.
A more minimalist and functional approach to design certainly was a central tenet of the design that came out the Bauhaus. The Bauhaus did not invent modernist design… but it somehow embodied a lot of it. For example tubular steel chairs come out of the Bauhaus. So did simple cutlery design and simple typography that doesn't have serifs added to it. You know, some kind of geometric typography that is so widespread like Helvetica. These are all rooted in Bauhaus design. Same thing with boxy skyscrapers and buildings.
So people are interacting with the design every single day even though they might not be aware of it.
People are sitting on it and in it, and they're reading it. They are encountering it in the way that the graphic design on the internet looks.
IKEA, in some ways, is an embodiment of Bauhaus ideals. EQ3 self-consciously carries Bauhaus ideas forward.
Finally, the Bauhaus is also extremely influential in another field, and that is art and design pedagogy. Way beyond any style or any approach to design, the Bauhaus brought together certain international currents in educational philosophy and educational theory of the 19th century that had to do with "learning by doing".
Rather than art students sitting and copying the old masters, or forcing students to draw as accurate a horse as possible, what you do is give them a piece of paper, and you say 'go wild, just explore the colours and the forms and the materials you're working with'.
So when students arrived at the Bauhaus, they were required to complete a preliminary course, which was taught by artists. They insisted that the students unlearn what they learned in school about art and design, almost trying to wipe their mind clean and start from the beginning. This approach of exploration of materials and colours and line continues at art, design and architecture schools to this day. The University of Manitoba architecture and fine art students still have that kind of course.
What was the University of Manitoba's contribution to Bauhaus design in Canada?
It just so happened that the University of Manitoba was one of the centres of Bauhaus architectural thinking in Canada. We happened to have some deans, one of them was named (Milton) Osborne and the other was (John A.) Russell. These were American deans of architecture here, who sent their best undergraduates to graduate schools in the United States where former Bauhaus people had emigrated to and were teaching.
For example, the original director of the Bauhaus, Walter Gropius, was teaching architecture at the Graduate School of Design at Harvard. Marcel Breuer, the guy who developed tubular steel furniture and later became one the most important architects of the post-war period and was one of the founders of what we call brutalism, also taught at Harvard.
Starting in the late 40s and 50s, Dean Russell, who was an MIT graduate, sent a number of graduates to Harvard. They studied with Gropius, they studied with Breuer and then they came back to Winnipeg. One of them, Eberhard Seidler, went to Australia and established modernist architecture there. Another, John C. Parkin, went to Toronto and became the most important modernist architect there. So our School of Architecture became a kind of clearinghouse for Bauhaus ideas in Canada and abroad even.
Other students were sent to MIT, or the Illinois Institute of Technology in Chicago to study with Mies van der Rohe, but eventually most came back to Winnipeg and established a number of outstanding modernist architectural firms here such as GBR, Smith/Carter, Libling/Michener, Moody/Moore, Waisman/Ross and so on. This is why our campuses and our city have so many Bauhaus-style, modernist buildings of great importance.
Tell me about the upcoming exhibition at the School of Art Gallery.
We're bringing together an exhibition about the Bauhaus itself and also about the Bauhaus' influence on Canadian art, architecture and design. The exhibition is going to highlight material from our own Archives and Special Collections, especially Henry Kalen's photographs of Winnipeg architecture. The exhibition will also feature extensive material from the School of Art's collections, and also works from my own collection and other public and private collections.
The exhibition opens at the School of Art Gallery on Thursday, Feb. 13 at 4:30 p.m. I will lecture that same evening from 6 to 7 on Bauhaus-Canada connections. On Friday, Feb. 14 I give a curatorial tour.
On Friday, Feb. 28 a guest speaker, a prominent Bauhaus scholar, Dr. Libby Otto, is coming from SUNY Buffalo to lecture on the "Queer Bauhaus" in the School of Art at 1 p.m. That same evening she will speak at MAWA (Mentoring Artists for Women's Art) on women and the Bauhaus.
On March 12 at noon in the "Food for Thought" series at the Faculty of Architecture's Russell Building (itself an iconic Miesian building), there will be a program on women designers featuring our own alumna and retired professor of Interior Design, Cynthia Bookbinder Coop.
And there's more. There's lots of programing to choose from in addition to the exhibition itself.
Bauhaus (Canada) 101
Feb. 13 – March 27
School of Art Gallery, 180 Dafoe Road
Opening Reception and Lecture: Feb. 13
Reception: 4:30 – 9 p.m.
Lecture by Oliver Botar: 6 – 7 p.m. 136 ARTlab
Tour with curator Oliver Botar: Feb. 14, 1-2 p.m.
Guest speaker: Dr. Elizabeth Otto
Feb 28
1 p.m., School of Art
7-9 p.m., Mentoring Artists for Women's Art, 811 Main Street