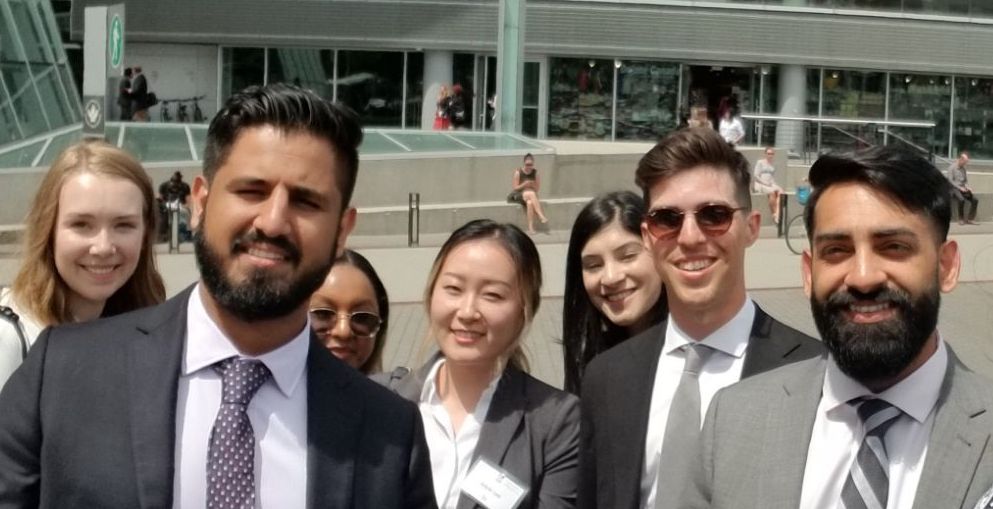 Every month is Career Month!
Faculty of Law staff work year-round for student Professional Development
November 17, 2021 —
November may be officially designated as national career month, but staff and students at the University of Manitoba's Faculty of Law work hard year-round to ensure graduating students have career options lined up as they near their respective finish lines.
Career Development Office
The Faculty has a Career Development Office in which the Career Development Coordinator, Lisa Griffin, organizes events including information sessions and workshops throughout the year on a regular cycle, to keep students informed about job opportunities and training and on their toes from first year to graduation. She maintains the Job Board and engages members of the practicing bar and judiciary to give presentations on what it's like to clerk at the court or work in public or private practice areas, and meets with students one-on-one to review their resumés, cover letters, discuss networking, job search and interview techniques.
"I love the work I do," said Griffin. "It is incredibly rewarding assisting our students through their law school journey and witnessing what they do with their careers!"
Director of Professional Development
The Director of Professional Development, Trina McFadyen, is an alumnus of the Faculty of Law and practiced law in Winnipeg for over a decade. Trina engages with both alumni and colleagues in the legal profession and works to maintain and strengthen the relationship between the Faculty and the practicing bar to benefit students entering the practice. Trina develops resources for law students to assist them with navigating interviews, networking events, finding articling jobs and understanding the in-and-outs of working in the legal profession. As a lawyer who is still connected to the practicing bar, Trina brings a wealth of knowledge to the students of UM Law.
"The best part of my job is when a student succeeds in achieving their dreams!"

– Trina McFadyen, Director of Professional Development
"The Manitoba Bar is unique in that so many of the lawyers in our province also went to law school here, and that includes me," McFadyen said. "Our alumni and the practicing bar are very giving of their time and knowledge and want to help UM Law students succeed. I pass along that knowledge, as well as what I learned in my years practicing law, to UM Law students as they navigate their professional goals."
Manitoba Law Students' Association – Professional Development Committee
Throughout the year, The PDC works closely with the Career Development Office to provide Robson Hall students with opportunities and resources to build their professional development by encouraging them to attend networking events with firms and practitioners, assisting students in the initial stages of preparing their resumes and cover letters, and collaborating with the CDO to facilitate workshops and panels throughout the school year. Most recently, the PDC organized the Law Banquet, held in-person at the Winnipeg Art Gallery on October 28. This much-anticipated annual event provides law students with the opportunity to sit down with practicing members of the Manitoba legal community to create genuine connections while gaining valuable insight into working in the legal industry.
"In a professional program, such as law, careers are on students' minds year-round," explained Dr. Virginia Torrie, Associate Dean of the Juris Doctor program at the Faculty of Law. "We are active and proactive about fostering skills development and creating career connections and opportunities for JD students."
Upcoming career development events Faculty of Law students can look forward to include a roundtable with smaller law firms organized by the PDC, a mentorship mixer for first-year law students organized by the Manitoba Bar Association, and ongoing info-sessions and job opportunity postings, circulated by the Career Development Office.