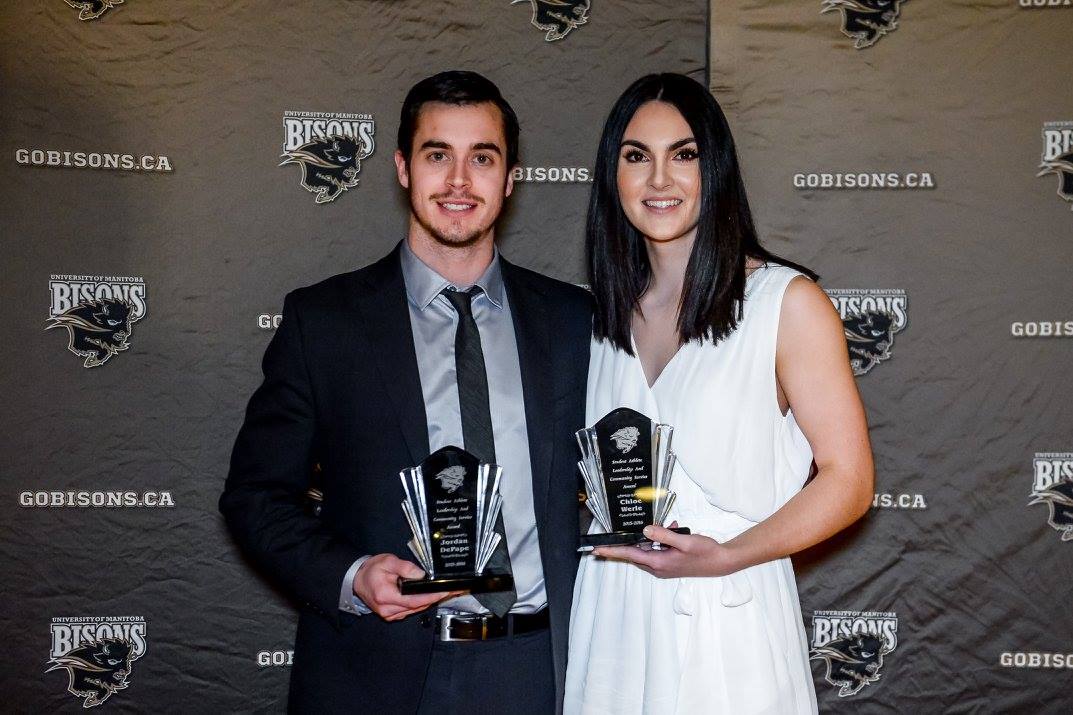 Every little bit counts
Balancing academics, athletics and volunteering worth it
April 11, 2016 —
"Volunteering to me means giving back to the communities that supported me in my journey to where I am now as a Bison student athlete, coupled with the simple act of helping make someone else's day a little more enjoyable," says Chloe Werle.
Werle is a two-time CIS Academic All-Canadian and has also completed her Bachelor's degree in Kinesiology this year. The goalkeeper on the women's soccer team was recognized at this year's Brown and Gold Dinner with the Female Student-Athlete Leadership and Community Development Award.
Another Bison athlete, Jordan DePape was also recognized at the Brown and Gold Dinner for his influence on campus and in the wider community. He received the Male Student-Athlete Leadership and Community Development Award. As captain of the men's hockey team, the third-year Faculty of Arts student was named 2015-16 CIS Second Team All-Canadian and 2015-16 Canada West First Team All-Star, plus was Team MVP for the second consecutive season.
DePape volunteers almost four hours each week as a CanU group mentor. He has been involved in impactful programs as a Bison Book Buddies coordinator, Siloam Mission, taught and coached during Hockey Manitoba Just Play Program and organized and implemented the inaugural Bison Hockey Hampers for CanU.
Like DePape and many other Bisons, Werle devotes a substantial amount of her time helping others. In fact, Bisons are are some of the most dedicated volunteers on campus. These student athletes represent the university within the community in a number of initiatives such as Bisons Against Bullying, Bison Book Buddies, CanU, Hope North of 55 flag football camp, volunteering at Siloam Mission, as well as through a number of coaching activities.
"I volunteer because I was raised on the value of giving. Having said that, I have been extremely fortunate to have spent six years as a CIS student-athlete and it is only fitting that I share my experiences and successes with others who do not have the same opportunity," says Werle.
Balancing academic studies, training and finding time to volunteer can be difficult says Werle but in the end it's worth it.
"It is sometimes challenging to fit it all in, but it is important to me and I have made it a priority just as I have with school and sport. Every little bit counts, even if it is an hour a week."
She recalls one particular example when she volunteered with CanU – an after school mentorship program for local youth from across the city, held at the U of M. She says she had a child in one of her groups who had a very tough upbringing and as a result struggled with certain aspects of day-to-day life.
"It was difficult at first, but eventually this child was able to feel more comfortable in the CanU environment and enjoy the time spent with the other children. To me this was so special because it really showed what programs like CanU can foster in individuals who otherwise may not have the opportunity to find purpose and joy on their own," says Werle.
Find out more about some of the myriad volunteer activities our Bison student athletes are involved in: