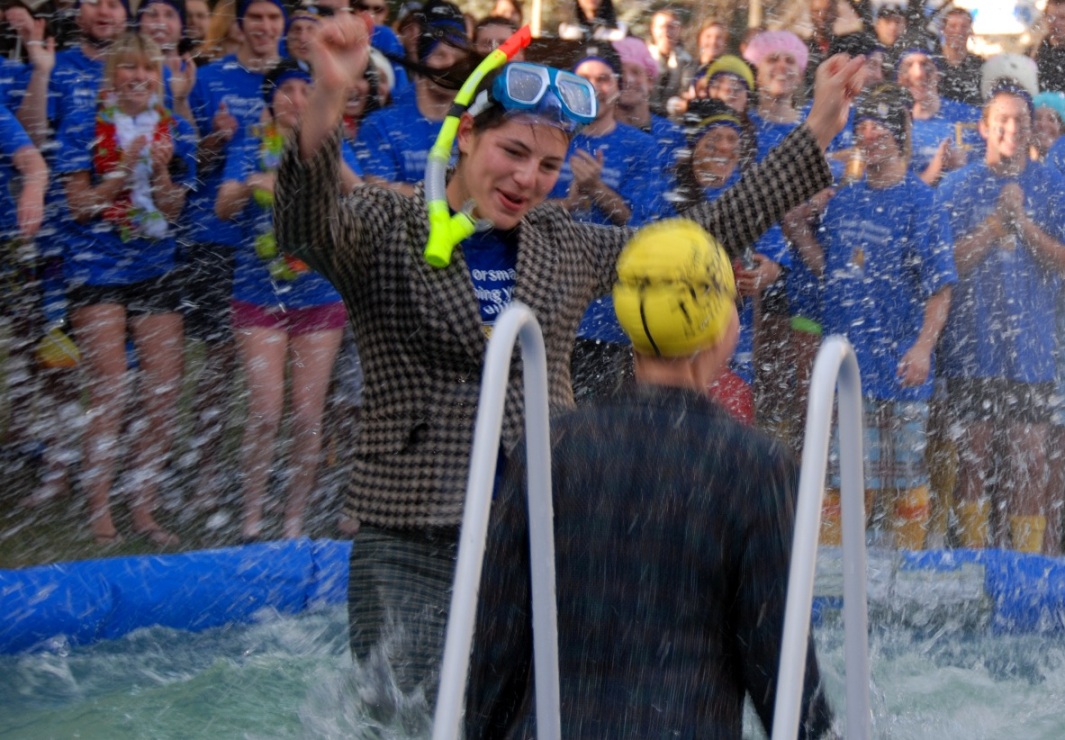 'Every donation to United Way will change a life in Winnipeg'
November 4, 2014 —
As a long-time volunteer, donor and current Board of Trustees Chair for United Way of Winnipeg, it's an honour and a privilege to work with the University of Manitoba, one of United Way's Top 50 Workplace campaigns (number 5 as of last year).  University of Manitoba staff dedicate their lives to providing young people with the tools, confidence, knowledge and opportunities to make a better life for themselves, and improve our community.  It's only natural that with that culture of caring, compassion, teamwork and collaboration, you seek ways to extend that kind of deeply held belief beyond the classroom.
One of the ways you do that is by choosing to partner with United Way; Deans, Presidents and Department Heads haven given time and expertise at the board and cabinet level.
Dozens of students year after year take the plunge in the dead of winter and raise thousands for United Way during the Chillin for Charity event (which happens this year at 11:30 a.m. on Nov. 6 in the quad).
Nearly 750 staff members donate to United Way's annual campaign, with more than 200 volunteers helping to coordinate efforts across the many campuses and faculties.
And the U of M was a founding partner in accrediting the Leadership Development program, a vital support to the annual campaign, which brings 40, sponsored executives to United Way each year.
You don't have to look far to see why there is such a deep level of support and partnership between the U of M and United Way, because there is a natural alignment of values.
The University's: integrity, equity, accountability, respect, civility, and compassion. United Way's: conviction, compassion, courage, connectedness, credibility.
Both organizations are dedicated to learning and change. Your role as facilitators and educators is all about making sure everybody has the opportunity to succeed, a deeply held belief at United Way who is working to create opportunities for a better life for everyone.
University of Manitoba staff are dedicated to providing young people with the tools, confidence, knowledge and opportunities to make a better life for themselves, and improve our community.
United Way works to help kids be all they can be by supporting mentorship, after-school and homework clubs that help prepare children and youth for success in school and life.
University of Manitoba staff, faculty and alumni contribute to the cultural, social and economic well-being of the people of Manitoba, Canada and the world and United Way works to ensure all families can participate fully in our community by supporting programs and services aimed at removing barriers of race, gender, ethnicity, income and ability.
A strong community needs strong leadership—leadership like we see at every level of the University of Manitoba. You recognize that leaders inspire others to action by setting an example.
At United Way we recognize Leadership as donors who give $1,200 or more each year.
While a donation in any amount can change lives, there are so many Staff and Faculty members who choose to give at the Leadership level which starts at just $50 per pay cheque or $100 each month.And with tax savings, it's more like $26 per pay.
To give you an idea of what Leadership makes possible:
$1,200 will empower a young girl to be proud of who she is and ready to rise above her challenges by creating opportunities for improved confidence, new friendships and positive mentors through a weekly after school program.
$2,400 will make it possible for 14 Winnipeggers in low-income situations to participate in one month on-the-job training–paving the way for steady employment and long-term financial stability.
$3,600 will create opportunities for six Winnipeggers living with a disability to live out their hockey dreams by purchasing the sledge frames that will allow them to take to the ice.
Last year, the University of Manitoba boasted 174 Leaders, increasing their number over the previous campaign by an astounding 12 per cent.
Together with other donors, they helped the U of M raised just over $641,000 in support of United Way.
To give you an example of the impact this generous expression of community spirit and pride has, because of your support, 900 kids were able to attend CSI this year, a Learning Enrichment Program. In the format of a unique urban summer camp that allows them to participate in fun and educational activities, CSI keeps their minds and bodies active during the summer months and ensures all kids return to school ready to learn and advance.
That significant support is vital to providing stability for an essential network of more than 100 hundred agencies, programs and partnerships.
Thanks to your generosity, leadership, and partnership we are able to provide mentoring, counselling and after school programs that help kids in our community be all they can be by keeping them safe, in school, off the streets and drugs, and out of gangs.
We are able to offer job training, money management, financial counselling, social enterprise, and matched savings programs that help Winnipeggers and their families move from poverty to possibility.
We're supporting a host of neighbourhood resource centres, recreation, wellness and counselling services and life skills programs that nurture healthy people and strong communities.
Your support also makes it possible for agencies and partners to be innovative, collaborative and find solutions that helping move our community move from managing our toughest issues to actually solving them. Innovation like:
The long-term plan to end homelessness
Early childhood development strategies so kids in every neighbourhood can enter school ready to learn.
If you need any more compelling reasons to become a Leader, consider the fact that United Way of Winnipeg is the only organization in Winnipeg apart from government that provides organizations with multi-year core funding.
And every dollar you invest goes right back into the community thanks to a grant from the Province that covers fundraising and administration costs.
So I want to thank you once again for the leadership, innovation and commitment to community you demonstrate through your support of United Way.
It is one of the best ways you can have an impact on the health and well being of our community and I can't thank you enough for your ongoing partnership and generosity.
And when you see that pledge form, I hope you'll consider representing our shared values by making a bold leap to Leadership, or if you are already a Leader, show others the way by increasing your gift and enhancing your impact.
If Leadership isn't right for you at this time, please give what you can.
Every donation to United Way – regardless of the amount – will change a life in Winnipeg.
Thank you.
Herb Peters
Managing Partner, Aikins Law
Chair, United Way Board of Trustees