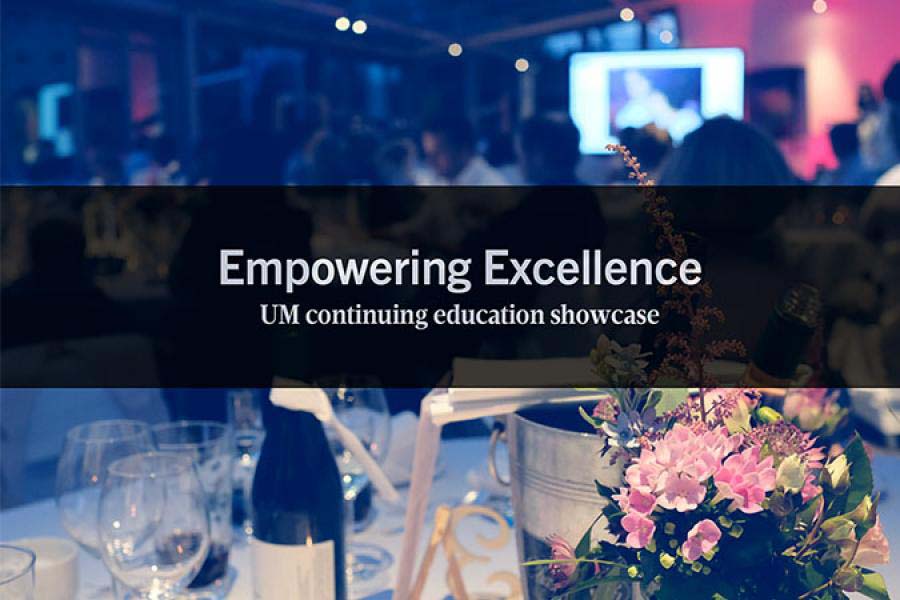 Empowering Excellence UM continuing education showcase
A Career Fair and Gala Evening to inspire lifelong learning
November 2, 2023 —
On Nov. 23, UM Extended Education is Empowering Excellence by showcasing the achievements of our students and the dedication of the instructors who inspire them, as well as recognizing our industry partners.
"We invite our students, alumni, instructors, industry professionals, and university colleagues to attend," says Rod Lastra, Acting Dean, Extended Education. "It's a great opportunity to network, build partnerships, and celebrate educational excellence. We are dedicated to shaping a brighter future for learners and educators alike."
This is an inaugural event recognizing the connections between Extended Education as part of the greater University of Manitoba, and the community," says Lastra. "UM has a long history of valued contributions to community and making an impact."
The day begins with an afternoon Career Fair, where students and alumni will have the opportunity to network and connect with industry partners. Students will explore career prospects and partners will meet potential employees.
The evening begins with a cocktail and networking reception, followed by dinner and a program that celebrates achievement and presents awards to our outstanding students, instructors and industry partners.
Awards
Award categories for the evening:
Industry – Partnership Excellence Award, Industry Placement Host Award
Instructors – Instructor Excellence Award, Instructor Long Service Awards
Students – Dr. Ronald Kristjanson Memorial Scholarship, Dean's Honour List
Extended Education is the division of UM that provides continuing education and pathways to degree studies. Among the professional development credentials offered are certificates including Artificial Intelligence: Machine Learning Solutions, and micro-certificates including Facilitating Older Adult Learning, and Media Literacy, Critical Thinking and Investigative Journalism.
"Continuing Education brings community together for the benefit of community. For me, the value of the CE unit is to ensure we maintain, sustain and acknowledge our relationships with our partners and learners. It's not just about us. Many make a valued contribution to upskilling and reskilling, and that makes a difference."
Buy your tickets
"With this event, Extended Education aims to inspire a passion for education and lifelong learning. We want our students, instructors, and industry partners to feel valued and appreciated. We want to connect, collaborate, and gain new perspectives. We want to share the relevance of our educational programs and their impact on society," says Lastra.
"This event underscores the ethos of continuing education and the UM – efforts that embody the spirit of lifelong learning, uniting diverse communities for the greater good of all. We hope everyone will leave with a sense of empowerment and a belief in the transformative power of education."