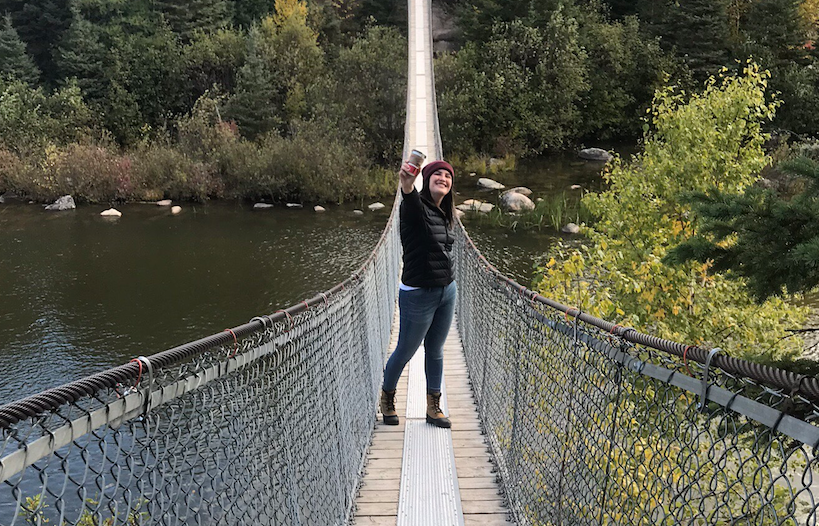 'Embrace the experience,' advises ag graduand
May 13, 2019 —
With a dad who is a teacher and a mom who is a registered nurse, it's no wonder that Reede Hawton had aspirations of a career in health education.
"When I was originally looking at post secondary education, I had the long term goal of becoming a registered dietician," she explains. "The Manitoba Partnership Dietetic Education Program that is unique to the U of M really appealed to me because it offers its dietetic interns an extremely dynamic practical experience."
Raised in BC, Hawton says she was sold on the U of M after visiting here to check on the program before she finished high school. She attended a summer exchange course on nutrition in France and found that the U of M even accepted it towards her Manitoba program when she started taking classes here in 2014.
"Not everybody gets the opportunity to study something they're really passionate about," she explains. "I love how nutrition is such a marriage of education and the healthcare field, really focusing on overall well-being. I also just really love food and cooking and was lucky to find myself in a field where we literally talk about food all day."
Hawton learned through experience that pursuing an education takes hard work and determination.
She notes: "Overall time-management is a battle and a skill I have just barely acquired. It's crazy to manage a social life, volunteer hours, jobs—literally just eating and sleeping at normal times—on top of classes. That being said, I think you learn to thrive under the pressure."
With that in mind, Hawton has words of encouragement for students just starting out on the journey.
"Just work hard and trust the process," she advises. "It's easy to get hung up on a bad grade, and dismiss other opportunities in an attempt to be a good student, but you are so much more than the classes you take to get your degree. I see how impacted I have been by the people I've met, the places I've volunteered, and even the nights I thought I should have mixed in a few more waters. It's really cliché, but study as much as you can, while embracing the experience, and you'll be fine."
Hawton attributes her success to the support she has received from many in the greater community. "I think that, like any other university graduate, it really took a village. The list absolutely starts with my family but extends to anybody who answered a late-night-pre-final-panicking-FaceTime. I'm so grateful to have maintained friendships with my best friends from home, and I really couldn't have survived Manitoba winters without the support of so many unreal people I met through school and residence."
She adds: "Outside of U of M I have enjoyed just spending time with people in the city; I like visiting the Exchange District or Osborne, I like watching hockey, and I love drinking coffee. Anything to take my mind off of studying without venturing into the Netflix abyss."
And of course, even the most ardent diet expert has snacks that are guilty pleasures. Hawton admits: "Marshmallows are easily one of my favourite foods on the planet, and Chicago mix popcorn."
Hawton graduates with her classmates from the Faculty of Agricultural and Food Sciences at the 140th Spring Convocation session on Thursday, June 6, 2019, at 3:00 pm.
Learn more about Spring Convocation 2019 here.
Each session of Convocation will be streamed online.
Follow convocation ceremonies and events on #umanitoba2019 on Twitter and Instagram to see more.