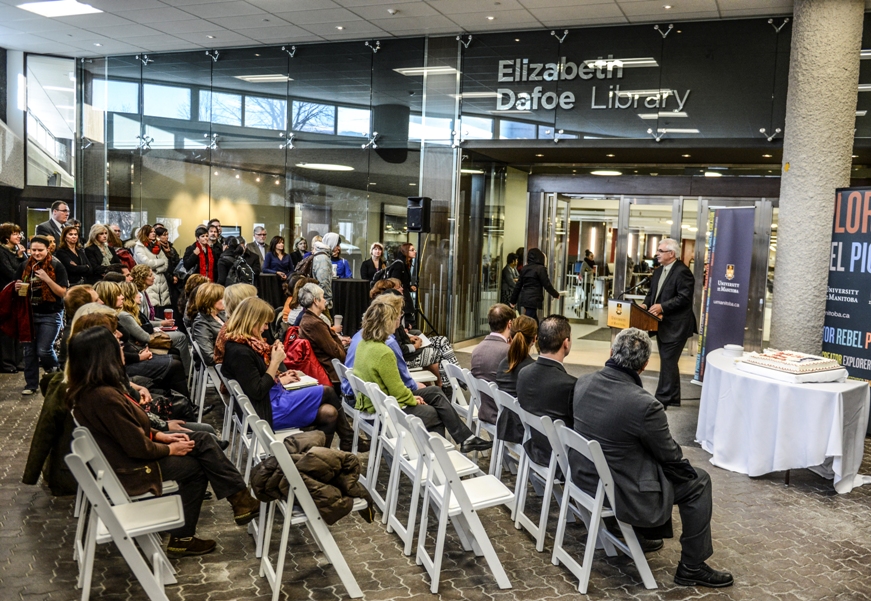 Elizabeth Dafoe Library formally opened after redesign
January 17, 2013 —
The newly renovated Elizabeth Dafoe Library had its formal opening on Jan. 17, 2013,  following a $5.5 million redesign.
The main floor of the library now has stylish furniture, self-serve kiosks, collaborative media space and a one-stop service desk. Designed by LM Architectural Group, the new space features a stunning entrance, more study areas and computer workstations, versatile teaching spaces, warm and plentiful energy efficient lighting. The combined effect is expected to build a sense of community among students and other library users, making it a place of choice to do research, study, and just hang out.
"The redevelopment of the Dafoe Library provides students, faculty and staff a modern, inviting, and welcoming hub for learning," said president and vice-chancellor David Barnard. "This investment builds on recent transformative changes that make our university an even better place to live, study, work, discover and play."
The library is named after Elizabeth Dafoe, the University of Manitoba librarian from 1937 to 1960. She played a major role in the development of the university and was a leader in the local and national library communities, serving as president of both the Manitoba and Canadian Library Associations. She was the daughter of John W. Dafoe, editor of the Winnipeg Free Press and University of Manitoba chancellor from 1934 to 1944.
"This exciting new space reflects changes in student needs and contributes to our exceptional student experience," said university librarian Karen Adams. "It's wonderful to see the students taking advantage of the new services and space."
Long-loved by students, an historical aside
In 1960, students staged a silent protest in the Elizabeth Dafoe Library. Students were upset that the library closed at 10:00 p.m. and asked that it stay open longer. Since their requests were not being seriously considered, the students decided to take a slightly more aggressive stance on the issue. When the bell rang to indicate the closing of the building, the students stayed in their seats and lit candles. A total of 518 students signed a petition to keep the library open for that additional hour. The library now closes at 11 p.m. on week-nights.