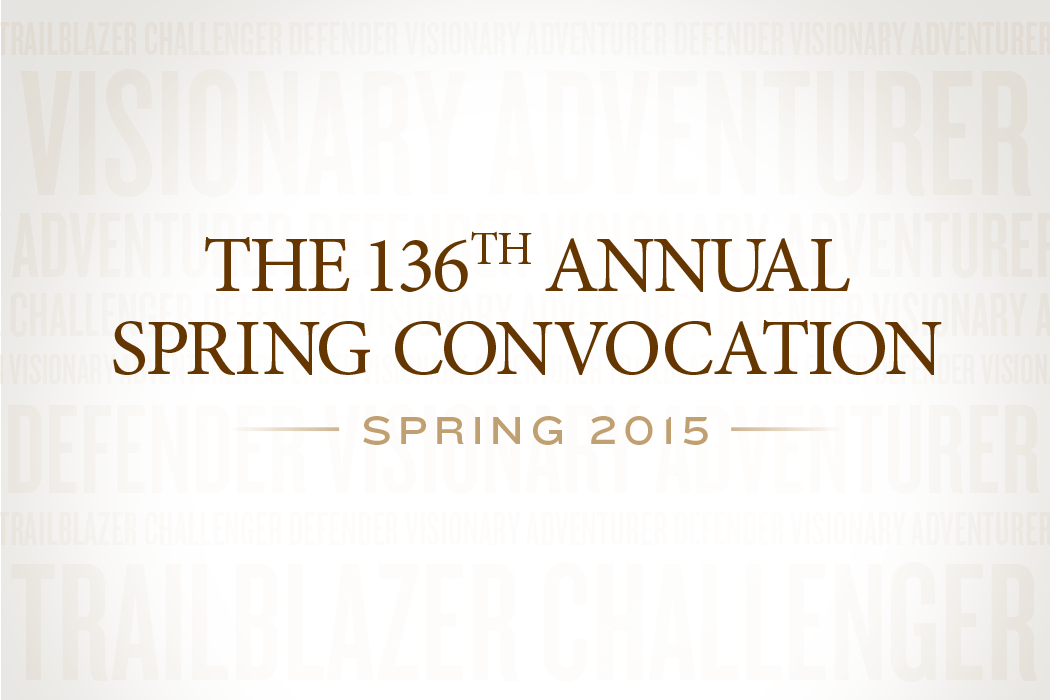 Eight remarkable individuals to receive honorary degrees at Spring Convocation
April 8, 2015 —
Honorary degrees will be bestowed upon individuals who have achieved preeminence in the advancement of culture, communications, education, administration, scholarship, leadership, philanthropy, mentorship and business.
During the 136th annual Spring Convocation of the University of Manitoba on May 14, 26, 27, 28 and June 1, 2015, the following noteworthy individuals will be given honorary degrees:
---
André Picard is widely recognized as Canada's foremost public health reporter for his insightful, balanced and nuanced analysis of complex public policy issues. His expertise was solicited by the Evidence Network of Canadian Health Policy—an online network founded by a community health sciences researcher in the University of Manitoba's College of Medicine—to bridge the gap between academics and journalists, and make evidence on health policy easily available to the mainstream media. Picard was named Canada's top newspaper columnist in 2010, and is a six-time finalist for the National Newspaper Awards. He also received the Queen Elizabeth II Diamond Jubilee Medal and was the recipient of the Canadian Nurses' Association Award of Excellence for Health Care Reporting.
Medicine Convocation, Thursday, May 14, 2015, 10:30 am
---
Dr. Emőke Szathmáry, President Emeritus, was the 10th President and Vice-Chancellor of the University of Manitoba and made outstanding contributions to the development and advancement of higher education, to her own scholarly field of anthropology and to the broader community. Dr. Szathmáry distinguished herself in her field, leading a major research intensive university to new heights and serving her community as a leader and volunteer. Dr. Szathmáry was appointed President and Vice-Chancellor in 1996, a role in which she served with distinction until 2008. During her tenure, Indigenous student enrolment doubled, the number of international students tripled, a dozen new facilities were built, sponsored research income tripled, the research and technology Smartpark was established, and the University successfully undertook a $237-million dollar philanthropic campaign.
Tuesday, May 26, 2015, 9:30 am
---
Dr. David Turpin is a renowned scholar and leader who shares his acumen with governing bodies across Canada. He trained as a botanist and began teaching at Queen's University and then at the University of British Columbia. Throughout his academic career, Dr. Turpin has stressed that a "liberal arts education is the heart of a university." In 2000 he became President and Vice-Chancellor at the University of Victoria and fundamentally improved the University's trajectory by bolstering its research, teaching and student services. Under his leadership, UVic rated the top Canadian university in the world among those founded within the last 50 years, nine new residences were built and student financial assistance more than doubled. Dr. Turpin was also instrumental in establishing the University's internationally-renowned Ocean Networks Canada.
Tuesday, May 26, 2015, 3:00 pm
---
Susan J. Glass is a champion of Canadian performing and visual arts, dedicated to enhancing the cultural vitality of our nation by nurturing and supporting artists in galleries and theatres across Canada. Glass is a supporter of the University of Manitoba, the Canadian Museum for Human Rights, the Assiniboine Park Conservancy, the Plug In Institute for Contemporary Art, the United Way and many other institutions. Her mother Helen earned a nursing education certificate from the University of Manitoba in 1958 and later so honorably served as the faculty's dean that the college named its new building after her in 1999. In 2008 the Association of Fundraising Professionals named Susan Glass and her entrepreneur husband, Arni Thorsteinson, Outstanding Volunteer Fundraisers in Manitoba. In 2009, in recognition of her service to the arts and to Winnipeg, Glass was appointed a Member of the Order of Canada.
Wednesday, May 27, 2015, 9:30 am
---
Ernest Rady has spent a lifetime using his energy to create opportunities for others. His success started at the University of Manitoba where he received his Bachelor of Commerce and Bachelor of Laws, earning the University Gold Medal in Commerce and the Law Society Award. An entrepreneur at heart, Rady founded American Assets, Inc. (now American Assets Trust) in 1967. He also founded Insurance Company of the West in 1972, as well as American Assets Investment Management. He is currently Chairman of these and other businesses, but he is also a past founder and CEO of Westcorp, a publicly traded financial services company, which was sold to Wachovia Corporation in 2006. His skilful leadership has steered his companies to tremendous success in financial services, investment management, real estate, and other industries.
Wednesday, May 27, 2015, 3:00 pm
---
Elder Stella Blackbird has dedicated her life to serving others as Traditional Healer, Medicine Teacher and facilitator of healing programs, earning honour and respect across Canada and the United States for her wisdom, kind spirit and dedication to the community. As a Survivor, Elder Blackbird has a clear dream: Never again will a First Nation, Métis or Inuit child have to feel the shame that she and others experienced in the residential school system. Instead, children will freely and proudly embrace their cultures and identities. In her words, "The children come first in life." Elder Blackbird possesses a vast knowledge of traditional medicines, which she freely shares with people of all nations from around the world. She co-founded the Medicine Eagle Healing and Retreat Place for youth, adults and families, on the sacred ceremonial grounds of the ancestors near Riding Mountain National Park.
Thursday, May 28, 2015, 9:30 am
---
Steven Schipper has devoted over a quarter century to the Royal Manitoba Theatre Centre. Throughout that time, he has fostered the artistic excellence and fiscal stability for which the Royal MTC has become known—a notable achievement given the company was under considerable duress when he stepped into his role in 1989. Under his direction, the Royal MTC has solidified its international reputation and expanded its purview and audience through wildly popular enterprises such as the annual Fringe Festival and Master Playwright Festival. He was a recipient of the David Peacock Award and, in 2012, was awarded both the Order of Canada and the Queen's Diamond Jubilee Medal for his contributions to Canadian theatre. Schipper's revival of the Manitoba Theatre Centre was described by the Globe and Mail as "one of Canadian theatre's most striking success stories" and, in 2010, Queen Elizabeth honoured the theatre with a Royal designation.
Thursday, May 28, 2015, 3:00 pm
---
Dr. Dean Louder became an unlikely champion and pioneer of research into the North American Francophonie. Slowly, consistently, passionately, for over 35 years this American-born geographer became the foremost specialist of French-speaking America by exploring communities others overlooked. Dr. Louder is an anglophone but also a francophone; someone who not only adopted French as the language of his university work and the city he lived in, but who truly embraced the language, evident by his choice to publish the greater part of his scholarly work in French. His works have continually made important contributions to the knowledge and understanding that we have of Franco-America, and his publications have led to specialized studies and research chairs in this field.
Monday, June 1, 2015, 2:00 pm (Université de Saint-Boniface)