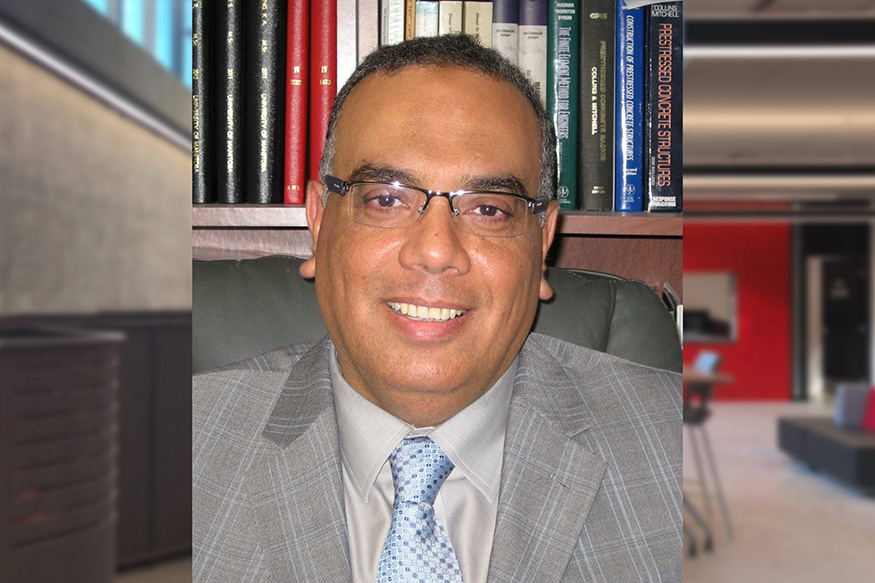 Engineering Professor elected Fellow of the IIFC
Professor Ehab El-Salakawy was named Fellow of the International institute for his fibre-reinforced polymer research.
February 25, 2022 —
After being elected a fellow of the ACI, Dr. Ehab El-Salakawy has earned himself yet another exciting accolade, this time as a fellow of the International Institute for fibre-reinforced polymer in Construction (FRP). The International Institute for FRP in Construction was established in 2003 and is a non-profit international organization whose goal is to advance understanding and application of fibre-reinforced polymer (FRP) composites in civil engineering infrastructure.
The IIFC is the highest body that represents the FRP community worldwide and IIFC fellows are the highest class of membership within the IIFC. Dr. El-Salakawy has been working with them for decades on the research and development of composite science and technology. This dedication has earned the distinction of being named a Fellow of the IIFC.
"I am very proud and honored to receive this distinction from the International Institute for FRP in Construction (IIFC), which is the highest body representing the FRP community worldwide. This recognizes the 23+ years of innovative research to establish FRP materials as reinforcement for concrete structures in Canada and around the world. I am grateful to my graduate students, without them this would not have been possible, my colleagues, my nominators as well as the support received from my research partners and sponsors." – Dr. Ehab El-Salakawy
We extend our warmest congratulations to Dr. El-Salakawy for his incredible work and wish him continued success in the future.