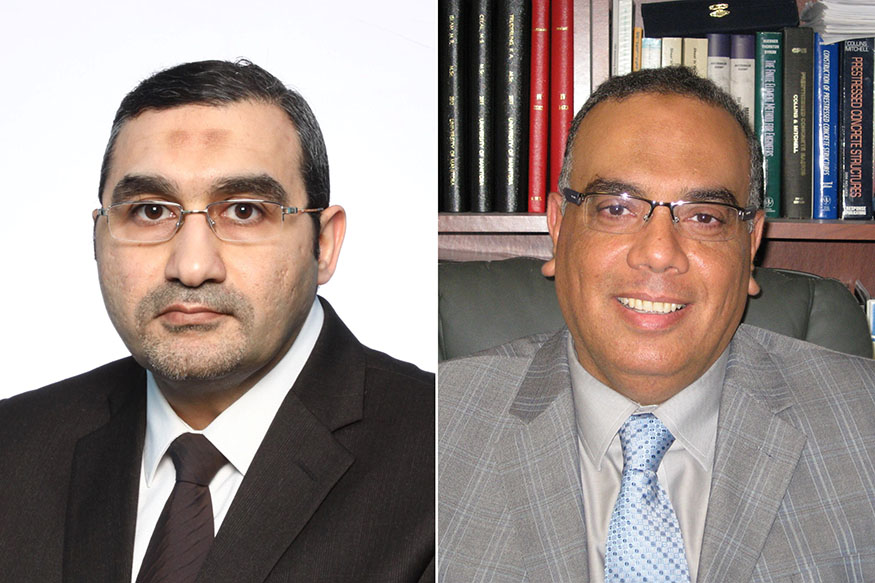 Civil engineering professors awarded fellow distinction
February 8, 2022 —
The Price Faculty of Engineering extends our congratulations to Dr. Ehab El-Salakawy and Dr. Mohamed T. Bassuoni who have earned the fellow distinction of the American Concrete Institute (ACI), a recognition earned by less than 5% of ACI members.
ACI is a non-profit technical society and standards developing organization that was founded in 1905. Since then they have expanded to 30,000 members in over 120 countries. Each year, ACI members vote for who they believe should be given the distinction of fellow. To qualify one must have made outstanding contributions to the production or use of concrete materials, products, and structures in the areas of education, research, development, design, construction, or management.
Dr. Bassuoni [BSc(CE)/99,MSc/03,PhD/08] has served on multiple ACI committees, held various leadership positions and received a numerous awards over the years, including the 2020 ACI Wason Medal for his research interests. He has authored and co-authored more than 130 technical reports, two edited ACI Special Publications, and a registered patent. His research interests include the design and behavior of cementitious materials/composites, durability of concrete infrastructure, and applications of nanotechnology in concrete.
"I am honored to receive this prestigious fellowship of the American Concrete Institute (ACI). This esteemed peer recognition highlights the world class research produced from my group at UM which would not have been possible without the efforts of my former and current graduate students. I am indebted to the multiple public and private partners who have sponsored my research at UM, and I am looking forward to continue serving science, engineering, and the society in the years to come."
– Dr. Mohamed T. Bassuoni
Dr. El-Salakawy [BSc(CE)/89, MSc/93, PhD/98] was the holder of the only Canada Research Chair in the Department of Civil Engineering that was in Durability and Modernization of Civil Infrastructure from 2006-2016. He is the recipient of the ACI 2020 Mete A. Sozen Award for Excellence in Structural Research. His research interests in the field of concrete structures, particularly the durability, construction, design, seismic performance using FRP Reinforcement and has published over 300 research papers in leading journals and international conferences on various aspects of his research. Dr. El-Salakawy has previously been given the distinction of fellow by the Canadian Society for Civil Engineering (CSCE) in 2016 and the International Institute for FRP in Construction (IIFC) in 2021.
"I am honored and humbled to receive this recognition from the American Concrete Institute, which is the top concrete association in the world. I greatly appreciate the recognition from my colleagues, and I thank my nominators and acknowledge the support from my graduate students, industrial partners, and research sponsors."
– Dr. Ehab El-Salakawy
Both professors will be formally inducted at the ACI Spring 2022 Concrete Convention on Sunday, March 27, 2022.