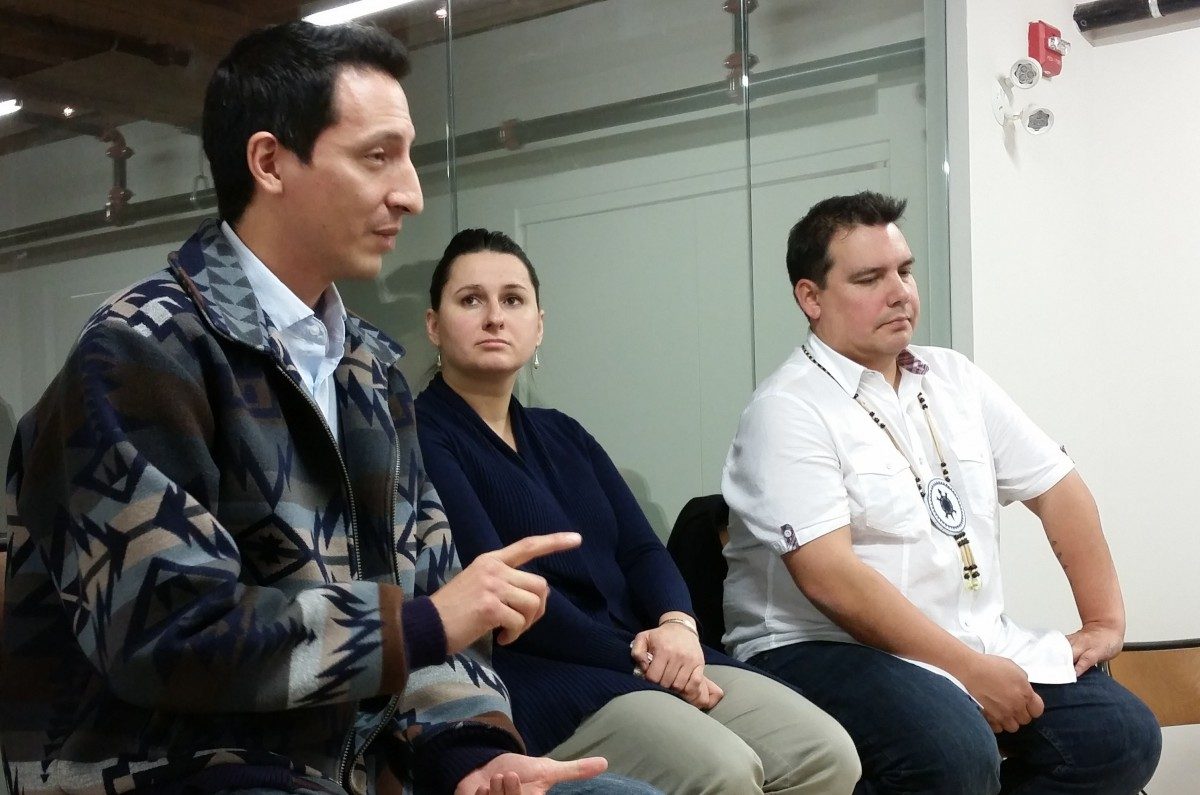 Education for Social Justice
The Dean's Lecture Series
October 29, 2018 —
On Oct. 23, an intimate crowd gathered at Forth for the latest installment in the Dean's Lecture Series 2018-2019 season.
Education for Social Justice was an opportunity to consider how education can contribute to creating a just society, a community where everyone has the opportunities to realize their potential and live a good life.
Justin Eisinga from the Canadian Foodgrains Bank called the event very informative.
"It's so important to listen. I came here to listen to people much wiser than I am on this topic, to hear how they do education work, engage, and speak their truth," says Eisinga. "Providing hope to people is important, and recognizing their identities as human beings."
Catherine Brazeau from Parks Canada says she enjoyed the panel.
"I was interested to hear about the different organizations. I appreciated the speakers' experiences," says Brazeau. "I liked Jordan's answer about the most important resources being person-to-person connections. It's important to address extended education efforts."
The three speakers shared their insights.
Niigaan Sinclair, professor, Native Studies, U of M, says education should help students answer four important questions: Who am I? Why am I here? Where am I going? Who can help me?
"Mainstream education often fails Indigenous young people in these questions," says Sinclair. "What the education system should do is create a healthy environment."
He told a story about his daughter entering a French speaking competition with a speech about how being able to speak French in Paris made her feel really good, but imagine if she could do this in Cree.
He also noted how in response to his Free Press column he has received some hate mail, with some people identifying Indigenous people as "you people". In fact, he says, many of the events like protest marches people may consider as Indigenous events are really for everyone. "We have many struggles in common."
Social justice is about speaking truth, says Sinclair. "We can't learn how to be a human being without talking about power. We need a critical analysis of power."
Dorota Blumczynska, executive director of the Immigrant and Refugee Community Organization of Manitoba (IRCOM) addressed the immigrant experience, working toward emotional integration and the feeling they belong.
"People come here with a hope to make things better, to live a different life, to place themselves in education and the curriculum. There is a need to feel complete," says Blumcynska.
"Immigrants are working toward citizenship, the ultimate protection. At IRCOM, we see the Canada that exists on a day-to-day basis. Textbooks are written from one perspective, the perspective of the person holding the power. We need to know who we are and reclaim our identity."
She shared her own experience of arriving in Canada as a child. "My family left Poland. I was young and quite sheltered from the experience. My parents told me it was a vacation. When we were leaving, I was excited. My grandmother was weeping."
Jordan Bighorn, CEDA Pathways to Education program manager, spoke about how CEDA creates a warm and welcoming environment for middle school and high school students in the North End of Winnipeg, and has been around for over 40 years now. The organization encourages self-identity, pride, and self-empowerment.
He quoted the movie Dances with Wolves, saying I see you are on the path of a true human being, and then spoke about what it means to be a true human being as a Lakota person and also as a global citizen.
"Someone might ask why they should read something that has nothing to do with their life, but we are trying to introduce higher aspirations, to encourage people to develop a sense of accomplishment," says Bighorn.
The discussions will continue, with three more #UMTalkSmart topics to come this season. The next presentations will be held in February, March, and May.