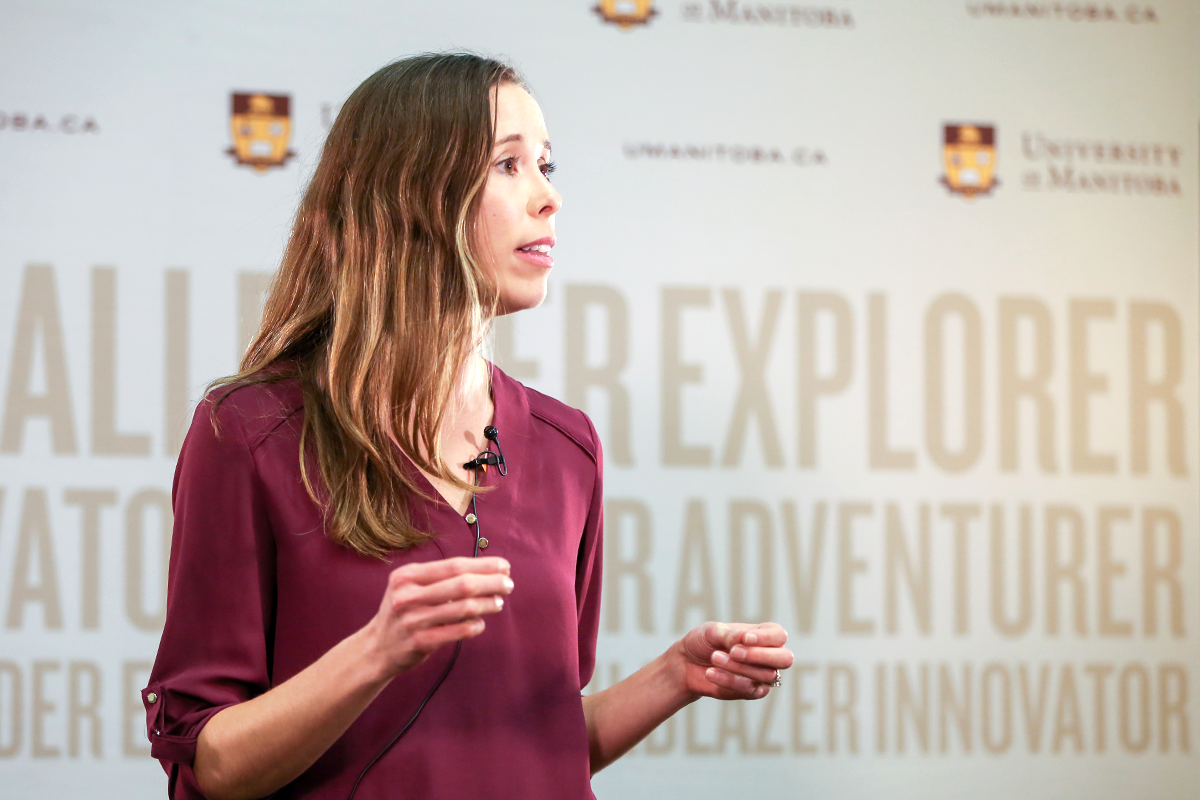 Driving change: Teaching people to alter behaviour in the face of climate change
May 17, 2018 —
Jill Bueddefeld wants to make your next vacation more meaningful, because it needs to be.
"In a hundred years from now it won't matter if we have cured every disease, and even established world peace, if we have failed to address climate change," she says.
The PhD student and 2018 3MT finalist and People's Choice winner at the University of Manitoba, uncovers how nature-based tourism teaches people about the environment and their role in conservation. Her findings are transferable to virtually any locale, from the Galapagos' Islands to the shores of Churchill. And it's crucial because the problems climate change poses, though seemingly insurmountable, are not.
Indisputable evidence for climate change exists, but how do scientists get people to care—to actually alter their behaviour? We must teach them, says Bueddefeld, but not in schools.
Experiences gained from hikes, vacations, or trips to zoos offer the best way to learn about environmental issues through "free-choice learning" and Bueddefeld, alongside her supervisors Mary Benbow (Clayton H. Riddell Faculty of Environment, Earth, and Resources) and Christine Van Winkle (Faculty of Kinesiology and Recreation Management), uncovers how these potent events spur personal philosophical revolutions.
"People in general are supportive and caring of conservation, but there is this disconnect between what we know is a problem, and knowing what our role in that problem is…. My research addresses this," she says. "I think zoos and other free-choice learning places like them need to facilitate more than dictate. We need to encourage people to do more than recycle. That's a great starting point, but ultimately we want people to understand the issues and think critically of what their role is in that. My research has shown that their own solutions are often far better and more creative than our suggestions for how to be more sustainable."
She began her research at the Assiniboine Park Zoo's Journey to Churchill exhibit as a master's student, and now, as a PhD candidate in the Clayton H. Riddell Faculty of Environment, Earth, and Resources, she examines how first-hand experiences can enlighten tourists going to see polar bears in Churchill, MB. (Read her tips for learning about Manitoba's nature.)
Growing up on a farm in southern Manitoba, she thought she would be a game manger, helping wild animals get back into nature. Then she thought she'd be a marine biologist, but discovered she loathed the topic.
"Instead, I ended up taking a geography class at the U of M with Dr. William Norton, a geographer and lovely older British man who had a mantra of, 'what's there and why care?' And that's the whole mantra behind human geography," she says. "He instilled the passion and drive in me in thinking about the world and how it can matter to us in different ways."
Now she is driving change. Helping people see what's there and making them realize they do indeed care.
Meet the other new faces of innovation and discovery.