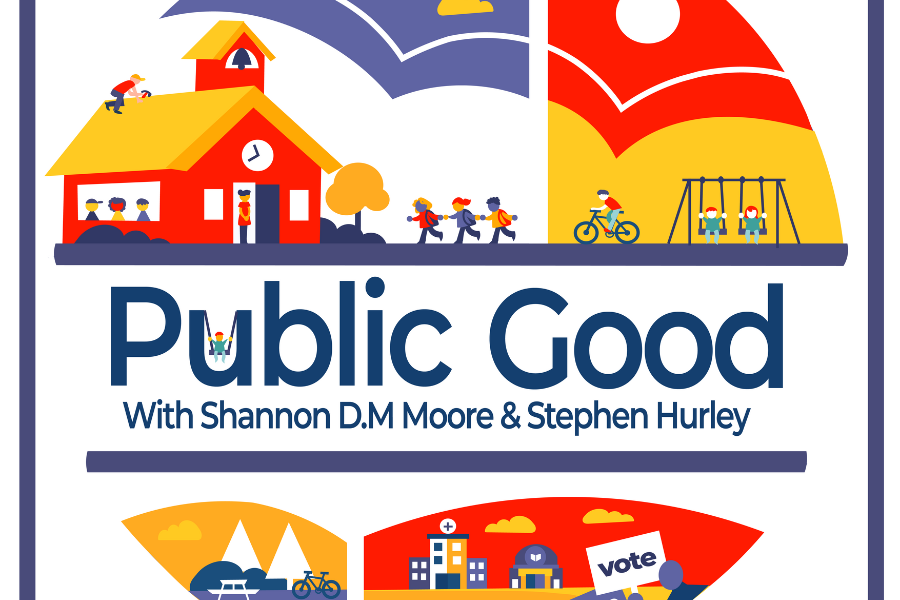 Dr. Shannon Moore creates Public Good podcast
March 2, 2023 —
Dr. Shannon Moore and Stephen Hurley created Public Good podcast to "highlight distinctly Canadian issues, connect educators and activists across provincial contexts, and inspire action to protect public education," explains Dr. Moore. The first season of the Public Good podcast features 18 episodes with guests introducing different perspectives and insights surrounding privatization of/in public schools in the Canadian context.
Public Good features prominent voices in Education, such as: Dr. Henry Giroux, McMaster University Chair for Scholarship in the Public Interest; Dr. Joel Westheimer, University Research Chair in Democracy and Education at the University of Ottawa; Dr. Sue Winton, Associate Professor in the Faculty of Education at York University; and, Dr. Jon Young, Acting Department Head and Professor Emeritus Educational Administration, Foundations & Psychology in the Faculty of Education at the University of Manitoba. "Each episode includes an interview with incredibly knowledgeable guests who offer profound insights about what is happening in their specific contexts," explains Moore.
The podcast offers "an overview of the ideological motivations fuelling current educational reforms, aimed at privatizing public education systems. In addition, it outlines the ways in which privatization is manifesting within provincial borders, and how advocacy groups are resisting," explains Moore. "Listeners will also hear why some folks are critical of public education advocacy as they have been marginalized policed and regulated within the public school system."
Moore and Hurley hope to reach anyone who wants to develop a deeper understanding of public education systems across Canada, "more than 90% of people send their students to public schools, but many people are unaware of the ways in which reformers are actively undermining this public good."
In June 2023 Moore and Hurley will also be recording a special series featuring the presenters at the upcoming symposium "Public Conversations About Privatization: Rejecting the Marketization of Public School Systems in Canada." The symposium is funded by the SSHRC Connections Grant and includes members of the Faculty of Education at the University of Manitoba, Dr. Melanie Janzen and Dr. Ee Seul Yoon. It also includes current and former grad students, Justin Fraser and Ellen Bees.
Public Good podcast can be accessed through VoicEd Radio, Spotify, or Apple Podcasts. Since October 2022, the podcast has released nine episodes.