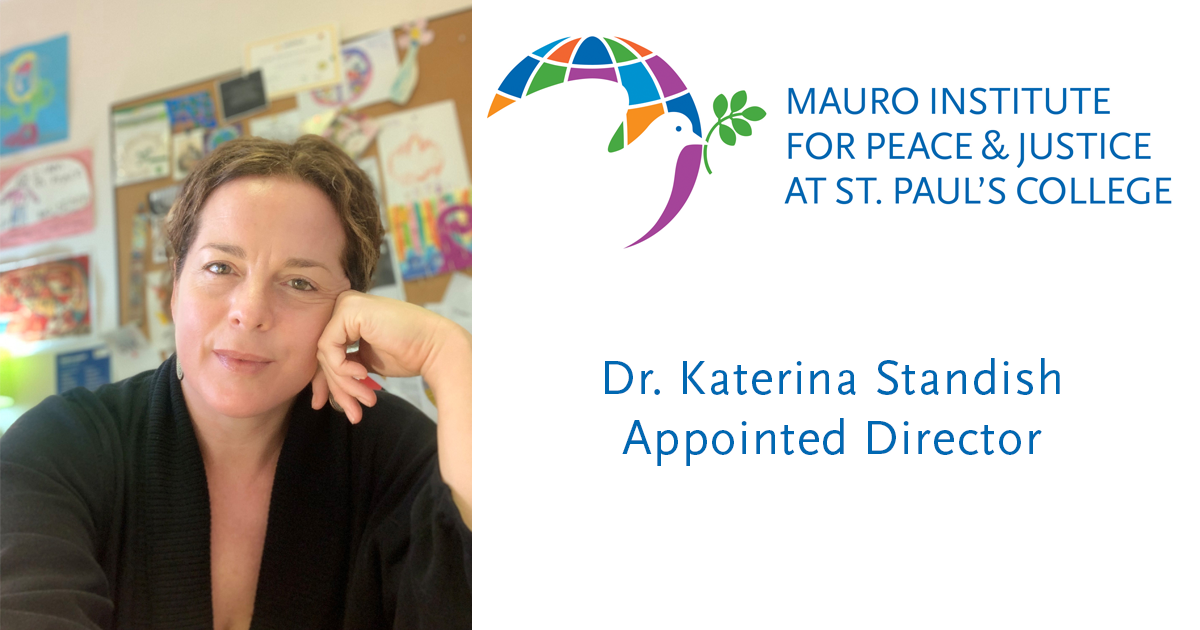 Dr. Katerina Standish Appointed Director of the Arthur V. Mauro Institute for Peace and Justice at St. Paul's College
New Director of the Arthur V. Mauro Institute for Peace and Justice
August 16, 2023 —
It is with great pleasure that the Board of Directors of the Arthur V. Mauro Centre for Peace and Justice and the Board of Governors of St. Paul's College announce today the appointment of Dr. Katerina Standish for a three-year appointment as the new Director of the Arthur V. Mauro Institute for Peace and Justice at St. Paul's College.
Dr. Standish earned her Ph.D. in Peace and Conflict Studies (PACS) at the University of Manitoba in 2012. In 2013, she joined the National Centre for Peace and Conflict Studies at the University of Otago in New Zealand, where she served until 2023 as a Senior Lecturer (Associate Professor), Deputy Director, and Director of Research. Dr. Standish served in several visiting teaching and research positions at Uppsala University, The University for Peace, and as a John Sloan Dickey War and Peace Fellow at Dartmouth College.
Dr. Standish is the editor and author of over 50 publications, including two collected editions of research at the Mauro Institute: Expanding the Edges of Narrative Enquiry: Research from the Mauro Institute (2020) and Conflict Transformation, Peacebuilding and Storytelling (2018). Dr. Standish is the senior editor of The Palgrave Handbook of Positive Peace (2022) and Editor-in-Chief of Peace Review, a Journal of Social Justice (Taylor & Francis). Her most recent co-edited work is Perspectives on Justice, Indigeneity, Gender, and Security in Human Rights Research(2023). Dr. Standish has served on the Executive Board of the Canadian Peace Research Association (CPRA) since 2014.
Dr. Standish reflected on her experience since graduating, "I have been very fortunate to work with people from all over the world on conflict transformation (group, structural, interpersonal, and personal) as well as PACS research and scholarship." Since graduating in 2012, Dr. Standish has conducted multiple collaborative and international research studies. "I work from a unity perspective that seeks to transcend boundaries, and overcome obstacles, weaving together the essential principles and practices of nonviolence, humanization, and optimism. Collectively, we hold the power to materialize the future we envision."
Dr. Christopher Adams, the Rector of St. Paul's College and Chair of the Arthur V. Mauro Institute's Board of Directors, stated: "We are excited to have Dr. Standish, an accomplished scholar and peace practitioner, as our new director of the Arthur V. Mauro Institute for Peace and Justice. She will lead us in ensuring that Dr. Mauro's vision for the Institute will continue. I look forward to working with her."
As her term commences, Dr. Standish expressed her appreciation for having this new opportunity: "Taking on the responsibility of Director at the Mauro Institute is an extraordinary chance to play a part in the institute's significant achievements. I am dedicated to preserving the institute's valuable heritage while leading it towards new peace and social justice pathways."
Dr. Standish succeeds Dr. Charlotte Enns, who fulfilled a four-year term as Director and Dr. Zana Lutfiyya, who served as Acting Director in 2022-2023. Dr. Sean Byrne previously fulfilled three five-year terms as the founding Director of the Mauro Institute.