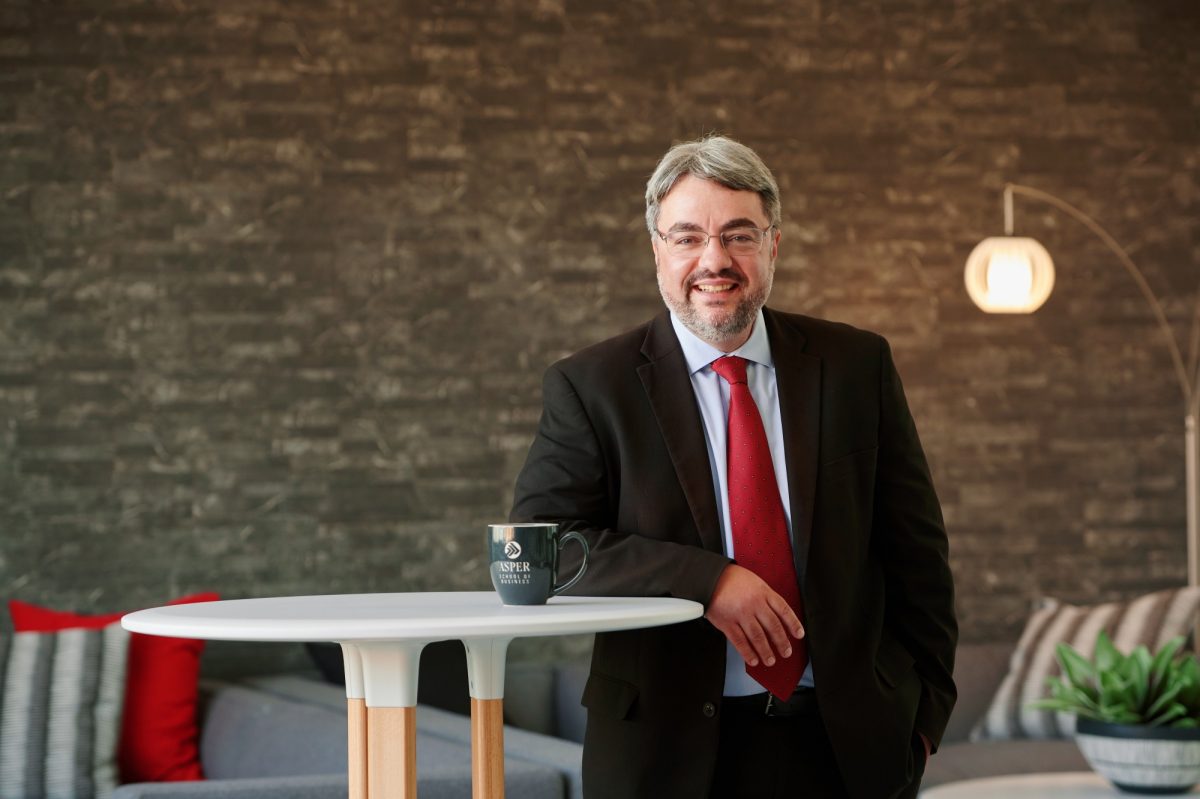 Dr. Bruno Silvestre announced as Dean of the I.H. Asper School of Business
Silvestre's industry experience and research expertise to support excellence in business education, research and engagement
June 29, 2022 —
The Office of the Provost and Vice-President (Academic) has officially announced the appointment of Dr. Bruno Silvestre as Dean of the I.H. Asper School of Business. Dr. Silvestre will begin his five-year term starting July 1, 2022.
While in this role, Dr. Silvestre will also serve as CPA Manitoba Chair in Business Leadership and will continue to carry his tenured professorial appointment in the Department of Supply Chain Management.
Dr. Silvestre has been serving as Acting Dean of the I.H. Asper School of Business since October 2021. He previously served in various roles including as Associate Dean, Strategic Partnerships & Administration; Director of the Transport Institute; Acting Department Head, Business Administration; and CN Professor in Supply Chain Management.
Prior to joining the University of Manitoba in 2016, he was a Research Chair and Associate Professor in Sustainable Supply Chains and Innovation at the University of Winnipeg. Prior to pursuing an academic career, Dr. Silvestre spent 13 years in leadership positions in industry, most recently in a large multinational operating in the energy sector.
While serving in his administrative roles at the University of Manitoba, Dr. Silvestre has been responsible for partnership development, accreditation by the Association to Advance Collegiate Schools of Business (AACSB), strategic planning and strategy execution, and resource planning and budget management. He spearheaded the development of a new Master of Supply Chain Management and Logistics at the Asper School of Business that welcomed its first cohort last fall.
Dr. Silvestre's research expertise is multidisciplinary and focuses on supply chain management. As an internationally accomplished and well-cited researcher, he disseminates his work through peer-reviewed publications, book chapters, conferences, presentations, and reports. His commitment to the profession is demonstrated by his service on multiple editorial boards and as an associate editor for several journals.
In a message to all faculty staff and students, Dr. Diane Hiebert-Murphy, University of Manitoba Provost and Vice-President (Academic), thanked the members of the Presidential Advisory Committee and the many individuals who provided input into Dr. Silvestre's appointment.
"Given Dr. Silvestre's demonstrated effective administrative leadership skills, and a genuine passion and enthusiasm for ensuring that the Asper School continues to flourish, I believe that the Faculty can look forward to a very promising future under his leadership," said Hiebert-Murphy.
Dr. Silvestre, who has had the opportunity to work as Asper's Acting Dean since September 2021 noted that he is humbled and honoured to have the opportunity to work with UM leadership to serve Asper students, faculty, staff and the business community.
"We have an incredible team of faculty and staff and together we will work to enhance our commitment to equity and inclusion, while advancing business research and business education in this province and in Canada," said Silvestre.