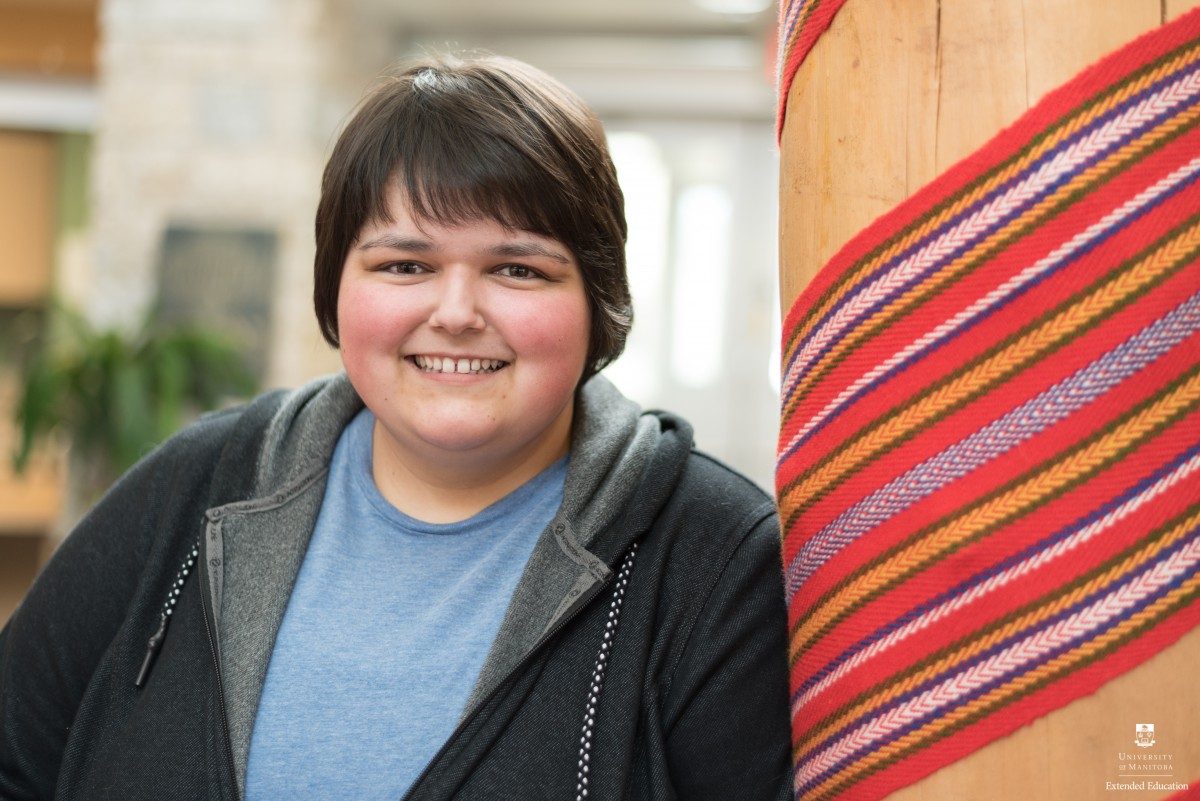 Don't let anything hold you back
Go to U of M with the Access Program
April 4, 2019 —
Christie Lavallee always knew she would go to university, but she can't imagine having done so without the Access Program.
"It would be hard to imagine university without Access," says the Métis University of Manitoba student from St. Ambroise, Man. "It would have been more difficult not to have that support."
The Access Program at the University of Manitoba provides holistic support to Indigenous, newcomer, and other U of M students, empowering them on their path to success.
"Access is like a second family. It's nice to know people are there, standing behind you, with you in whatever you take on. It's a great support system," says Lavallee.
Family
In fact, she learned about the Access Program from her own family, her two older sisters. Both of them graduated from U of M, with Access. One earned her Bachelor of Social Work, and the other earned her Bachelor of Arts degree. Now Lavallee is working on her Bachelor of Science degree, with a major in Ecology. She plans to continue on, to earn her masters and PhD degrees, and eventually pursue research in conservation.
"My love for nature is very important to me. Coming from a small traditional Métis community, I have ice fishing, trapping, and hunting. I have experienced it myself, and I am appreciative of our resources."
Travelling in to school every day with her father who works for Manitoba Justice, and her sister, a social worker, Lavallee is fortunate to be able to continue to live in her community while studying at the U of M. Her mom is the spirit worker with Michif Child and Family Services (CFS). "I am here for school. I travel home. I enjoy the space there.
"My community is all family. Everyone is related. There are aunts, uncles, cousins. Access also has that small town community feeling, a sense of home."
While she had the support of her parents and sisters, who encouraged her to apply to Access and attend the U of M, she also appreciates what a big transition it is to move from your local high school to the large university campus, especially if you feel like you have to do it alone. That's where Access comes in.
"I transitioned quite well. My sister was here to show me around. Access was here for me. But I can see how it could have been a struggle. My high school was Kindergarten to Grade 12, with 70 students. Everyone knew everyone. The university is quite huge. You are one in thousands. Going into large classes, you are lucky if the prof gets to know your name."
Ask for help
University is a time when you are considered an adult, she says. "You are expected to become more independent. When you need help, you need to voice that. It can be a bit of a shock to adjust to the size and the amount of people around here. But within the first year, I became more familiar. My sister and Access professionals helped. I found quiet areas and places to study. By the end of the year, I had new friends."
It was a new beginning, with Access there to support her along the way.
"There was always someone to talk to, to help with my courses. It can be a bit daunting at first to ask for help, but I am not afraid to ask for help anymore. If I am struggling, everyone is there to help."
The Access personal counsellor was great, she says. "When I have rough days, when I need to talk about problems and the things that make me happy, the good things, it's nice to know she's there."
Cultural connection
With Access, located in Migizii Agamik (Bald Eagle Lodge) on the U of M's Fort Garry campus, she continues her connection with her Métis identity. "At home, we had a traditional square dance team for 10 years. Here, I carry on my sense of culture and traditions. Access helped me carry it through. I appreciate the gatherings."
Lavallee has an additional challenge, being visually impaired as a result of having a brain tumour when she was three years old. She relies on 40 per cent vision in her left eye, as she is blind in her right eye. So, as needed, Access and the university's Accessibility Services have been there to assist her in meeting any related challenges.
"For me, this is normal. I don't remember having full vision. Some things take me longer, but nothing holds me back."
Prospective students may feel anxious about coming to such a big campus, or fear financial troubles, but Access helps to provide as many opportunities as possible including information about bursaries. She encourages students who are contemplating university to take this important step toward their future success.
"I say just go for it. University is a once-in-a-lifetime experience. You take in knowledge, and share it. You see yourself grow, and form connections. My life would definitely have been different if I hadn't come to university," says Lavallee.
Lavallee encourage Indigenous residents of Manitoba to apply to the Access Program, and attend the University of Manitoba this fall. Application deadline is May 1. Apply now.