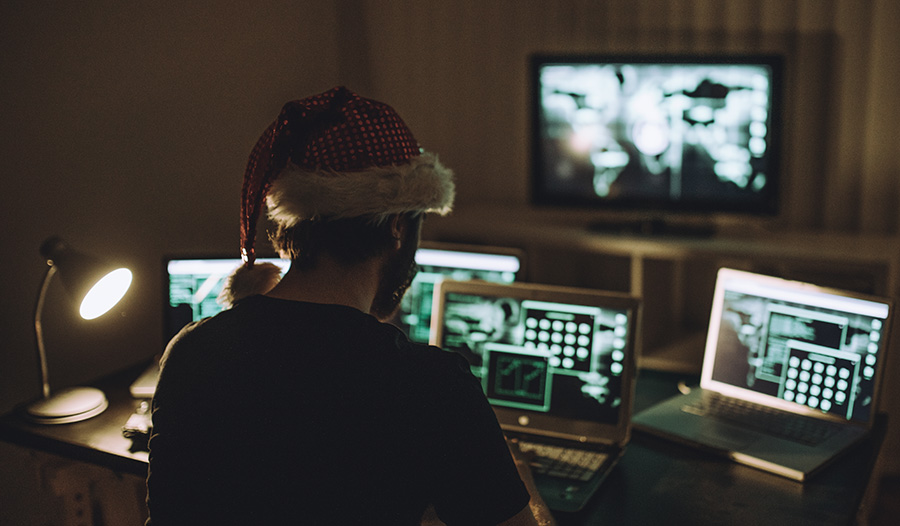 Don't be fooled by a cyber Grinch
Cybercriminals are doing the most to ruin your holidays
December 19, 2022 —
There is so much activity this time of year that it's easy to forget that not everyone is interested in making the season bright. Cybercriminals will ruin your holiday with glee. They will try to trick and trap you into jeopardizing your personal information, money and devices. Read about what you can do to avoid these three Grinchy tricks.
Trick number one
Instead of messages of comfort and joy, they're sending emails and texts to steal all your toys.
These messages try to get you to do one of three things: click a link, download a file or reply with your personal information. They pretend to be businesses, services or people you know. If the message seems urgent or is asking you to do something right now or face the consequences, be suspicious.
What you can do:
Don't be fooled! Delete the message or report it immediately.
Trick number two
Instead of wrapping gifts of nifty things, they're wrapping unsafe files to bring you stings.
According to Getcybersafe.ca, "Malware can do anything from stealing or deleting your files, to holding them for ransom, or shutting your device down completely. Some malware even continues to spread its "holiday cheer" to your family and friends through your contact list."
What you can do:
Never download or open unexpected attachments in emails or text messages. If you are unsure about an attachment, reach out to the person who sent it to verify its legitimacy.
Trick number three
Instead of snapping crackers on the table, they're cracking your accounts as soon as they're able.
Cybercriminals use all sorts of methods to do this. They use software to generate and test thousands of potential passwords. They will start by phishing you to get the information they need. Or they will piggyback on another site's security breach. If you use the same login information for multiple accounts, you're especially vulnerable when this happens.
What you can do:
Make your UM password harder to crack by using at least ten characters, including upper- and lower-case letters, numbers and special characters. Better yet, use a passphrase: a series of at least four random words over 15 characters long.
Remember to enable multi-factor authentication wherever possible so you have an extra step in place if a cybercriminal ever does get your password.
Stay safe
So stock up on some holiday cheer and perhaps… add a new cyber safe tradition this year?
Sing along to some cyber safe carols or read our list of phishing scams to watch out for by the fire. And remember to forward any suspicious-looking messages to spam [at] umanitoba [dot] ca.
Information Services and Technology wishes you a safe and happy winter holiday!
Adapted from: