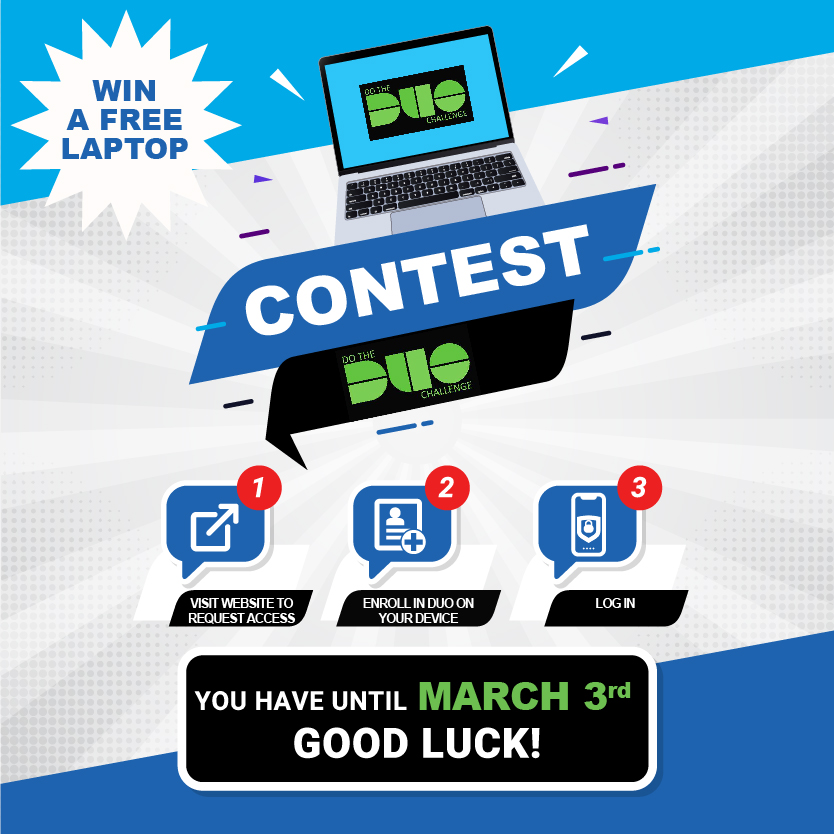 Do the Duo Challenge winners for Friday February 4
Early Bird prize draw for a Dell laptop this Friday!
February 4, 2022 —
Thank you to everyone participating in our 'Do the Duo' Challenge! You still have a chance to win a Dell laptop in the Early Bird draw this Friday, February 11.
Congratulations to the winners of a $25 UM BookStore gift card!
Students:
Brian Toor
Ann Ahn
Jacalyn Grey
Karen Livingston
Camila Chacon
Jordyn Lerner
Viktor Popp
Kha Pham
Vahid Askarpour
Peter Gailis
Staff:
Janice Winkler
Doreen Davies
Emily Falk
Heidi Adamko
Louella Yambot
Helen Wong
Andrew Murray
Isam Al-Darabsah
Lisa Lausch
Brian Lithgow
Opt-in to MFA to be entered to win
Using multi-factor authentication (MFA) is essential to keep our systems as secure as possible. If you haven't already, please take the time to opt-in to MFA with Duo today. For more information, visit http://umanitoba.ca/dotheduo
Note: You do not need to opt-in if you are already using Duo MFA for any university service. Duo MFA is available to all faculty, staff, and students.
Important note:
If after enrolling in MFA you cannot send or receive email from some of your devices, or you are continually prompted to enter your login information when trying to access your email on one or more of your devices, you will need to remove and re-add your email account.