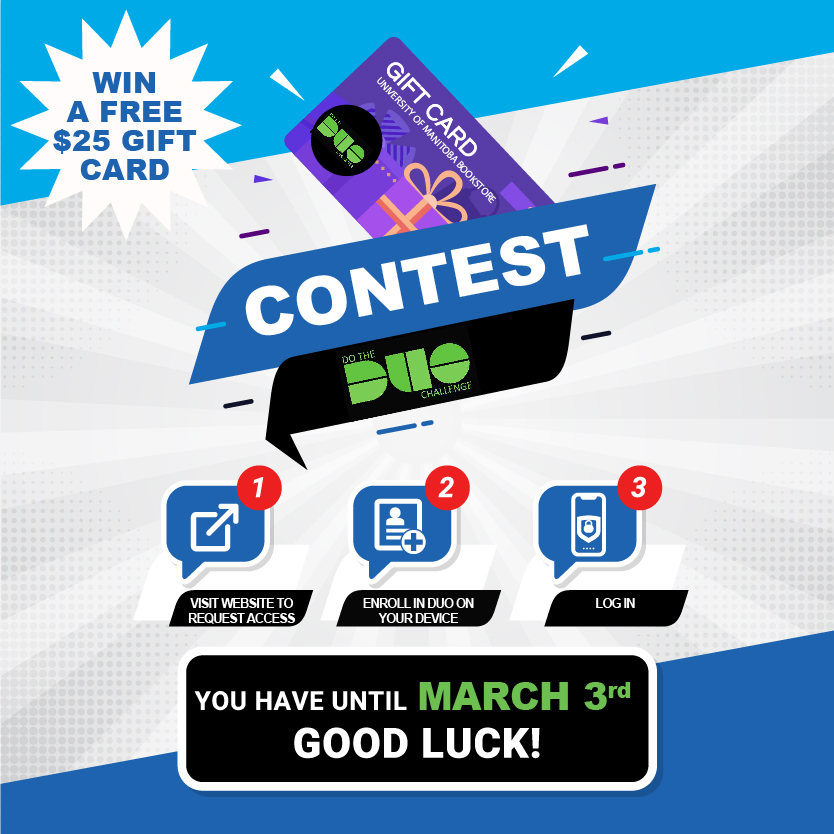 Do the Duo Challenge winners for Friday February 18
$25 gift card? Don't mind if I do!
February 18, 2022 —
Thank you to everyone participating in our Do the Duo Challenge. Only two weeks left to qualify to win!
$25 UM BookStore gift card winners
Students:
Amy Kreshewski
Colleen Zwarych
Ishmeet Kaur
Karim Nweilati
Nupur Bhavsar
Oluwabunmi Preston
Risha Theodora Rozario
Shubham Goyal
Tanzir Islam
Theodore Biggs-Engel
Staff:
Abiodun Adetu
Angela Thable
Ezra Greene
George Gozho
Jennifer van Wijngaarden
Jessica Storoschuk
Karin Nowak-Bailey
Linda Eddy
Mike Cameron
Xihui Liang
Did you know?
Duo MFA offers multiple types of second factor authentication so you can choose the one that's most convenient for you.
Push notification
When you install the Duo app on your device it sends you a notification whenever there is an attempt to log in to an MFA-protected service with your username and password. According to the latest two-factor authentication statistics, this is the most common method.
One-time password
This is a six-digit code generated in the Duo app. The app constantly swaps new codes in sync with the internal server clock. This method works offline and may be accessed by installing the Duo app on your device.
SMS code
This is like the one-time password method, but the code is sent as a text message to your phone. This method requires a texting plan on your device.
Phone call to a number
You can also use a landline for authenticating.  However, keep in mind that you would have to change your authentication number if you are away from your landline.  Using your work phone requires either being on campus, call forwarding or a soft phone setup like Jabber.
Opt-in to MFA to be entered to win
Using multi-factor authentication (MFA) is essential to keep our systems as secure as possible. If you haven't already, please take the time to opt-in to MFA with Duo today. For more information, visit http://umanitoba.ca/dotheduo
Note: You do not need to opt-in if you are already using Duo MFA for any university service. Duo MFA is available to all faculty, staff, and students.