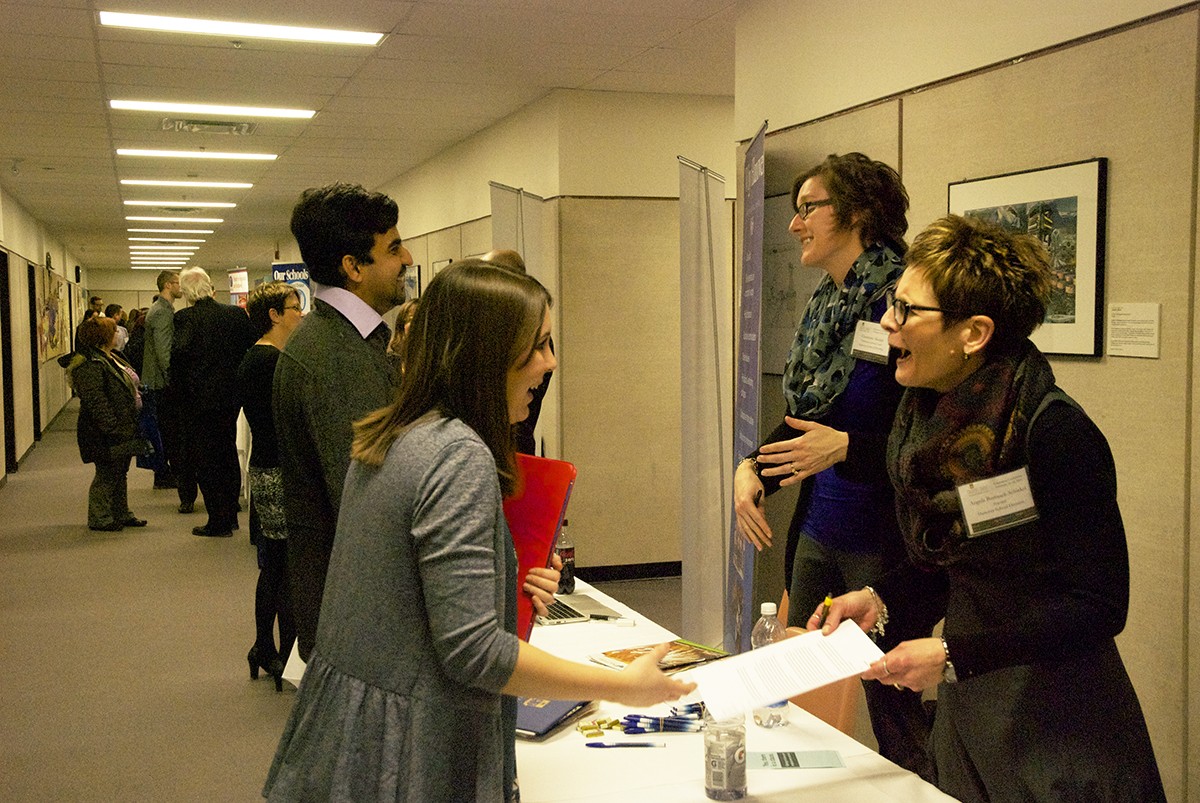 Diversity policy gets top marks at job fair – WFP article
February 18, 2016 —
The following is an excerpt of an article that originally appeared in the Winnipeg Free Press Feb. 18 edition.
Jacquelyn Morran has never seen anyone like her at the front of any classroom in which she's sat in Manitoba.
By next fall, prospective employers willing, Morran will be teaching in her wheelchair in an early-years classroom, and she hopes many more people who don't see themselves reflected in their teachers will follow, thanks to the University of Manitoba faculty of education's new diversity policy.
"I never have had a disabled teacher — I'm excited to go into schools and be a role model, and normalize it," Morran said Wednesday as she attended an education students job fair.
The faculty announced last week that as of 2017, it will make available 45 per cent of its spaces each year to qualified diversity applicants: 15 per cent to indigenous students and 7.5 per cent each to disabled students, 'racialized' students, students with a gender identity/sexual orientation difference, and those who have faced economic, language, religious and other barriers.
"Anything that increases diversity is a positive thing. It's pretty reflective of the changing nature of this country. It reflects what Canada is like," Morran said.
Diversity is not always apparent, said Morran, a graduate of Steinbach Regional Secondary School: "I'm Métis. You'd never know that."
Prospective employers who showed up Wednesday were warm to the policy, but education administrators said the university has yet to say anything beyond the formal announcement.
The education students council appears to be trying to place a gag order on future teachers, by telling them not to give interviews and to allow the faculty administration to talk to the media on behalf of education students.
Morran was one of several students who agreed to speak to the Free Press Wednesday.
"Everyone still has to meet the standards," Morran emphasized.
Her friend Stephanie Funk — who's from Saskatchewan, but lives in Steinbach — similarly applauded the diversity policy. "It's reflective of Canadian culture," she said.
Had she been applying when only 55 per cent of the spaces will be available to the general population, Funk said, she could have tried the University of Saskatchewan or the University of Winnipeg if competition were too fierce.
They're in a cohort of 60 students in the earlyyears stream and estimated as many as onethird of their classmates appear to be visible minorities or disabled. But sexual identity and social disadvantages are not something most people bring up with their peers, they said.
Veteran teacher and administrator Brad Burns, speaking only for himself, said when he was a student, he saw only people like him at the front of the classroom.
"All students need to see themselves represented," Burns said. "If they're growing up in an immigrant experience, they need teachers who have that experience. If they have two mothers, they need to see that."