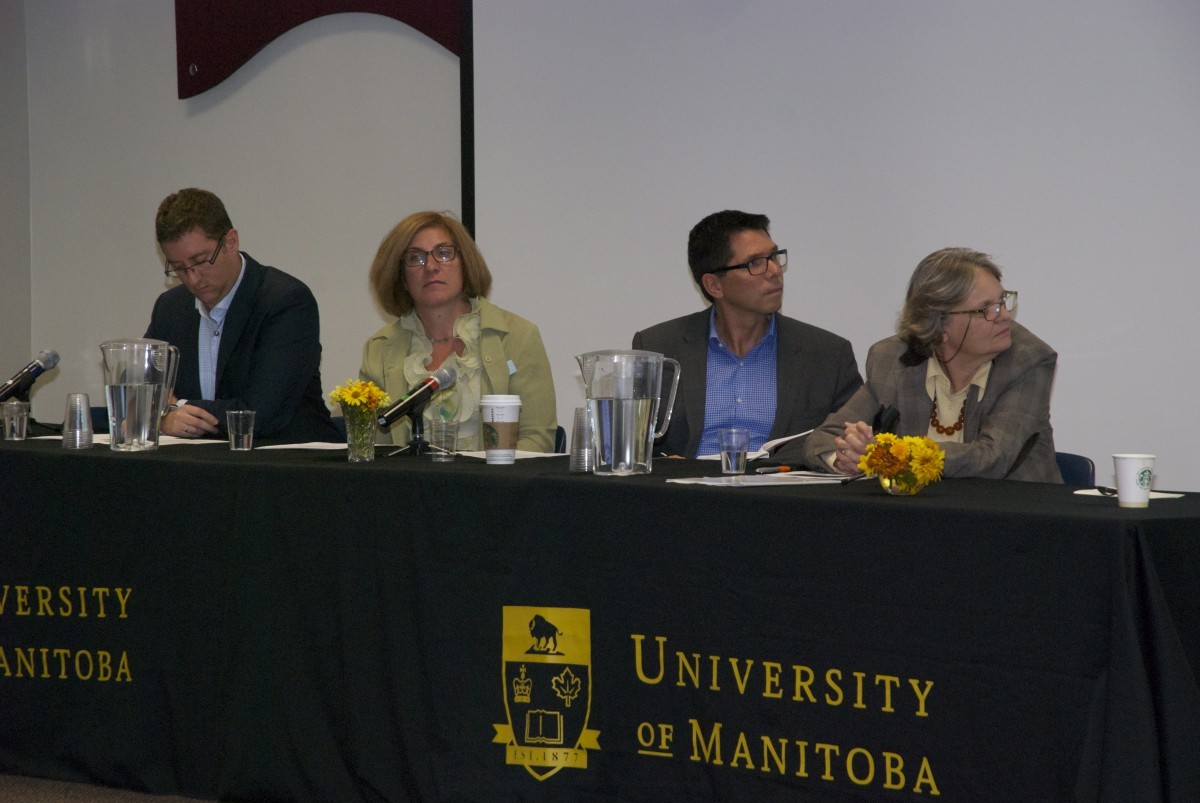 Panel discussion held on challenges of diversifying the teaching workforce
More must be done to create ' profound institutional and organizational change.'
November 5, 2015 —
Creating a field of more diverse teachers is an important priority in the field of education, but it must be done with care, panelists who took part in a discussion on the topic told the audience of educational partners at the Faculty of Education.
The Oct. 15 event featured Jens Schneider, Institute for Migration and Intercultural Studies, University of Osnabrück; Christine Cho, Schulich School of Education, Nipissing University; Roumi Ilieva, Faculty of Education, Simon Fraser University; Jamie Wilson, Commissioner, Treaty Relations Commission of Manitoba; and Robert Mizzi and Clea Schmidt of the U of M's Faculty of Education.
The importance of diversifying the teaching force has become more pronounced in recent years, as there has increasingly been a disparity between the ethnic backgrounds, cultures, languages etc. of teachers and their students or families.
Melanie Janzen, associate dean, undergraduate, of the Faculty of Education, told the audience before the panel discussion began that the UM's Education program has a "variety of initiatives regarding diversity."
But she added that more needs to be done to create "profound institutional and organizational change."
The faculty, she noted, is proposing a diversity admissions policy that will strive for a student body comprised of those who identify within a number of diversity categories, including those that reflect race, indigeneity, gender identity, sexual orientation, disability and disadvantage.
The Faculty of Education is currently allocating 45 per cent of its admissions spaces to those who identity within the diversity categories, she said.
During his presentation, Schneider spoke about his home city of Osnabrück, Germany, and the fact that diversity is continuing to be a "big issue. Becoming and immigrant country is a major challenge over the past decades. We have an increasing share of immigrant populations."
He said that in Germany, there is a broad consensus that bringing in more teachers of immigrant backgrounds is a positive thing.
"Teachers should reflect the community they serve," Schneider said.
But he noted that the teaching force there still is not prepared to instruct diverse communities. While more and more young, educated people in Germany are from diverse backgrounds, many decide not to go into the field of education.
And if people are of a different background than German, ie., Turkish, they are less likely to get a teaching job, Schneider research has found.
He said more needs to be done to remove barriers for these students.
Cho, of Nipissing University, made a presentation entitled, "No Dreads and Saris here," speaking about how there still is not a diverse enough representation among teaching staff in her northern Ontario community.
In her research, teachers continue to "come from conservative backgrounds. You are not going to find dreads or saris in our schools."
One of her findings was that 84 per cent of immigrant teachers in Ontario are mal-employed or underemployed. Sixty eight per cent of the immigrant teaching workforce in that province are not employed the first year after graduation, she said.
After all of the presentations, a lively discussion about the challenges of creating a more diverse teaching workforce in Canada was held.