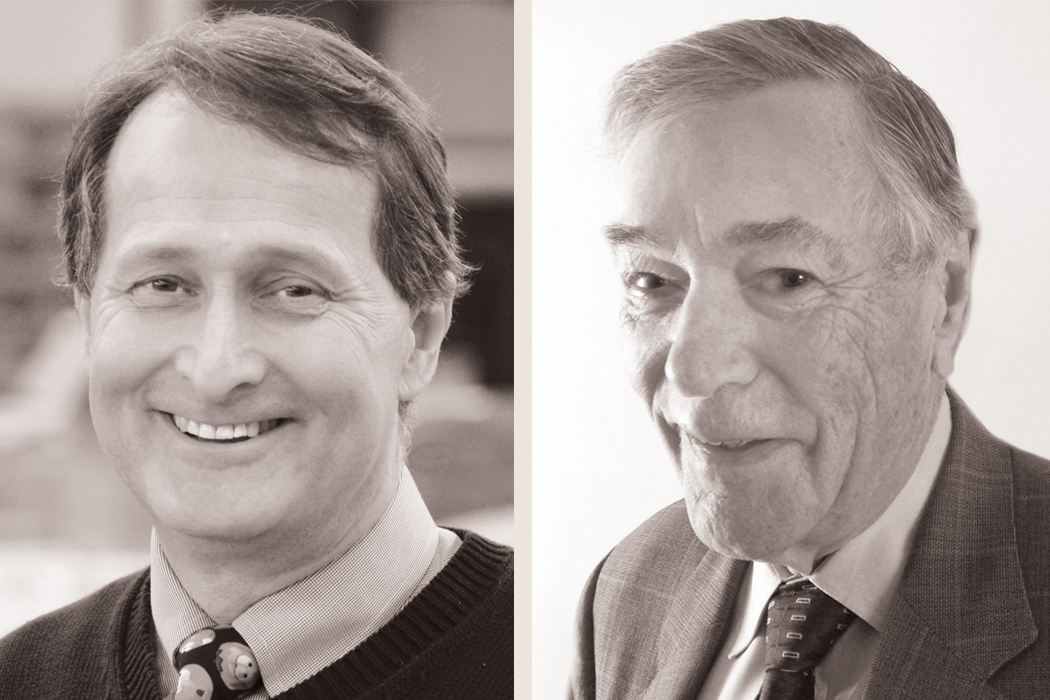 Distinguished Service Award winners
June 5, 2014 —
The Distinguished Service Award is the highest honour bestowed upon an individual by the Board of Governors.
Distinguished Service Awards are awarded by the Board of Governors on the basis of distinguished contributions to Manitoba in areas which are of major interest to the University of Manitoba, and which are directly associated with the University.
This year's recipients are The Honourable Charles Huband, and Mr. David Northcott. They will be recognized on June 5 at Spring Convocation 2014.
The Honourable Charles Huband
As a former judge and politician, an active community member and volunteer, The Honourable Charles Huband has enriched Manitoba on many fronts. Mr. Huband earned his law degree from the University of Manitoba in 1955, and returned the following year to begin teaching as a casual lecturer. He has lectured in the Law of Trusts for over 40 years. After graduation, he became a well-known lawyer practicing in the area of civil litigation, and ultimately he became a senior partner in a Winnipeg law firm. He was elected to the Metropolitan Corporation of Greater Winnipeg in 1964 and served for two terms, and as vice chair in his last year. He was elected leader of the Manitoba Liberal Party in 1975 and resigned in 1978 to become a Manitoba Court of Appeal judge. He authored well over 2,000 judgments as a member of the Court, and in 1996, for his years of service to the legal profession, the Manitoba Bar Association presented him with its Distinguished Service Award. In 2007, he retired from the Court of Appeal and resumed private practice in Taylor McCaffrey LLP, where he is still active.  The Hon. Huband has led an impactful life outside the law as well. He is an active member of the Westminster United Church and is chair of the Westminster Church Foundation. He was a founding member of Prairie Theatre Exchange and its first Board chairperson. He remains as a Board member and chair of the PTE Foundation. He was also a founding Board member and first chair of Westminster Housing Society. This charity provides good, affordable homes to lower-income tenants by rehabilitating older houses in the inner city. It has invigorated communities like West Broadway. The Hon. Huband continues to live in a way that transforms the lives of others and enriches our communities. We proudly honour him with the University of Manitoba's Board of Governors' Distinguished Service Award.
David Northcott, C.M., O.M.
David Northcott was appointed to the Order of Canada in 2012 for his commitment to fighting poverty and hunger in Canada. It is his passion. He fulfills it from his platform as the Executive Director of Winnipeg Harvest. He has served in this capacity from 1985 until 2004, and again from 2007 to the present. As a fighter for social justice, Mr. Northcott shares his passion and wisdom with many other organizations too. He is the chair of the board of the Vanier Institute of the Family, and a board member for Artists in Healthcare Manitoba. He serves as Vice-President of the Manitoba Association of Food Banks, and he was the chair of the member council of Food Banks Canada. He is a former chair of Celebrate Canada (Manitoba Committee) and a former member of the National Anti-Poverty Organization, the National Council of Welfare, the Manitoba Chambers of Commerce, and Youth Employment Services. He once served the Boards of the Big Brothers and Big Sisters, the Western Canada Aviation Museum, and as chair of Volunteer Manitoba. He was also a member of Canada's delegation to the United Nation's Second World Food Summit. Through all his roles and works, he has impacted countless lives. Mr. Northcott is a model for how to live a life for others, and the University of Manitoba's Board of Governors is honoured to recognize him with its Distinguished Service Award.